Kanakavalli Bride : Shivani

Shivani weds Rohan
Kanakavalli Bride Shivani and her husband Rohan went to the same school, were part of the same circle of friends, and stayed in touch over the years, so they cannot pinpoint the day they first met.
From acquaintances to Facebook friends, one thing led to another, and they started dating five years ago. At that time, Rohan gave Shivani three wish cards to use for anything she wanted. She used two of them, but saved the third for a special surprise! In February 2020, while in Kerala to attend a friend's wedding, Shivani gave Rohan the last wish card with the words 'Marry Me' written on it. There was a ring too, and of course Rohan said yes!
Shivani is a planner by nature and she was very excited about her wedding, but the pandemic threw a spanner in the works so they had to have many back-up plans and stay flexible. Still, their wedding was a beautiful affair, with a Telugu-style Nalugu ceremony, a mehendi followed by a sangeet and cocktail party, a chooda ceremony, and finally an Arya Samaj wedding. Everything from the invitation to the decor were thoughtfully planned to tell the story of the couple and reflect their personalities.
An artist and designer, Shivani started thinking about wedding invitations as soon as she and Rohan got engaged. She chose floral designs inspired by the four states to which the couple belongs - Rohan is Telugu, Shivani is Gujarati-Punjabi, and they were both raised in Chennai where they still live. She chose marigold to represent Gujarat, jasmine for Andhra Pradesh, mustard flowers for Rajasthan and the kurinji flower for Tamil Nadu. The design of the invitation was also their inspiration for the wedding decor - simple, minimal and classy.
Shivani enjoyed every moment of the wedding - she says she got so caught up in all the celebrations that before she could even process everything that was happening, the wedding was over! Among many others, she will never forget the moment that her brother, sisters and friends walked her down the aisle, dancing with her before she got on stage. It was a day filled with joy and excitement.
Shivani says that after getting married, nothing much has changed for her and Rohan, except that they both now have really fun roommates!
Creating moodboards on Pinterest and working on the art for their invitations were Shivani's ways of finding inspiration for the visual aesthetic of their wedding. Everything about the wedding reflected her and Rohan's story, heritage and personalities. For her outfit, she chose a blend of South and North Indian elements - wearing a Kanakavalli kanjivaram with traditional chooda and kalire as well a dupatta on her head, in homage to her Gujarati-Punjabi roots and her home in Tamilnadu.
Shivani says her wedding journey started at Kanakavalli in May 2019, long before her wedding was even being planned. Struck by the beauty of the space and the hospitality when she visited the store to buy a gift, Shivani asked to see the bridal collection out of curiosity.
Before she knew it, she'd fallen in love with a blue kanjivaram. She was tempted to buy it but decided to wait until she actually had a wedding date! Over the course of a year, Shivani kept returning to the store to check if the sari was still available, and the team assured her it was.
Finally, in August 2020, Shivani made the much-awaited trip to Kanakavalli to buy her wedding sari. She saw a gorgeous and classic red kanjivaram with hints of pink - a colour she finds hard to describe - adorned with intricate geometric patterns. In all of five seconds, Shivani knew this was the one. "It's almost like Kanakavalli chose me," she says.
A big thank you to Shivani for being a gorgeous Kanakavalli Bride and sharing the story of her wedding with us. We wish her and Rohan a lifetime of laughter and love.
Wedding Credits -
Photography - @dinesh_vasudevan_photography
Decor - @weddingchakra
Hair & Makeup - @artmakeup.in (Rhea Thadani)
Find your own perfect match from our Valli Muhurtham bridal and trousseau collective online.
Sruthi weds Jae June Kanakavalli Bride Sruthi met her husband Jae June seven years ago at college. He maintains that he was "thunderstruck" the very first time he saw her, rushing late into class,...
Read more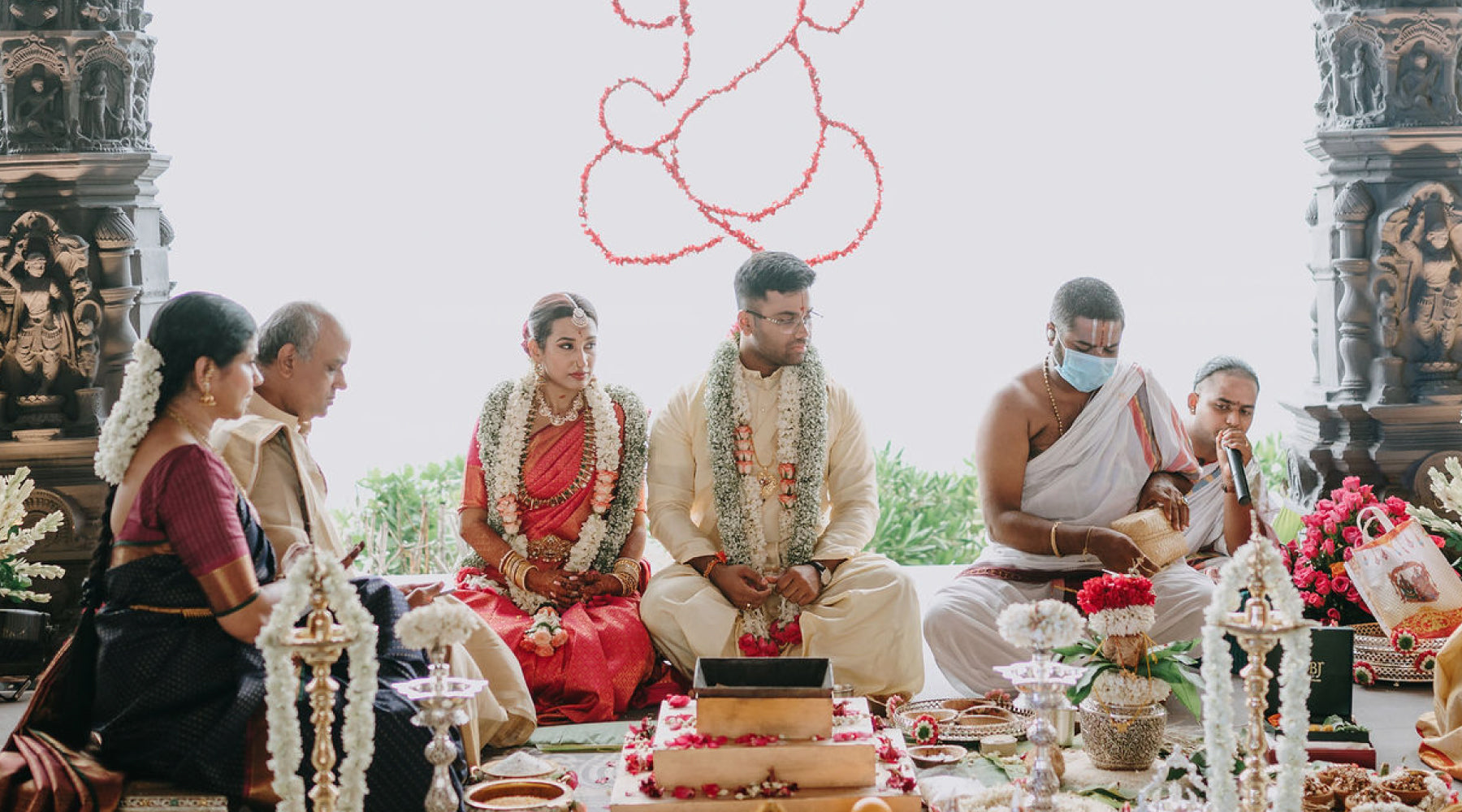 Athulya weds Raghav Kanakavalli Bride Athulya doesn't believe in love at first sight, but believes in her own instincts about the kind of people she wants to have in her life. When she met Raghav,...
Read more