Kanakavalli Bride : Samantha

Samantha weds James
Kanakavalli bride Samantha met James at a viewing party of the famous reality TV show 'The Bachelor,' where she and her friends got together to watch the premier. At the end of the night, James joked that only one of them would get a rose!
While dating, the couple enjoyed going on microadventures. Through the covid lockdowns in Australia they watched a lot of tiny home videos. When they finally managed to plan a weekend trip to a tiny home, James planned a romantic proposal at sunset by the river.
While Sam and James come from different cultures, she always knew that she wanted a traditional Indian wedding, something her fiance's family happily supported. Sam says there are so many details that go into planning an Indian wedding that she'd have been lost without her parents. They wanted to create a memorable and immersive cultural experience for their guests, many of whom had never been to an Indian wedding before.
Planning a wedding in the pandemic was hectic, but Sam says the actual weekend was magical in every way. She'd always loved watching the malai maathral ceremony when she had attended weddings before, and she thoroughly enjoyed getting to do it herself. Her family had to lift her up so she and James could dodge each other as they tried to garland one another!
Married life since the wedding has been bliss, according to Sam, especially since they no longer have to plan a covid wedding!
The wedding took place on a sunny day in Sydney, with Sam walking to the ceremony beneath a floral canopy and James arriving on a boat. The couple sat on a traditional oonjal decorated with rose petals and native flowers, against the backdrop of the beautiful Sydney Harbour Bridge.
The family gave guests a pleated prosperity fan with Sam's Kanakavalli sari motif printed on it, along with the wedding agenda, for the benefit of Aussie guests who were new to the Tamil tradition.
Sam grew up visiting Chennai every year to spend time with her grandparents, aunts and uncles. Her mum, Meera, frequented Kanakavalli; she says the brand and its ethos remind her of her own childhood, growing up in railway bungalows surrounded by bougainvilleas.
Just as the entire family prepared to travel to Chennai on a wedding shopping trip, the second wave of the pandemic struck and they had to change gears to shop virtually.
According to Sam, the Kanakavalli team was thoughtful, always going the extra mile to help them choose the perfect sari. Sukumar would move across the room to capture the light and true colour of the sari, shifting outside to show them the sari in natural light. Sam and her family say that the experience was relaxed, fresh and spirited.
A big thank you to Samantha for being a gorgeous Kanakavalli Bride and sharing the story of her wedding with us. We wish her and James a lifetime of love, laughter and adventures.
Wedding Credits -
Photography: Splendid (@splendidweddingphotography)
Hair & Makeup: Gather and Stitch (@gatherandstitch_beauty)
Decor: Shagun Events (@shagunevents7)
Florist: Kiko Design (@kikodesign)
Blouse Stitching and Embroidery: Vanitha Prasad (@vanithaprasad)
Coordinator in Chennai: Vruddhi (@vruddhi_chennai)
Pleated prosperity fan: Lotus Invitations
Find your own perfect match from our Valli Muhurtham bridal and trousseau collective online.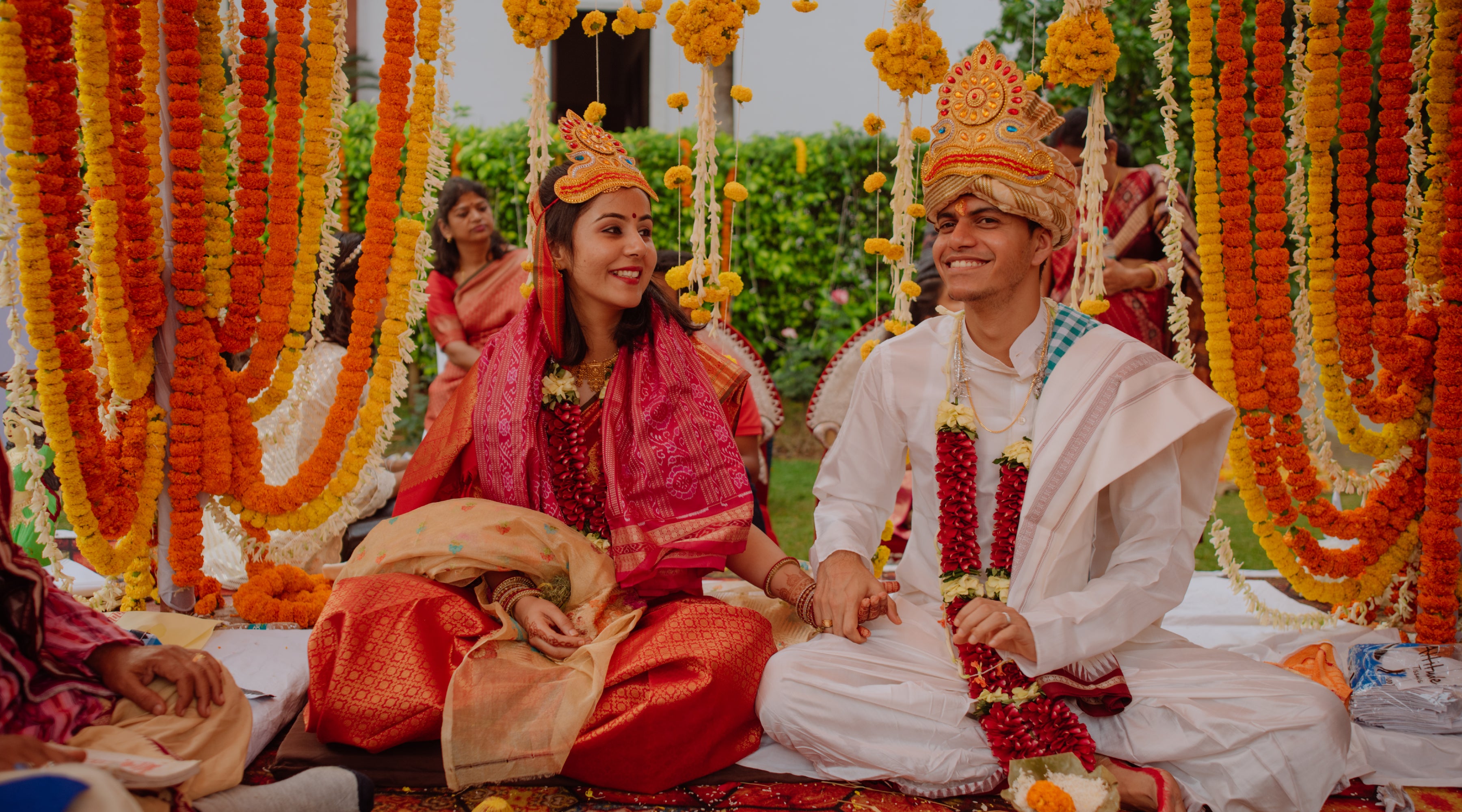 Manvi weds Partha Kanakavalli Bride Manvi doesn't believe in love at first sight, but does believe in making a connection that feels right. She and Parthasarathi first matched on a dating app. The...
Read more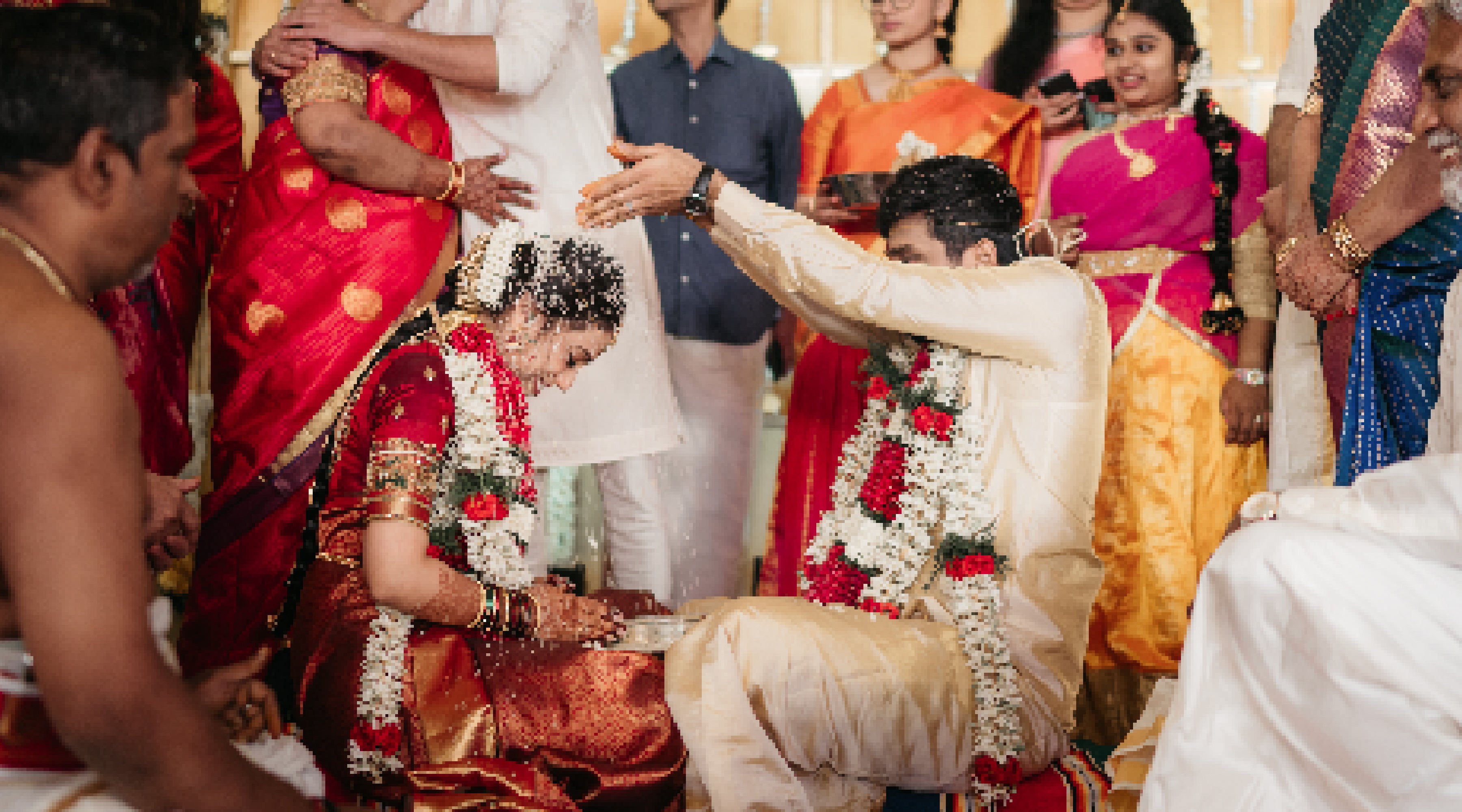 Swetha weds Jayakrishnan Kanakavalli Bride Swetha and Jayakrishnan were college sweethearts, spending nine years together before they tied the knot. It wasn't love at first sight, says Shweta, but...
Read more