Kanakavalli Bride : Manvi

Manvi weds Partha
Kanakavalli Bride Manvi doesn't believe in love at first sight, but does believe in making a connection that feels right. She and Parthasarathi first matched on a dating app. Their first date was filled with laughter and conversations about everything from families and interests, to their careers and dreams for the future. Manvi says she was struck by Partha's positive outlook, and his belief that we all have the power to shape our lives the way we want to, despite the circumstances.
By the end of their first date, Manvi knew that they were on the same wavelength and felt something click. She knew she wanted to spend more time with Partha, getting to know him better to see where things could go. Manvi believes that choosing a partner is largely an intuitive decision, and, as they say, the rest is history.
Manvi thoroughly enjoyed planning the wedding, especially since she got to spend a lot of time with her parents, bonding over shopping and the excitement of starting a new chapter in her life. She also learned a lot about the Indian handloom sector during this time, falling in love with saris.
Manvi just wanted to have a good time at her wedding, celebrating with friends and family. Their wedding took place in Jharsuguda, Odisha, and included several traditional eastern rituals such as the Nirbandh, an engagement ceremony.
Manvi was overwhelmed with emotion during the wedding ceremony, as she realised that she and Partha were really starting a new life together.
Married life has been fun and interesting for Manvi and Partha. They have moved to a new city, she has started a new job, and they are adjusting to their new lives together. Creating a life together with Partha and taking care of their first home brings Manvi great joy.
Manvi first discovered Kanakavalli when she stumbled upon a Vignettes blog article, and then spent hours exploring the website. She decided that when she got married, she would wear a red Kanakavalli kanjivaram - and this was before she had even met Partha!
Manvi says the ease of coordination and customer support were the best parts of her shopping experience with Kanakavalli. She shopped online, and says that the team was incredibly patient and helpful, answering her questions, understanding her needs and making the experience enjoyable and stress-free.
A big thank you to Manvi for being a beautiful Kanakavalli Bride and sharing the story of her wedding with us. We wish her and Partha a lifetime of love and laughter.
Wedding Credits -
Photography: @whitesage.weddings, Chandni Dua (@indianfootprints) and Roshan Mathew (@rosh17694)
Find your own perfect match from our Valli Muhurtham bridal and trousseau collective online.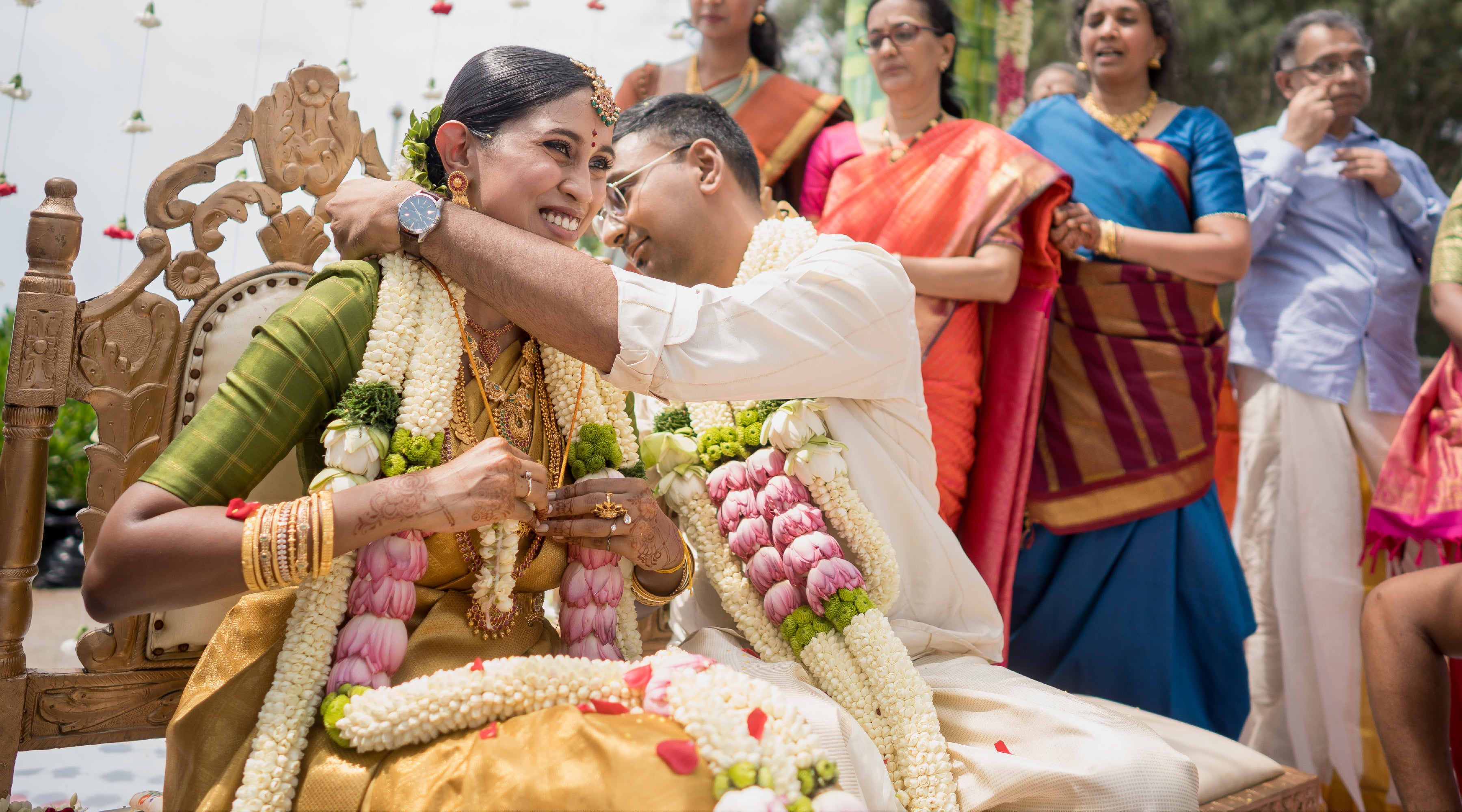 Nivetha weds Siddharth Nivetha first met Siddharth when they were both six years old. They were in the same class until the third grade, and Siddharth remembers her as the sincere class-topper. Ye...
Read more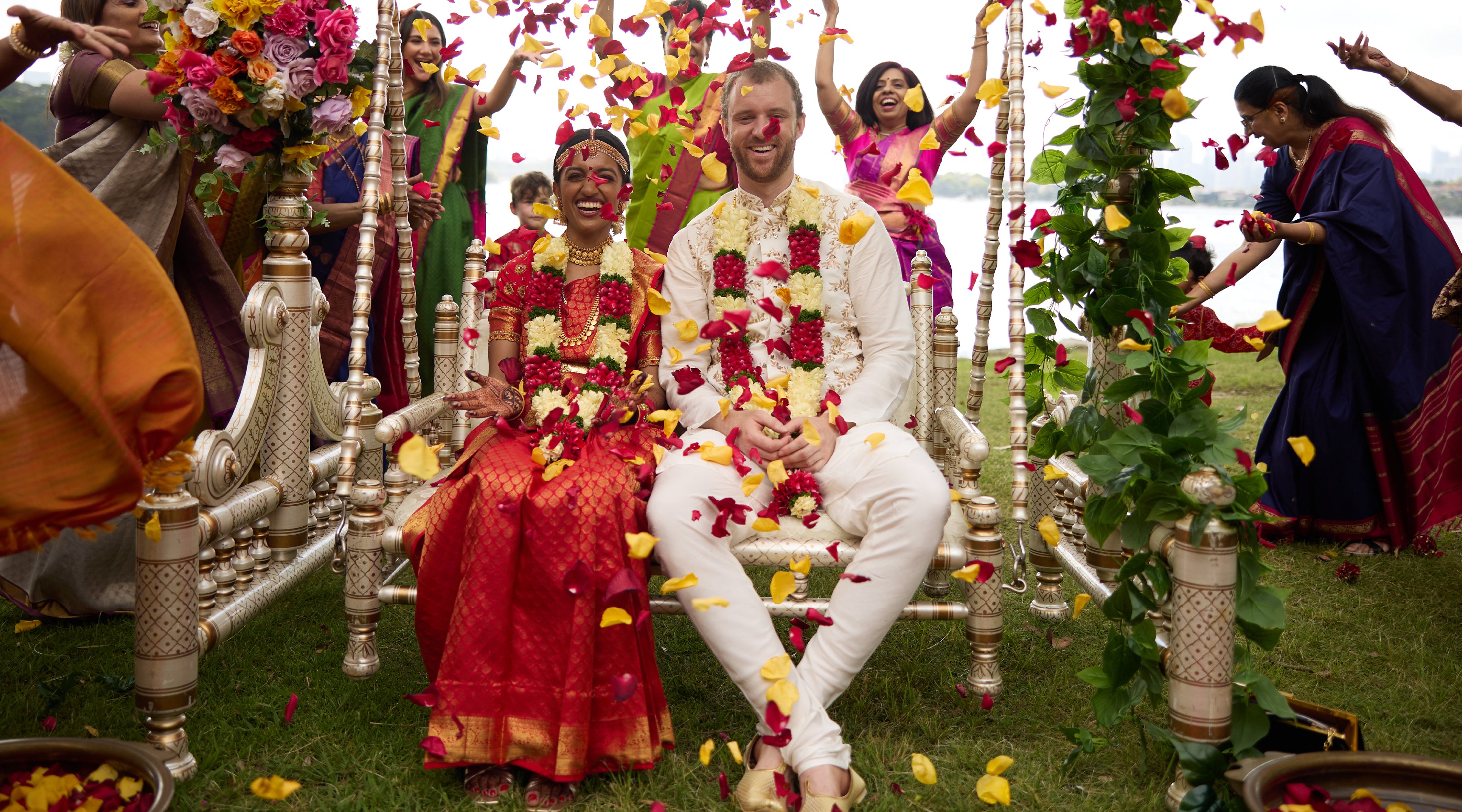 Samantha weds James Kanakavalli bride Samantha met James at a viewing party of the famous reality TV show 'The Bachelor,' where she and her friends got together to watch the premier. At the end of...
Read more