Kanakavalli Bride : Nithya

Nithya weds Akshay
Kanakavalli Bride Nithya and Akshay went to the same college in Chennai, and got reacquainted in the Bay Area after bumping into each other at the cinema watching a Tamil film. Akshay admits he thought Nithya was very smart and beautiful, and he asked her out. The couple soon started dating, bonding over films, long drives and a shared love for travel. Three years later they decided to take their relationship to the next level.
While their parents met and began making wedding plans, Akshay planned a surprise proposal with all their friends on a bridge at the Hakone Japanese Gardens in Saratoga, California. He blindfolded Nithya, played all her favourite songs in the car and then slowly walked her to the bridge. She says it was all a blur as she gradually began to recognise friends among the onlookers, just as Akshay popped the question. The rest, as they say, is history.
Nithya and Akshay created Pinterest boards, shortlisted vendors and outfits and brainstormed over the theme and decor, from fabrics to flowers.
They had six events - a vibrant poolside Mehendi, a glamorous red-and-gold themed Sangeet, Vratham pre-wedding rituals and an engagement amid bright florals, a traditional wedding ceremony and finally a garden reception.
A floral canopy carried by close family members formed the bridal party at the wedding, as Nithya danced beneath it - a moment she will never forget. The couple thoroughly enjoyed all the rituals and games that formed the wedding ceremony, particularly the exchange of garlands as they were lifted up by their families.
Nithya says married life has been great so far, and despite having known each other for several years, she and Akshay are constantly discovering things they like to do together. They have a cat they adore, love trying new cuisines, and have bought a new home in California that they have grand plans for.
Her advice for brides-to-be is to be as organised as possible - make Pinterest boards and lists, book vendors for photography, make-up and decor as early as you can, and plan your outfits gradually so that you are 100% satisfied with your bridal looks.
A series of virtual shopping sessions while her parents were at Kanakavalli's Chennai store led Nithya to find her wedding kanjivaram. They went a few times and Nithya saw several options but as soon as she set her eyes on a gorgeous purple sari, she knew she wanted to get married wearing it. She also picked two more kanjivarams for other events. Nithya says she loves the colour combinations in Kanakavalli's repertoire and she really enjoyed the seamless shopping experience despite being so far away.
A big thank you to Nithya for being a gorgeous Kanakavalli Bride and for sharing her wedding story with us. We wish her and Akshay a lifetime of love and joy.
Wedding Credits -
Photography - @vivekkrishnanphotography @shotstoriesbyvarunsuresh
MUA - @chisellemakeupandhair
Decor - @marriage_colours
Find your own perfect match from our Valli Muhurtham bridal and trousseau collective online.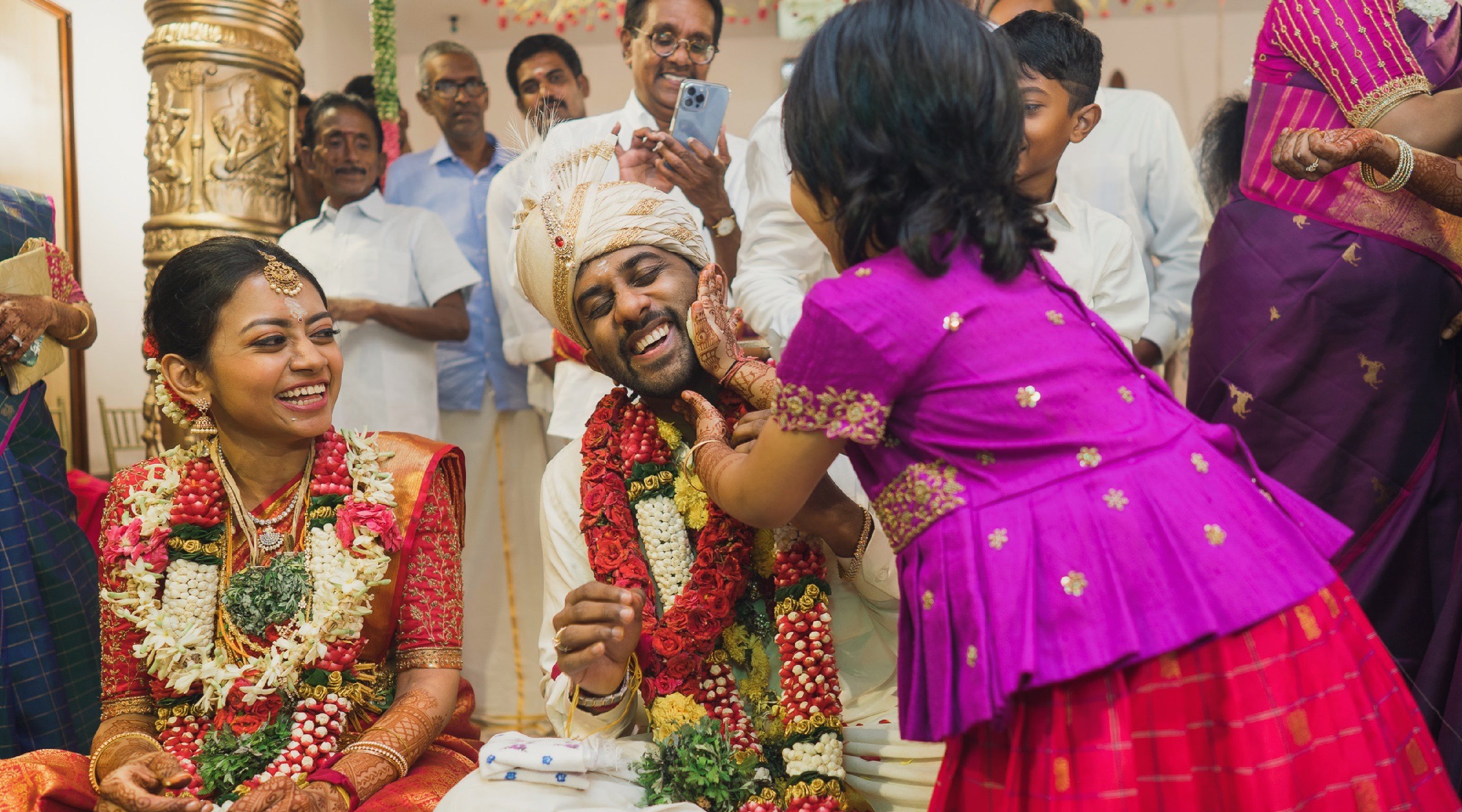 Divya weds Naghappan Kanakavalli Bride Divya has never believed in love at first sight, but she does believe in destiny. She thinks that some people are just meant to be, and nothing can come in t...
Read more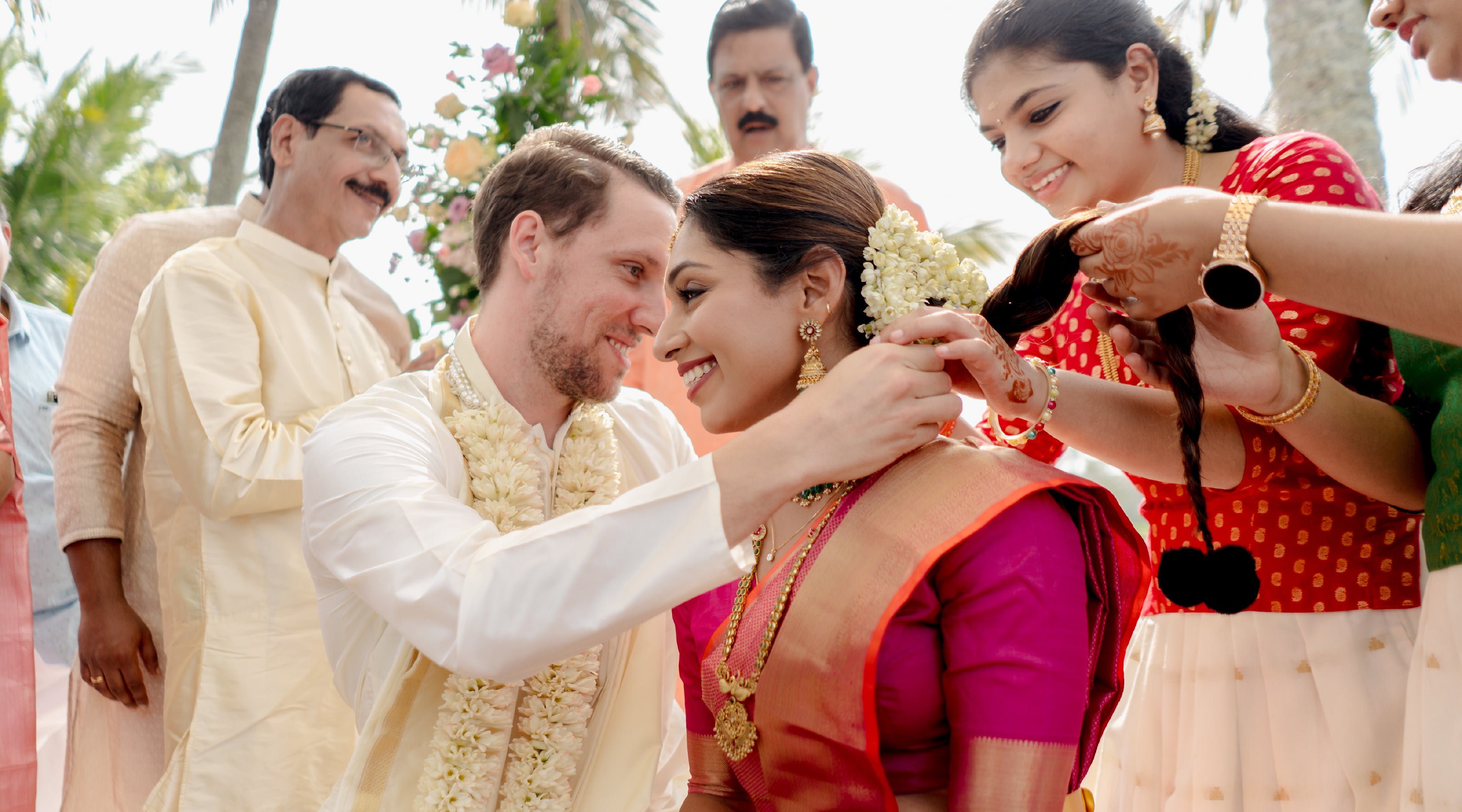 Divya weds Kenneth Divya and Kenneth first went on a sushi date in Chicago, followed by a night of arcade games. While they aren't a 'love-at-first-sight' kind of couple, they found a spark in eac...
Read more