Kanakavalli Bride : Divya

Divya weds Kenneth
Divya and Kenneth first went on a sushi date in Chicago, followed by a night of arcade games. While they aren't a 'love-at-first-sight' kind of couple, they found a spark in each other - one that grew into love, friendship and partnership over five years. They each found in the other their confidante, best critic, travel buddy and safe space.
On a chilly February night, Ken tricked Divya into a dinner date that he claimed to have planned. As they walked to the restaurant, Ken stopped to tie his shoelaces on a bridge over the Chicago Riverwalk. When Divya looked at him, he was down on one knee and had pulled out a shiny ring as he popped the question. It was a lovely and intimate surprise proposal, and of course Divya said yes.
Divya and Ken were most excited about getting to celebrate their wedding together with all their favourite people and chose the Kumarakom Lake Resort for its picturesque beauty. They wanted a laid back celebration that would allow them to hang out with family and friends, have great conversations, and make memories to take back to Chicago.
They had a tropical Mehendi and Sangeet, a traditional Malayali wedding against the backdrop of the serene backwaters, and an intimate, boho-chic reception dinner with toasts from friends and family.
Among the memories that Divya says she will never forget are walking down the aisle with her parents, playing fun South Indian wedding games, Ken attempting to make a speech in Malayalam, and the delicious Sadya. Her family made sure the Sangeet night was memorable too by keeping the dance floor busy!
Not much has changed since the wedding, says Divya, except they now have precious memories of their big day and of Ken's first trip to India. While Divya is the more skilled cook, Ken is the better sous chef, she says. They love to cook and do meal prep together, making their favourites - Mediterranean bowls, salmon and rice, chicken korma and pastas.
Divya says she stumbled upon Kanakavalli while searching for the best stores in South India for kanjivaram saris.
She visited the store in Bangalore and loved the selection and the colours. The minute she draped this gorgeous pink sari, she knew it was perfect. Looking back at the wedding pictures now, Divya says she is convinced she made the right decision.
A big thank you to Divya for being a beautiful Kanakavalli Bride and for sharing the story of her wedding with us. We wish her and Ken a lifetime of togetherness, love and laughter.
Wedding Credits -
Photos: Journeys By Ram
Make-Up: MakeupbyUrmiKaur
Hair: artistpoonamsolanki
Event: Unicorn Wedding Planners
Venue: Kumarakom Lake Resort
Find your own perfect match from our Valli Muhurtham bridal and trousseau collective online.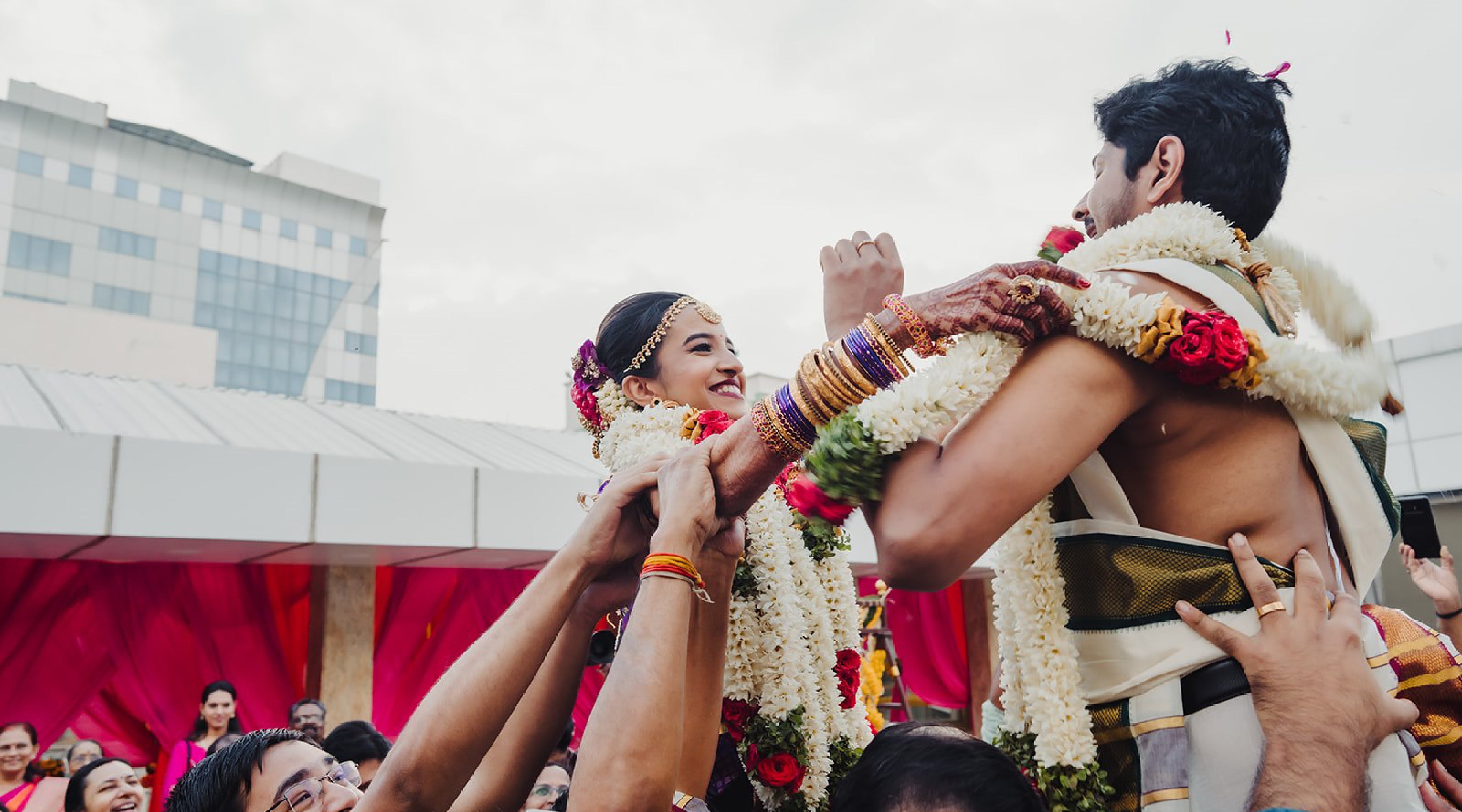 Nithya weds Akshay Kanakavalli Bride Nithya and Akshay went to the same college in Chennai, and got reacquainted in the Bay Area after bumping into each other at the cinema watching a Tamil film. ...
Read more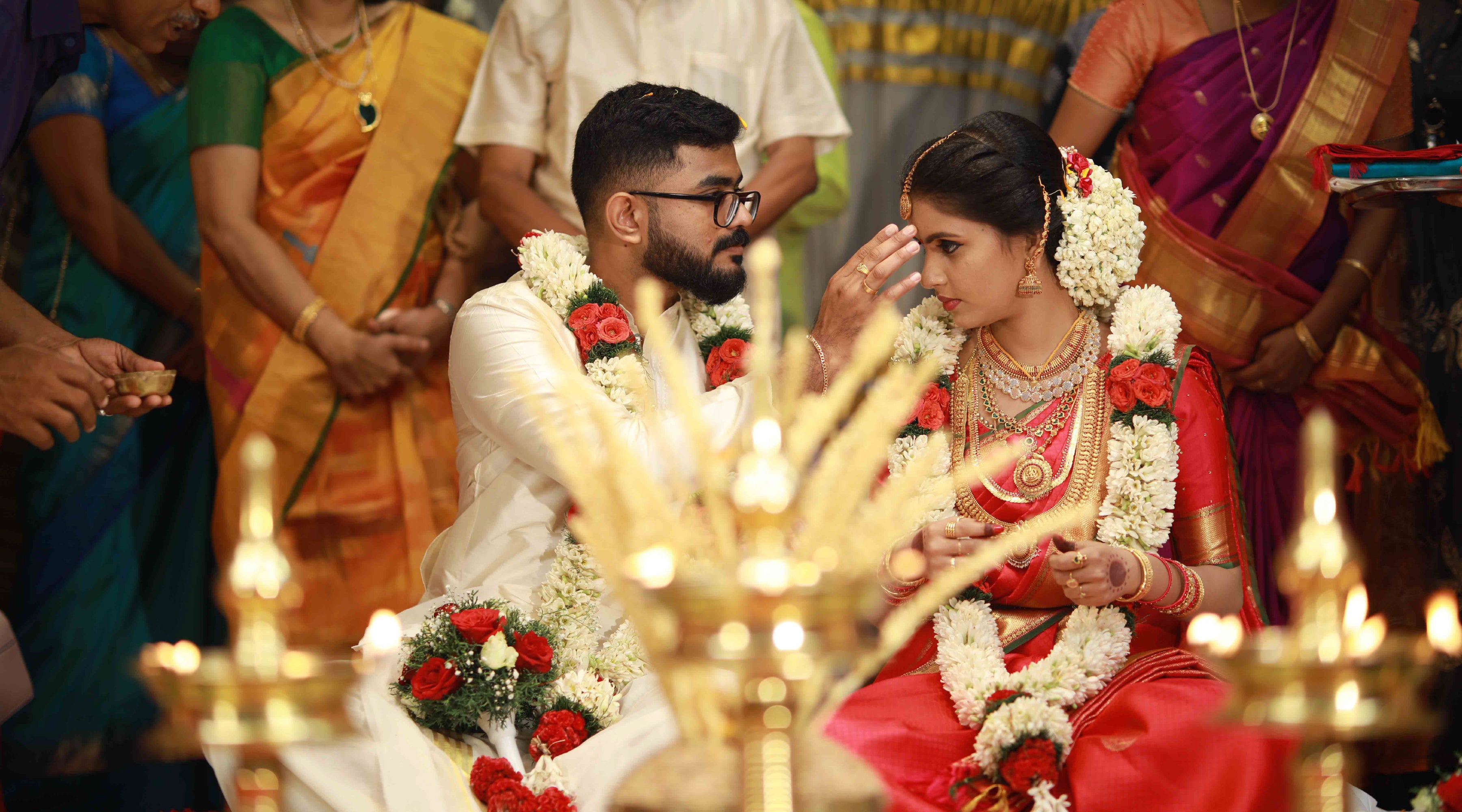 Aparna weds Abhijith Kanakavalli Bride Aparna and her husband Abhijith met while they were in the same year at college, studying to be architects. They had known each other for several years when ...
Read more