Kanakavalli Bride : Nandita
Nandita weds Samyaak
Kanakavalli Bride Nandita believes in love at first sight. In fact, she met her husband Samyaak as a bright-eyed seven-year-old, when they shared a desk in third grade. She says she's not sure they were in love, but some part of her knew that he wasn't just going to be her bench partner!
Nandita and Samyaak grew up together, experiencing everything from moving schools, to break-ups, long distance relationships, and Orkut (one of the earliest social media platforms) together. They didn't need a proposal - they just knew there was no going back and that they wanted to spend the rest of their lives together.
The couple had a Tamil-Marwari wedding, and Nandita says the best part was the food! On the one hand, they had dal baati and on the other, they had pongal. While Nandita picked a kanjivaram sari for her wedding day, she chose to drape it over a lehenga skirt to keep both their families' traditions alive.
According to Nandita, the most memorable moment from their big day was having her entire family on stage with her and Samyaak during the ceremony. Her sister and brother-in-law did all the rituals along with her mother, so it was truly a beautiful family affair.
Since the wedding, Nandita says each day has been a new lesson, filled with love and compassion. Their parents' love has been their guiding path, and she says Samyaak is the best partner she could have asked for.
Her advice to brides planning their own weddings is to be 100% authentic, and to be very clear with everyone involved in the wedding.
Kanakavalli was Nandita's top choice for her big day, ever since her sister wore Kanakavalli for her wedding a few years ago. She and her family planned a trip to the Chennai store, but unfortunately, the lockdown changed all their plans. Nandita was disappointed, but soon discovered that Kanakavalli was bringing an exhibition to Mumbai!
Nandita says the Kanakavalli exhibit in Mumbai was one of the loveliest, and that the range of kanjivarams was elegant and simple yet rich. The icing on the cake, she says, was the thoughtful sari pouch that her kanjivaram came beautifully packed in.
A big thank you to Nandita for being a beautiful Kanakavalli Bride and sharing the story of her wedding with us. We wish her and Samyaak a lifetime of love and laughter.
Wedding Credits -
Photography - @chitra_karma
Makeup - @Merakibyritika - Ritika Bhatia Marwa
Lehenga - @miscellaneousbytas - Tas Gabaji
Find your own perfect match from our Valli Muhurtham bridal and trousseau collective online.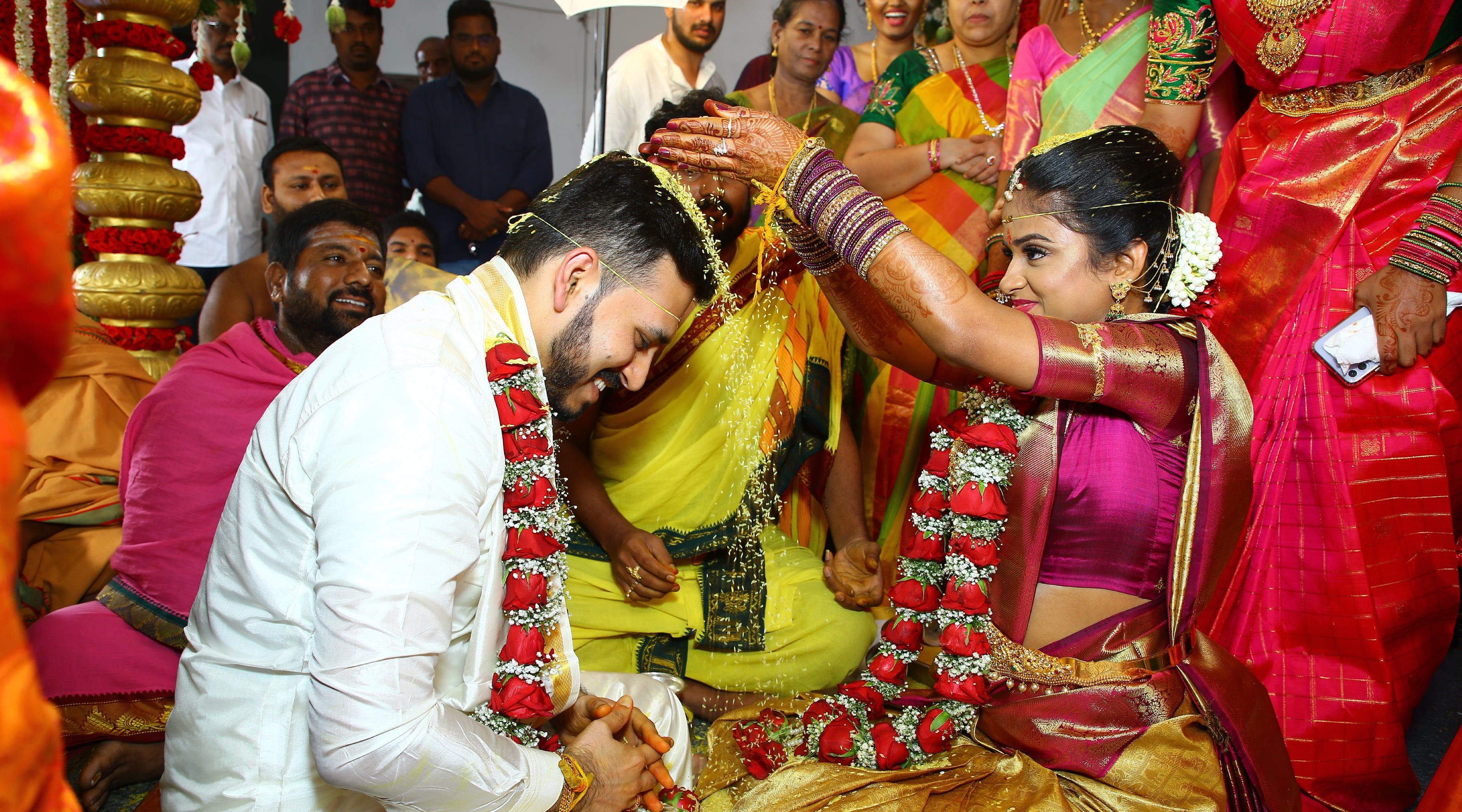 Saishree weds Siva Kanakavalli Bride Saishree met her future husband Siva when the two were studying at the PSG College of Technology in Coimbatore. They soon became close friends, but after colle...
Read more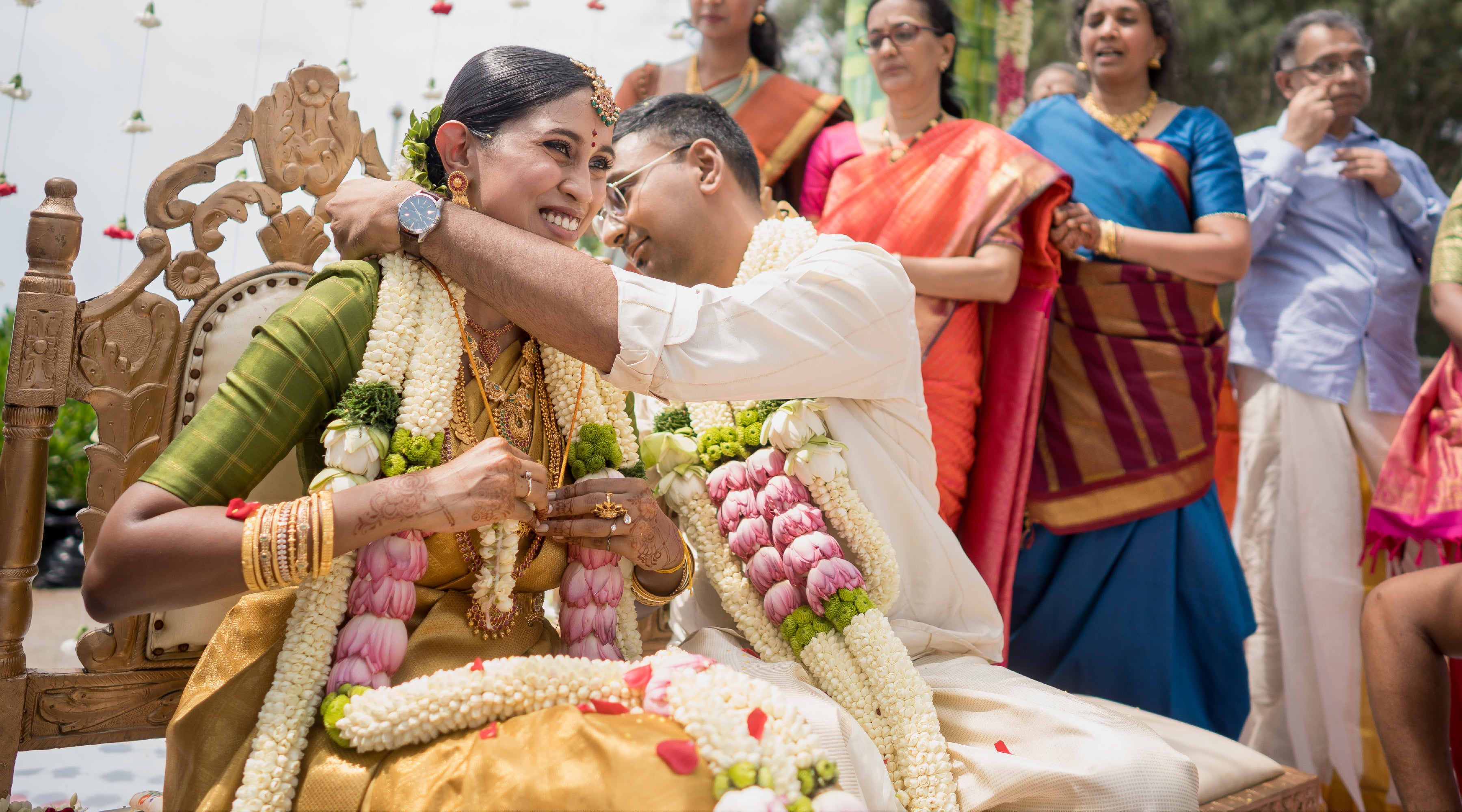 Nivetha weds Siddharth Nivetha first met Siddharth when they were both six years old. They were in the same class until the third grade, and Siddharth remembers her as the sincere class-topper. Ye...
Read more