Kanakavalli Bride : Minal

Minal weds Sagar
Kanakavalli Bride Minal's husband Sagar works in the event industry in Bangalore, and she first saw him at one of his parties. She remembers thinking that he seemed like a nice guy, but Sagar says that Minal caught his eye and he made sure to speak to her the next time they met. According to Minal, it may not have been love at first sight, but they were certainly drawn to one another.
Minal and Sagar's families had decided that the two were going to get married, but the groom-to-be had a romantic plan of his own.
The couple travelled to Goa with friends for pre-wedding celebrations and they booked a yacht for a day. Another close friend in the group was also getting married around the same time, so Minal thought all three of them were being blindfolded for a surprise one evening. In reality, only Minal's eyes were covered. When they arrived at a sunset spot, she removed her blindfold to find Sagar down on one knee on the yacht in the middle of the ocean, with a ring in his hands!
Minal grew up watching Shah Rukh Khan films, and had been dreaming about her wedding day since she was a young girl - with all the romance and drama of Bollywood. She loved planning her special day, and says the best part was that nobody could say no to the bride!
The couple had Haldi, Mehendi and Sangeet ceremonies, followed by the wedding and a cocktail party. The festivities all took place in Bangalore and Mangalore. The wedding decor was all in white and pastel shades, so that the bride would stand out in her deep red kanjivaram.
The bride was carried to the wedding venue in a palanquin carried by her brothers, uncles and best friends, to the tune of one of her favourite songs. It was an emotional moment for Minal, watching her friends and family smiling at her. She says it felt as though a part of her was saying goodbye as she entered a new phase of her life, and she will never forget that moment.
Love is all you need, says Kanakavalli Bride Minal, who describes marriage as amazing. She says that she and Sagar learn new things about one another every day. They never feel alone and have become each other's confidantes as they grow together as individuals and a couple.
Minal and her family visited Kanakavalli at Kingsley in Chennai, and she says they loved the ambience of the space - the lush greenery, the vintage furniture and the friendly staff. She was looking for a very particular shade of red, and her mum picked one that Minal just knew was 'the one'. She says the kanjivaram was everything she'd imagined it to be - from the colour and design to the richness of the zari. Once she had draped it and showed it to her sister on a video call, it didn't take her long to decide that this would be her wedding sari.
A big thank you to Minal for being a beautiful Kanakavalli Bride and sharing the story of her wedding with us. We wish her and Sagar a lifetime of love and laughter.
Wedding Credits -
Photography Credits - Claude Loren
Jewellery - Gajraj Jewellers
Makeup - Studio Tanisii
Find your own perfect match from our Valli Muhurtham bridal and trousseau collective online.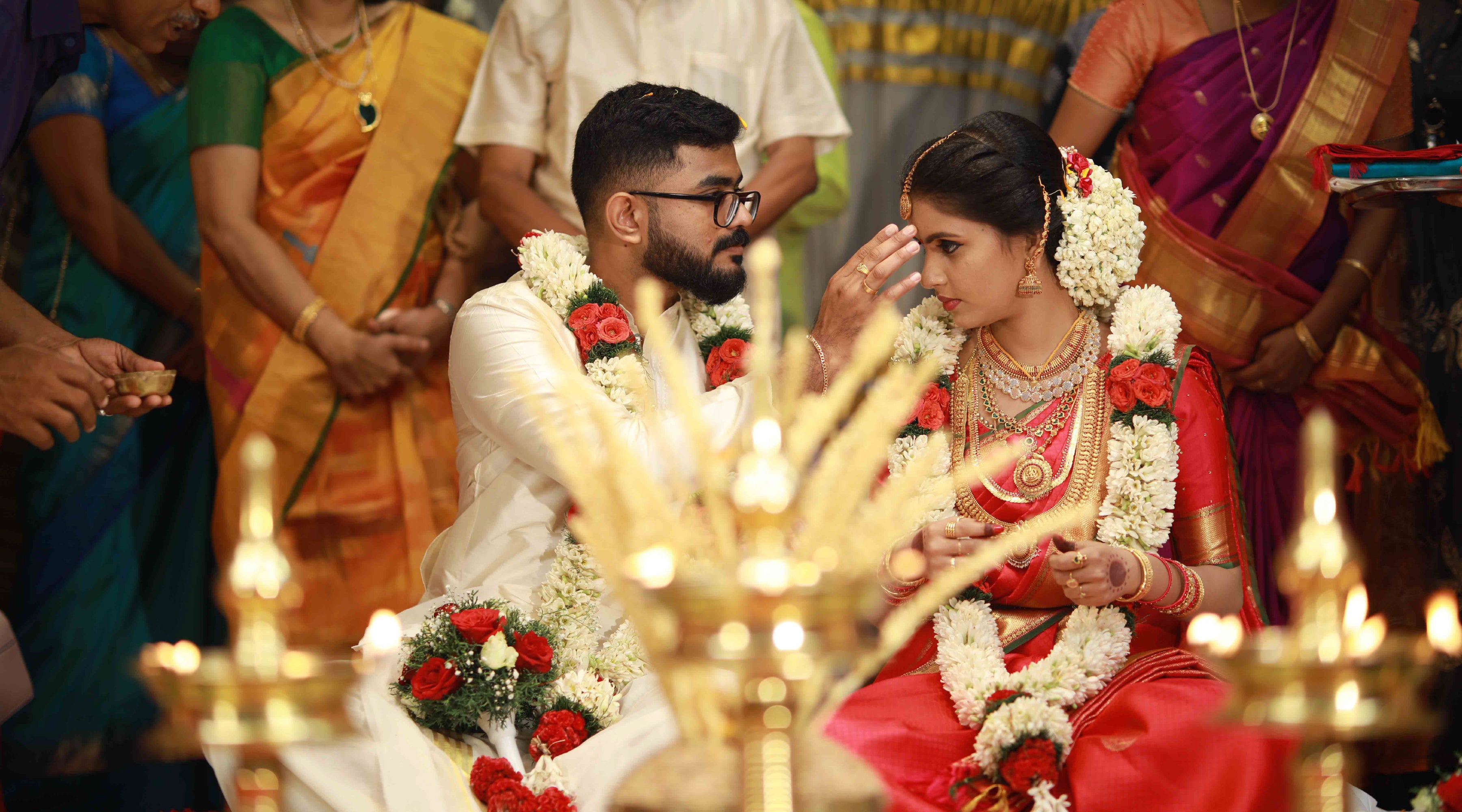 Aparna weds Abhijith Kanakavalli Bride Aparna and her husband Abhijith met while they were in the same year at college, studying to be architects. They had known each other for several years when ...
Read more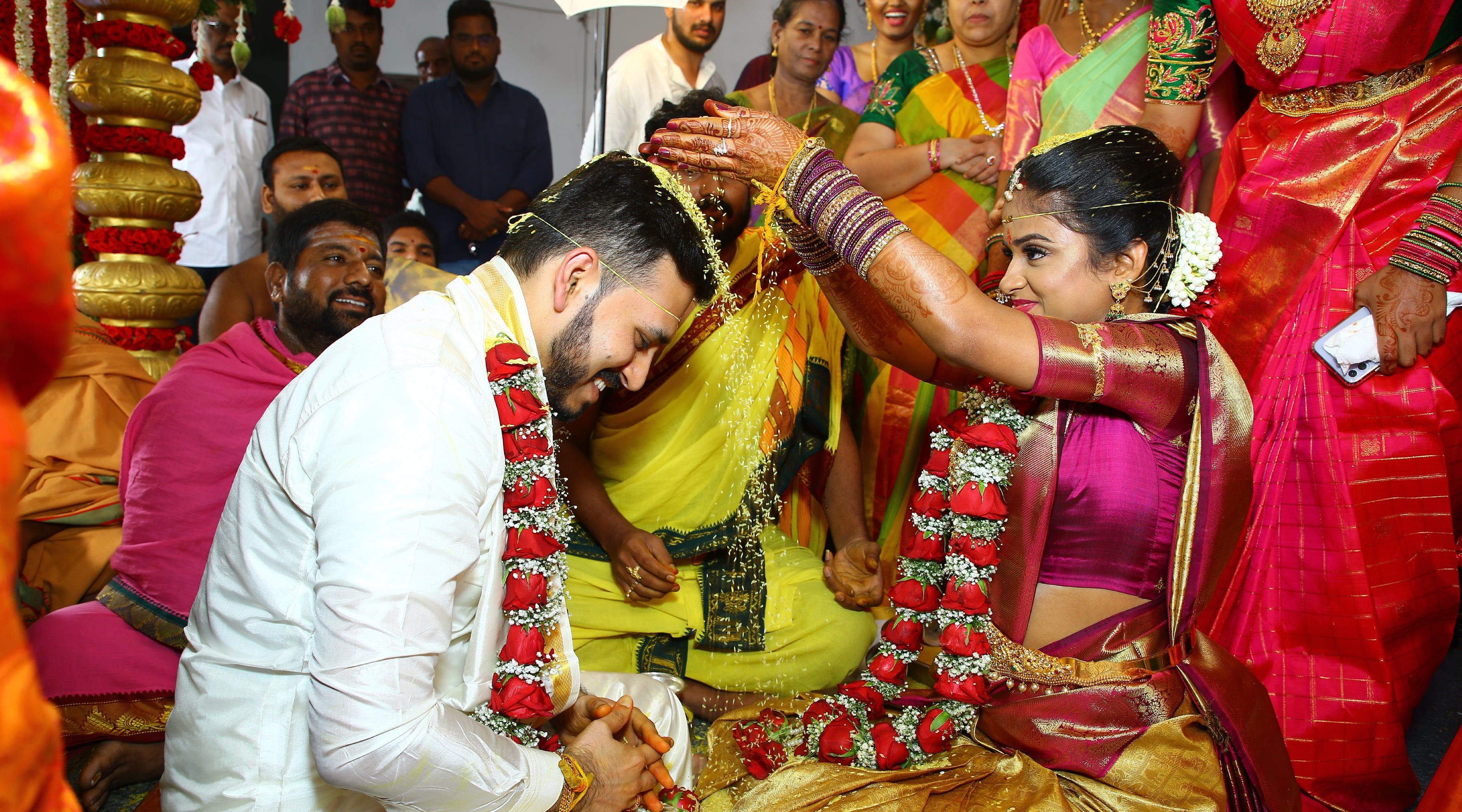 Saishree weds Siva Kanakavalli Bride Saishree met her future husband Siva when the two were studying at the PSG College of Technology in Coimbatore. They soon became close friends, but after colle...
Read more