Kanakavalli Bride : Malavika

Malavika weds Aathithya
Kanakavalli Bride Malavika first met Aathithya when he was a first-year postgraduate doing his morning rounds in the orthopaedic ward, while she was a clueless intern. She confidently walked up to him and offered to help, and then fell for his voice hook, line and sinker. After several long drives, conversations by the beach and take-out meals with cute notes between working hours, he finally left her a note asking her out on a date. Malavika says they often laugh about the fact that there was never a big proposal. The two of them just knew that they wanted to be together for the rest of their lives.
Their wedding was quite the adventure, with seven events spread across three cities and five days. Malavika says she and Aathithya couldn't have planned it without the help and support of their family and friends. Getting to spend their wedding ceremony and their most special day with all the people they love most was the greatest blessing, she says.
The couple's nearest and dearest were all involved in making the wedding what it was, from planning the decor, to making multiple trips to design the invites, to many family trips to Kanakavalli! Malavika says that the experience of planning the wedding is one she and Aathithya will always cherish - through the process they really did become one big family.
Malavika says that every wedding function will always hold a special place in her heart. The three days were absolutely magical, and everything fell into place perfectly. Malavika and Aathithya could not have asked for a more memorable wedding. According to Malavika, the only inspiration she ever needed was from her parents, who set stellar relationship goals for her as she grew up.
Both Malavika and Aathithya wanted a minimalist wedding, and they followed their instincts for every element of the wedding. For their wedding ceremony, the couple chose simple but exquisite decor details in muted tones, tastefully punctuated with florals and pops of colour, all set against the verdant green of Kerala's backwaters.
From the venue and decor to their outfits, everything was a reflection of their personalities. Malavika's mother saved years of Vogue wedding issues in anticipation of her daughter's big day. In addition, Malavika and Aathithya recently introduced their families to Pinterest!
If she could describe her wedding in just a few phrases, Malavika says they would be, "Close-knit, less is more, attention to detail, and subtle." According to Malavika, she and Aathithya can be trusted with their patients, but leave them in the kitchen, and it's a whole different story. Their cooking repertoire includes burnt gulab jamuns and square puris!
Kanakavalli has always been Malavika's go-to sari store, and she describes the kanjivarams as works of art. She has always been fascinated by the work that goes into weaving each piece, and appreciates the efforts to conserve this beautiful craft.
Malavika says Kanakavalli has always made her feel at home, and she and her family find shopping there truly therapeutic. In fact, if they're going to Kanakavalli, even Aathithya and their fathers are ready to go sari shopping!
Malavika chose three gorgeous kanjivarams, a grey for the engagement, a classic mustard sari for the oonjal ceremony, and a stunning grey shot with rust for her muhurtham. Aathithya also picked his muhurtham outfit at Kanakavalli, an angavastram set in beige and gold to coordinate perfectly with his bride's sari.

A big thank you to Malavika for being a gorgeous Kanakavalli bride, and for sharing the story of her wedding with us. We wish her and Aathithya a lifetime of love, laughter and togetherness.
Wedding Credits -
Photography: Shot stories by Varun Suresh
Make-up & Hair: Elton Fernandez
Decor : The Acube Project
Find your own perfect match from our Valli Muhurtham bridal and trousseau collective 
online.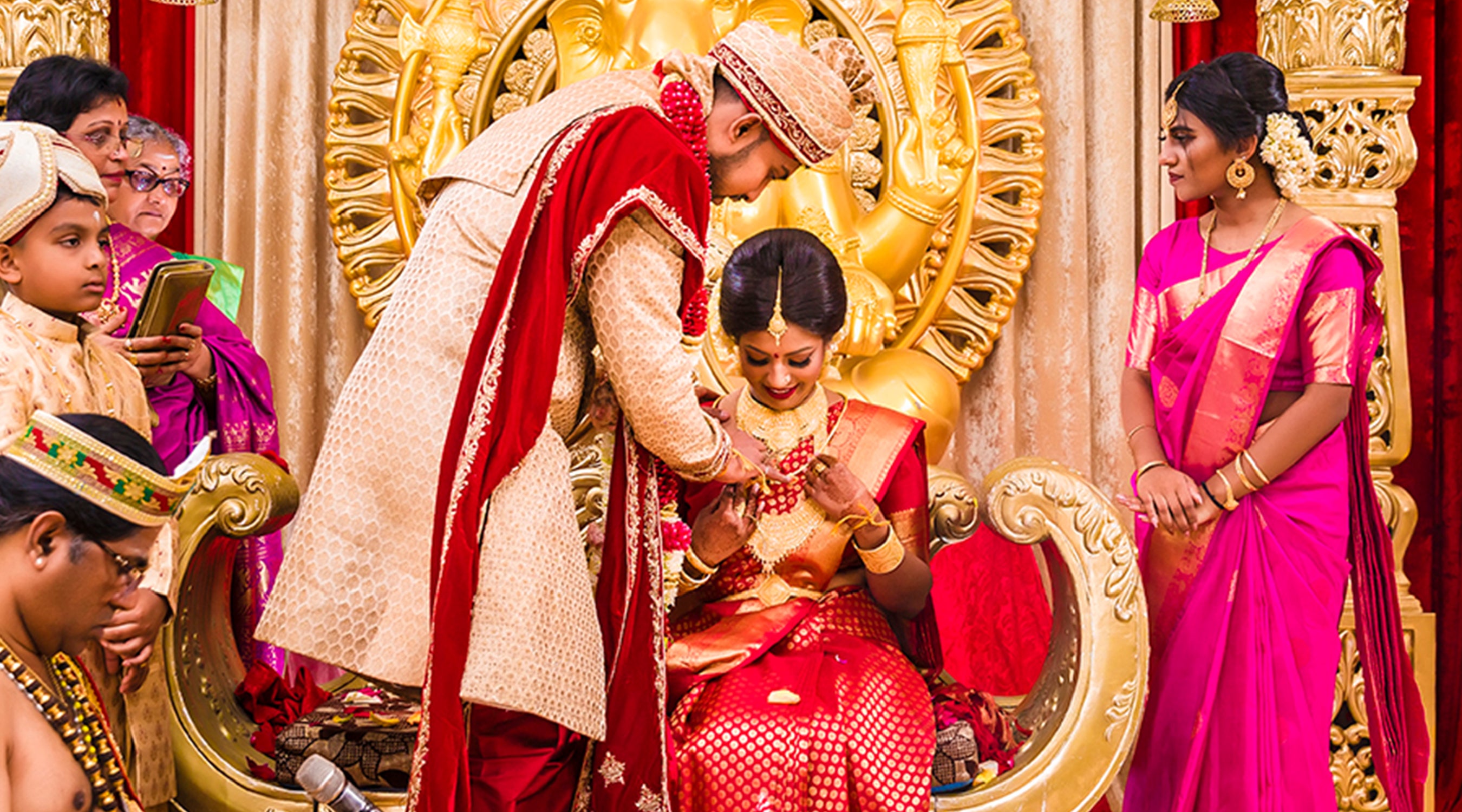 Sivaja weds Kajendran Kanakavalli Bride Sivaja says she doesn't believe in love at first sight, unless we're talking about saris or babies! For her, love builds up over time and is more than attra...
Read more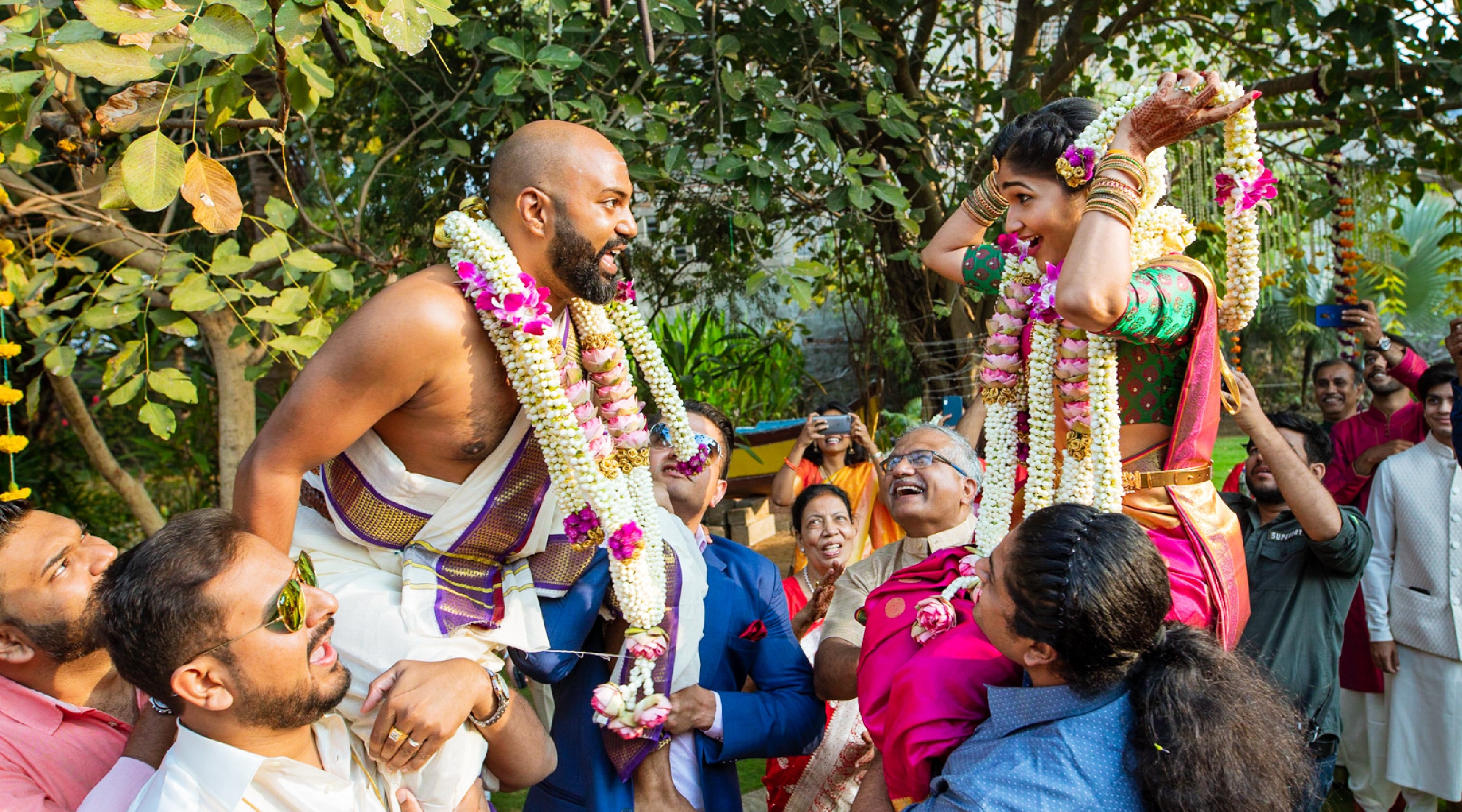 Aishwarya weds Zubin Aishwarya first met Zubin in 2005, while studying for her law school entrance exams. One day he said something that made her laugh, and they hit it off instantly. So while it ...
Read more