Kanakavalli Bride : Sivaja

Sivaja weds Kajendran
Kanakavalli Bride Sivaja says she doesn't believe in love at first sight, unless we're talking about saris or babies! For her, love builds up over time and is more than attraction. She and Kajendran were introduced by their parents, and they texted for a week before meeting. Their first date was at a Starbucks, where they spoke of travel and work. Sivaja hadn't planned on meeting him again, but when he asked her out on a second date, something made her say yes. And she's so glad she did!
There was no official proposal, but a mutual agreement to take things forward. The closest thing to a proposal was the first time Kajendran told Sivaja he loved her. He planned an elaborate day, starting at the mall, followed by lunch and a walk in the park. He finally said the three big words at the pier, in what Sivaja says was the most romantic moment, and their day ended with dinner by the lake.
Sivaja and Kajendran planned their entire wedding in just two months, and while she'd first thought it would be impossible, she says she wouldn't have done it any other way. Everything came together beautifully, and her favourite part was choosing her bridal outfits, jewellery and the decor.
The couple wanted a traditional wedding and chose classic shades of red, green and gold. Since the name Kajendran is another name for Pillayaar, Sivaja's favourite god, they incorporated statues as part of their decor. Their wedding, spread over four days, had intimate family gatherings, bigger celebrations, and many memorable moments.
One of the funniest moments from the wedding was when Kajendran was struggling to put the metti or toe ring on Sivaja's toe during the ceremony. He didn't realise that the ring had to be opened up and nearly broke his bride's toes while trying! The guests all wondered what was taking so long, until Sivaja finally explained it to him.
According to Sivaja, Kajendran is definitely the better cook, but she is a good student and is learning from her husband.
Having first come across Kanakavalli three years ago when her sister was shopping for her wedding, Sivaja has shopped at the store and online. While some brides wouldn't buy their wedding saris online, Sivaja did not hesitate with Kanakavalli. The tomato red kanjivaram that was her koorai sari was love at first sight, and she went on to send a reference image to the team for her maanavarai sari. The very first kanjivaram they showed her over Whatsapp ended up becoming the one she wore for her wedding.
Sivaja says her shopping experience with Kanakavalli has always been extraordinary, whether in the beautiful ambience of the Kingsley store or online. Over Whatsapp, she says, the team was incredibly patient, sending several images of the sari and even draping it on a salesman for her to see the size of the border!
A big thank you to Sivaja for being a gorgeous Kanakavalli bride and for sharing the story of her wedding with us. We wish her and Kajendran a lifetime of joy and togetherness.
Wedding Credits -
Photography: Pearl Image Photography
Hair & Makeup: Angells Beauty
Find your own perfect match from our Valli Muhurtham bridal and trousseau collective 
online.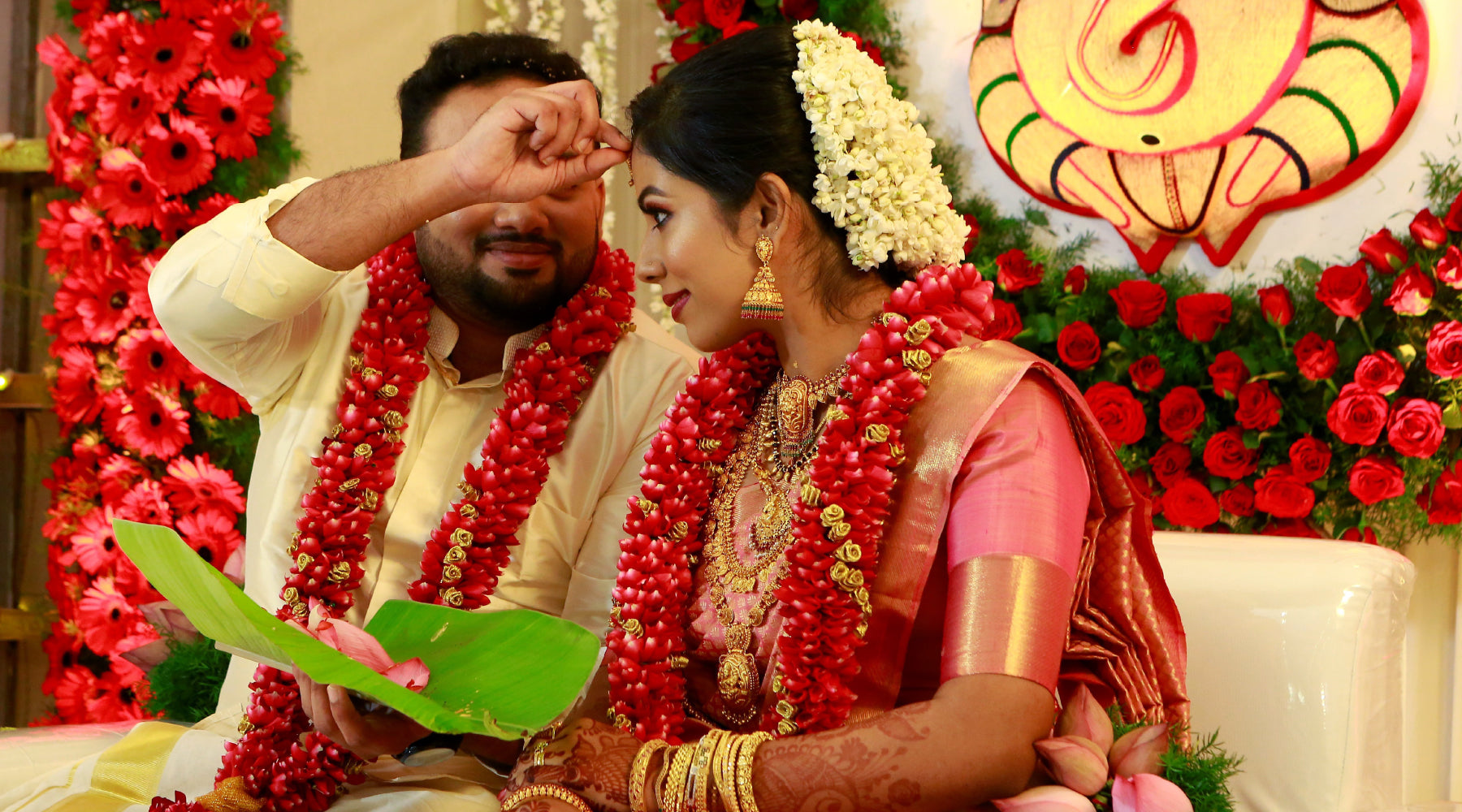 Gowri weds Nikhil Gowri and Nikhil were introduced by their parents, and had a little time to get to know each other before the wedding. Gowri says she was confused at first, but quickly discovere...
Read more
Malavika weds Aathithya Kanakavalli Bride Malavika first met Aathithya when he was a first-year postgraduate doing his morning rounds in the orthopaedic ward, while she was a clueless intern. She ...
Read more