Kanakavalli Bride : Gowri

Gowri weds Nikhil
Gowri and Nikhil were introduced by their parents, and had a little time to get to know each other before the wedding. Gowri says she was confused at first, but quickly discovered a deep connection with Nikhil, who makes her laugh and shares many of the same ideas about life. What began as an arranged marriage blossomed into love, says Gowri. When they got to know each other, Gowri's confusion melted away, and she realised that she'd met her perfect match. There was no proposal, but they shared a silent acceptance to love each other unconditionally.
Gowri's favourite part about wedding planning was choosing all her outfits; it was exhausting and time-consuming, but she enjoyed every minute of it. She had always wanted a sari in a pastel shade, and a venue with decor in deeper floral hues. Gowri had visualised a lotus bouquet, and said her Kanakavalli kanjivarams were everything she'd imagined her wedding saris to be.
Their traditional Kerala Hindu wedding was filled with beautiful music played on the Nadaswaram and Thavil, with deeply symbolic ceremonies. In the midst of all the activity, Gowri says she will never forget the moment that Nikhil tied the thali. Standing beside her father as he chanted, she felt blessed, happy, excited and relieved all at the same time.
The most emotional moment, though, was the Kanyadanam, in which the bride's father gives her away to the groom. Gowri was overwhelmed with emotion, tears streaming down her face, but she was also filled with joy at the beginning of her marriage.
The funniest thing Gowri's friends have been saying to her since the wedding is, "Congratulations on the promotion from being asked, 'When are you getting married?' to 'When are you going to have babies?'"
At the moment Gowri says she is probably the better cook, but Nikhil is her all-time favourite kitchen assistant!
Gowri says she found bridal inspiration on Kanakavalli's Facebook page, especially in the past Kanakavalli Bride features. She had decided a long time ago that she would buy her wedding sari only at Kanakavalli. Fortunately for Gowri, since the groom's family usually buys the bride's wedding sari, her mother-in-law loves Kanakavalli too!
Gowri loves the wide range of saris that Kanakavalli showcases, as well as the quality and elegance of the silk. She also loved the ambience at the store and its beautiful architecture. Gowri chose two gorgeous kanjivarams - one in fuchsia pink for the wedding, and an exquisite sky blue shot with parrot green for the reception.
A big thank you to Gowri for being a gorgeous Kanakavalli Bride and for sharing her story with us. We wish her and Nikhil a lifetime of togetherness and laughter.
Find your own perfect match from our Valli Muhurtham bridal and trousseau collective online.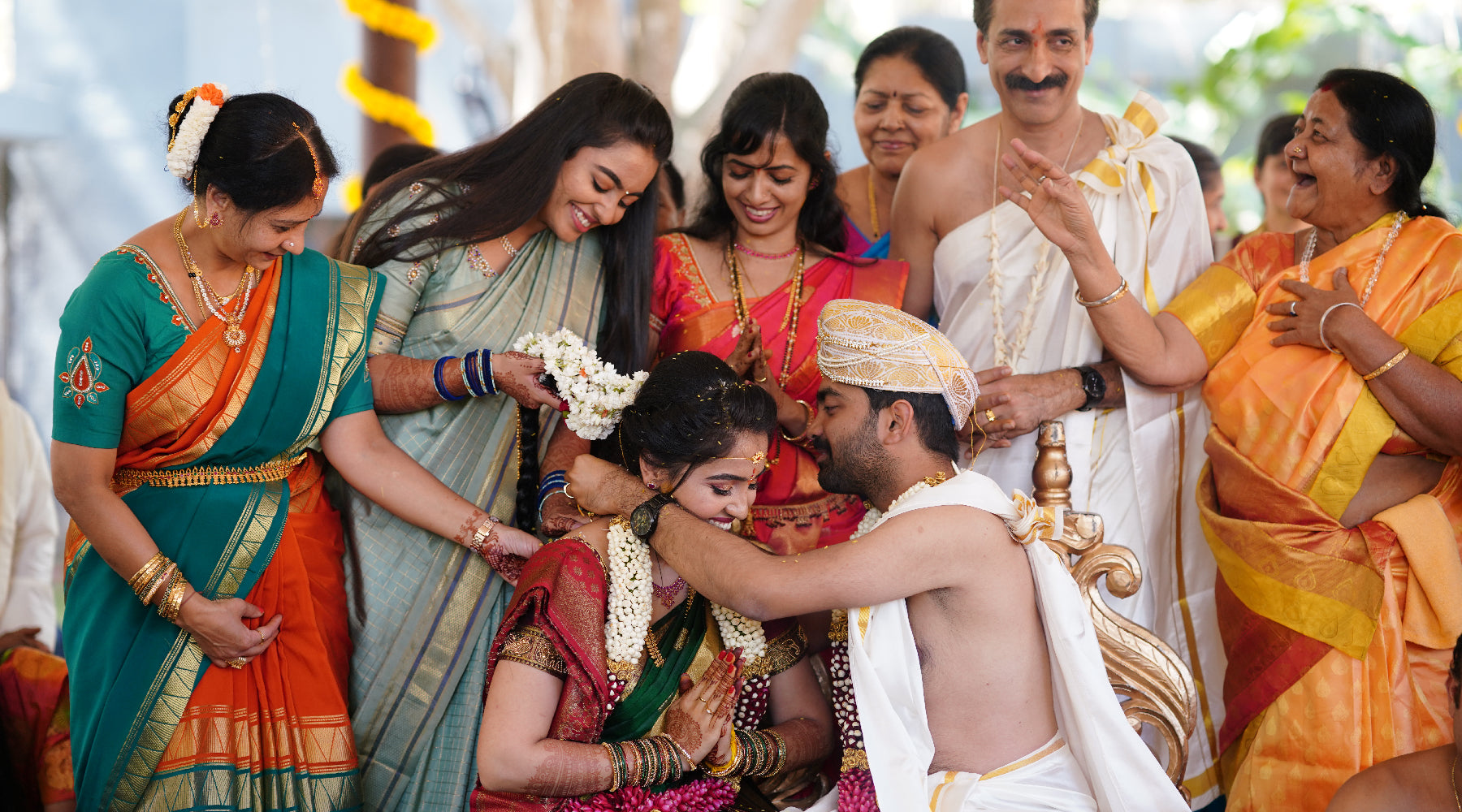 Varsha weds Nikhil Varsha met Nikhil at her yoga class - he was her teacher's son. Being shy and conservative by nature, she would never have spoken to him first, but one day she needed the wifi p...
Read more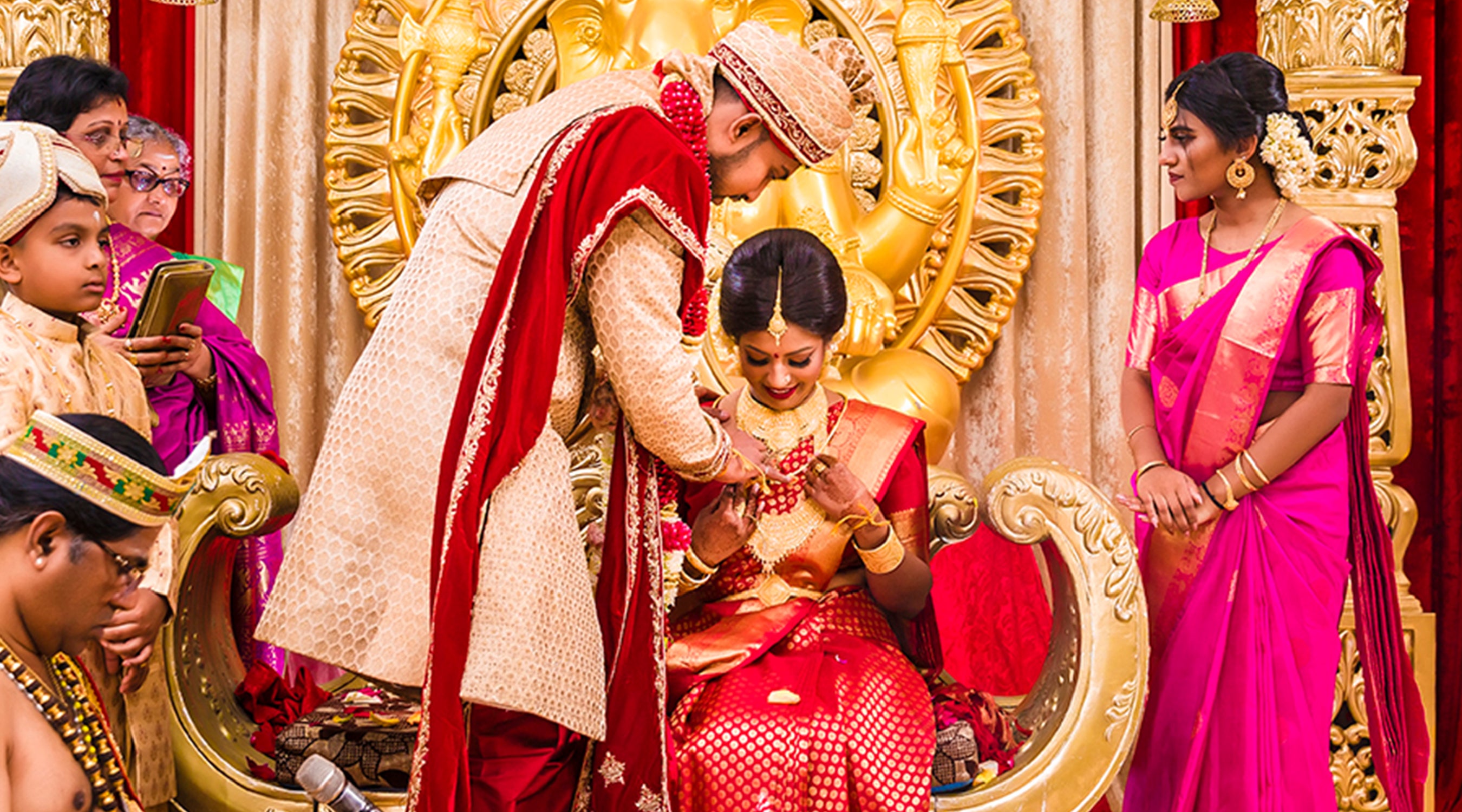 Sivaja weds Kajendran Kanakavalli Bride Sivaja says she doesn't believe in love at first sight, unless we're talking about saris or babies! For her, love builds up over time and is more than attra...
Read more