Kanakavalli Bride : Aishwarya

Aishwarya weds Zubin
Aishwarya first met Zubin in 2005, while studying for her law school entrance exams. One day he said something that made her laugh, and they hit it off instantly. So while it might not have been 'love at first sight', Aishwarya says it was definitely 'connection at first laugh'! They ended up at the same law school, shared many more laughs and became the best of friends.
After graduating, Zubin was visiting Aishwarya in Bombay where she lived, and he asked her to leave her apartment keys with a neighbour one evening. Aishwarya came home that night to the sweetest surprise - her flat was decorated with candles and her favourite flowers, and she was welcomed home with wine and Italian food. Soon he was down on one knee, reciting a poem he had written for her and asking her to marry him!
Aishwarya says that if she wasn't a lawyer she'd have been a designer, and she loved organising the wedding and planning the tiniest details. On weekdays, she'd take breaks from work to look at her mood boards on Pinterest and Instagram, while weekends were all about scouting for everything from clothes and jewellery to decor and wedding favours.
Their inter-religious marriage was the best of both worlds. They had a vibrant three-day affair in Chennai, starting with cocktails and a mehendi, followed by a gorgeous outdoor Tam Brahm wedding in a traditional style house with a courtyard. Aishwarya chose tuberoses, marigolds and lotuses for the garden and pathways, with vadamalli, jasmine, orchids and tuberoses for the mandapam. They also had a private Christian blessing in a tree-lined garden at sunset in Hyderabad, with family friends officiating.
"The most memorable moment from my big day was when my Catholic husband was repeating mantras for the first time like he had been saying them for years!" says Aishwarya. She says it was a very emotional moment for her. Everyone at the wedding was pleasantly surprised and she teased him asking if he had been practicing the last few months.
The most meaningful piece of advice Aishwarya received was from her mother who said that marriage is a willing give and take--you have to be yourself and give your partner the freedom to be himself. "To the extent you give freedom to others to be what they are," she told her, "to that extent you are free."
Aishwarya says that she considers herself lucky to have had the wedding of her dreams, marrying her best friend in a gorgeous outdoor setting with a few of her favourite things - her closest family and friends, the beautiful fragrances of flowers, foot tapping music and fantastic food!

If she were to describe her wedding in five phrases, they would be: tasteful, timeless, intimate, dreamy and one hell of a celebration!
When she first stumbled upon Kanakavalli on Instagram, Aishwarya's heart skipped a beat. She grew up seeing beautiful kanjivarams that always reminded her of the good things in life - her mother and the other elegant women in her family, traditions, festivals, special occasions and more. So, she always knew she would wear a kanjivaram for her wedding for its timeless beauty that she would be able to treasure for the rest of her life. Kanakavalli resonated with her - from its classic and contemporary aesthetic, to the richness of the silks and colours and the extraordinary motifs and details. At the store in Chennai, she picked not one but three gorgeous kanjivarams - and she's saved the third one for another occasion!
Aishwarya picked two gorgeous Kanakavalli kanjivarams. Everything about the Kanakavalli shopping experience was inviting and beautiful, says Aishwarya. Like the saris, she says the Adyar store exuded authenticity, richness and luxury. The team was enthusiastic, pleasant and extremely patient, making the shopping experience truly memorable.
A big thank you to Aishwarya for being a gorgeous Kanakavalli Bride and sharing the story of her wedding with us. We wish her and Zubin a lifetime of love, laughter and togetherness.
Wedding Credits -
Photography: @sweetpicklepictures
For the Tamil Brahmin Wedding -
Make up and Hair: @prakatwork
Venue: @rinasvenue
Décor: Nachiappan (nachi_amazonblooms)
For the Christian Blessing Ceremony -
Make up and Hair : @makeupartistimaan
Décor: Sean Joseph (@seanjoseph_sv)


Find your own perfect match from our Valli Muhurtham bridal and trousseau collective 
online.
Malavika weds Aathithya Kanakavalli Bride Malavika first met Aathithya when he was a first-year postgraduate doing his morning rounds in the orthopaedic ward, while she was a clueless intern. She ...
Read more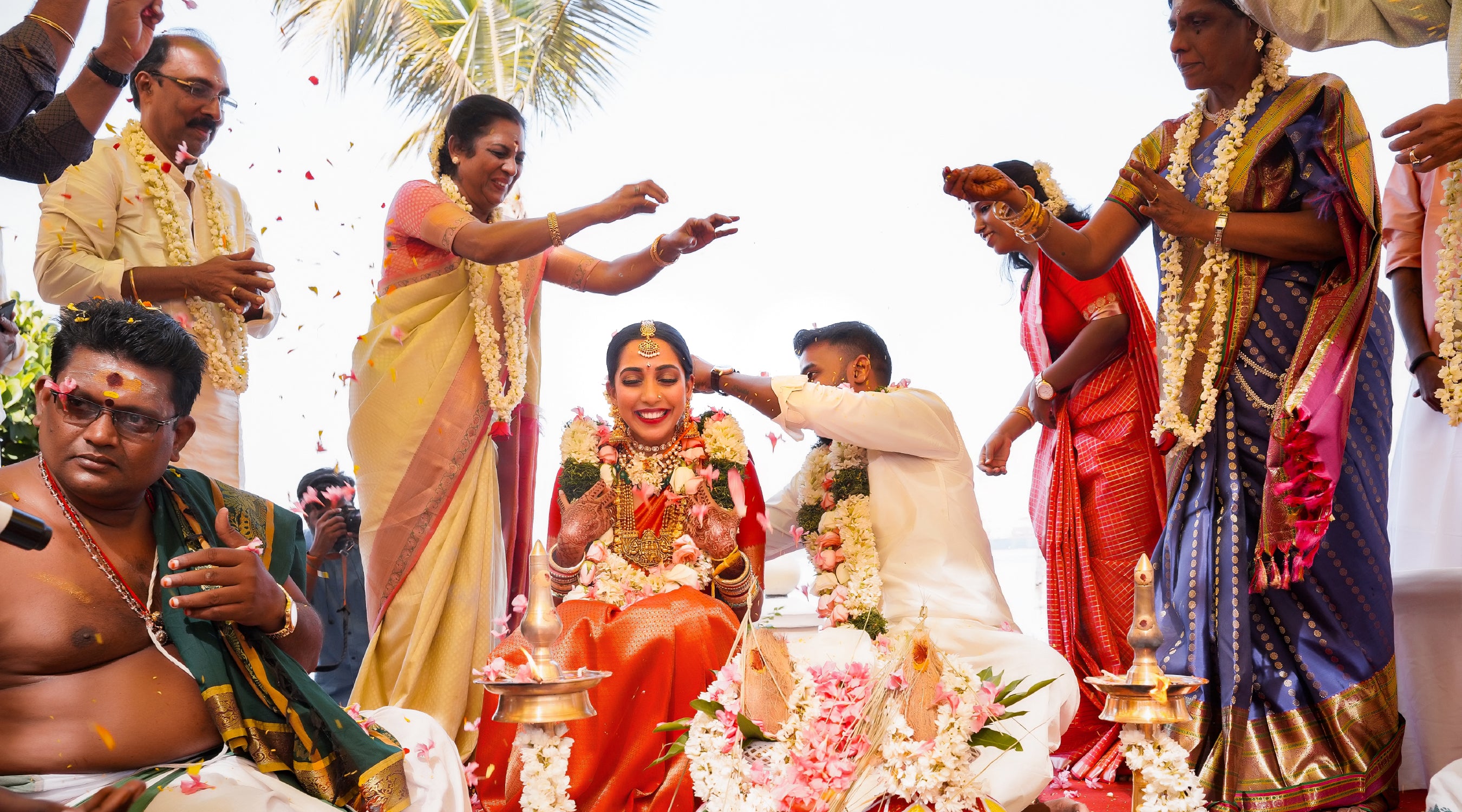 Nikhita weds Jaga Nikhita and Jaga worked for the same company, but he was at the Singapore office while she was in Chennai. They first met when Nikhita travelled to Singapore on work. She says th...
Read more