Kanakavalli Bride : Nikhita

Nikhita weds Jaga
Nikhita and Jaga worked for the same company, but he was at the Singapore office while she was in Chennai. They first met when Nikhita travelled to Singapore on work. She says there was an instant connection, and it was just a matter of time before they were texting all day and becoming each other's morning alarms. Since both take time to get comfortable with new people, Nikhita says it was fortunate they had a long distance friendship first, which, before long, turned into a long distance relationship.
Nikhita will never forget a very special birthday surprise when she landed in Singapore past midnight, and Jaga whisked her off on a ferry to Bintan, an island in Indonesia. There were many perfectly planned birthday surprises through the day, against the backdrop of the endless ocean.
That night, Jaga planned a private beachside dining experience, with amazing food, music and drinks. For dessert, he blindfolded her and took her for a stroll on the beach. Nikhita opened her eyes expecting to see a chocolate mountain, and found the words, "Will you marry me?" carved into the sand, there beneath the stars. She said it was the most incredible night of their lives.
Nikhita says she enjoyed every single part of wedding planning, and handpicking every detail, from their outfits to the decor and food. Their traditional outdoor wedding followed an intimate and colourful mehendi function at home and a pre-wedding welcome party with black and gold decor. The wedding focused on the ceremony and the essence of the event, with marigold and jasmine flowers, banana leaves - all simple, classic and elegant.
Nikhita and Jaga were very sure about the people they wanted to be a part of their big day, and at their intimate destination wedding, all their guests became one big family.
The most memorable thing about the experience for Nikhita was watching people from different parts of their lives coming together and enjoying each other's company. She felt surrounded by love and happiness, which she will always cherish.
The couple was doing long distance even after the wedding due to various work commitments, but managed to reunite in Singapore just before lockdown. Nikhita says this is the best thing that happened, and that living with Jaga has been thrilling. They are working on improving each other's lifestyles and habits, and finding ways to complement each other every day.
One of Jaga's friends gave him a piece of advice that is funny, but important - "Happy wife, happy life!".
Nikhita says that she started following Kanakavalli long before she even thought about getting married, but as soon as the wedding date was fixed, she knew she wanted her Muhurtham sari from us. From the ambience and the staff to the unique curations of saris, she loved the Kanakavalli experience, and so did her father and her husband who are not easily satisfied!
Nikhita was delighted to find the exact shade of red that she was looking for at Kanakavalli. She wore a classic red kanjivaram adorned with gold geometric patterns, with an intricate pallu. For Nikhita, the best part about shopping at Kanakavalli was the customer experience, which she continues to enjoy even after her visit to Kingsley.
A big thank you to Nikhita for sharing the story of her wedding with us. We wish her and Jaga a lifetime of friendship, laughter and love.
Wedding Credits -
Photography: Eyebrow Weddings
Make Up: Reshma Thomas


Find your own perfect match from our Valli Muhurtham bridal and trousseau collective 
online.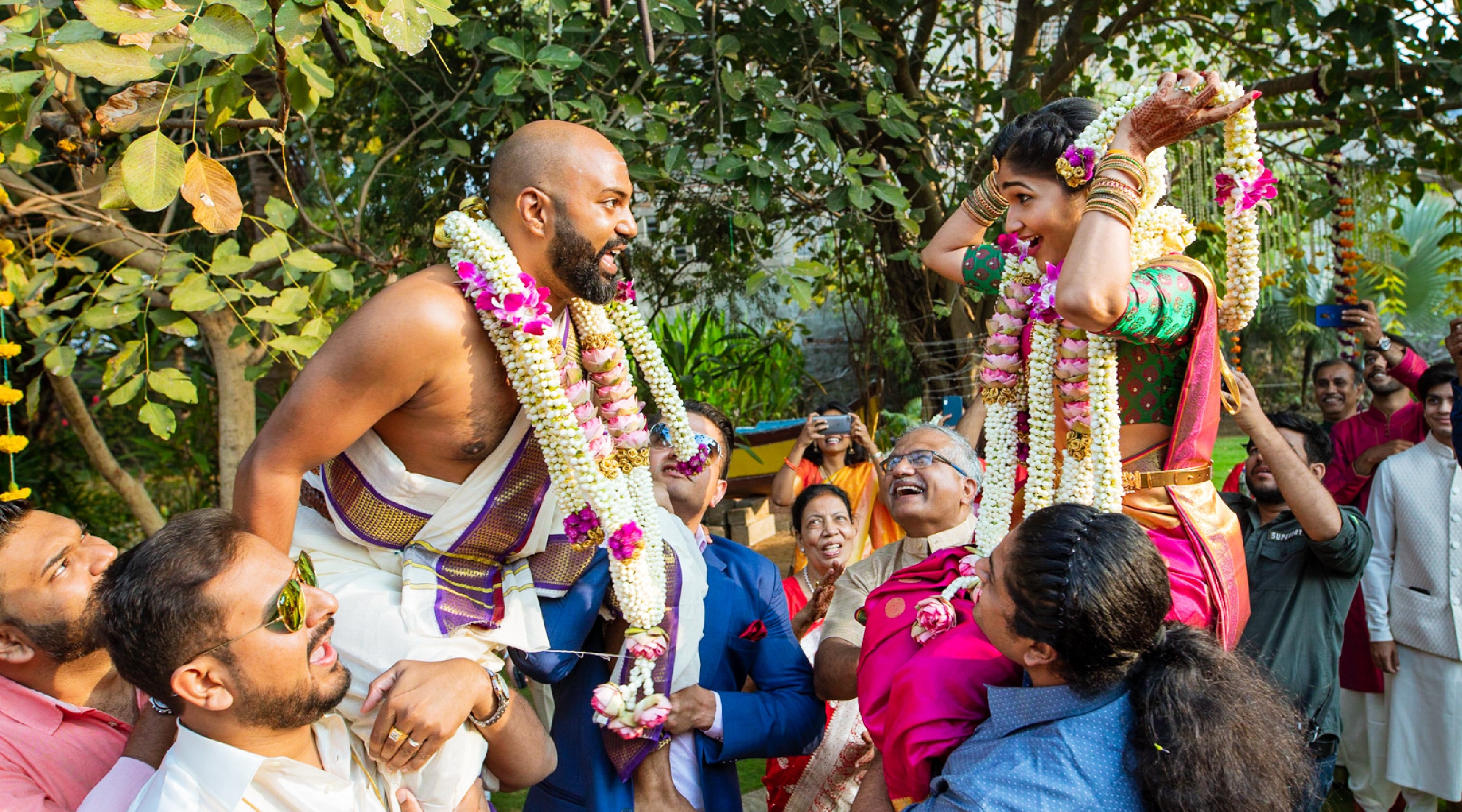 Aishwarya weds Zubin Aishwarya first met Zubin in 2005, while studying for her law school entrance exams. One day he said something that made her laugh, and they hit it off instantly. So while it ...
Read more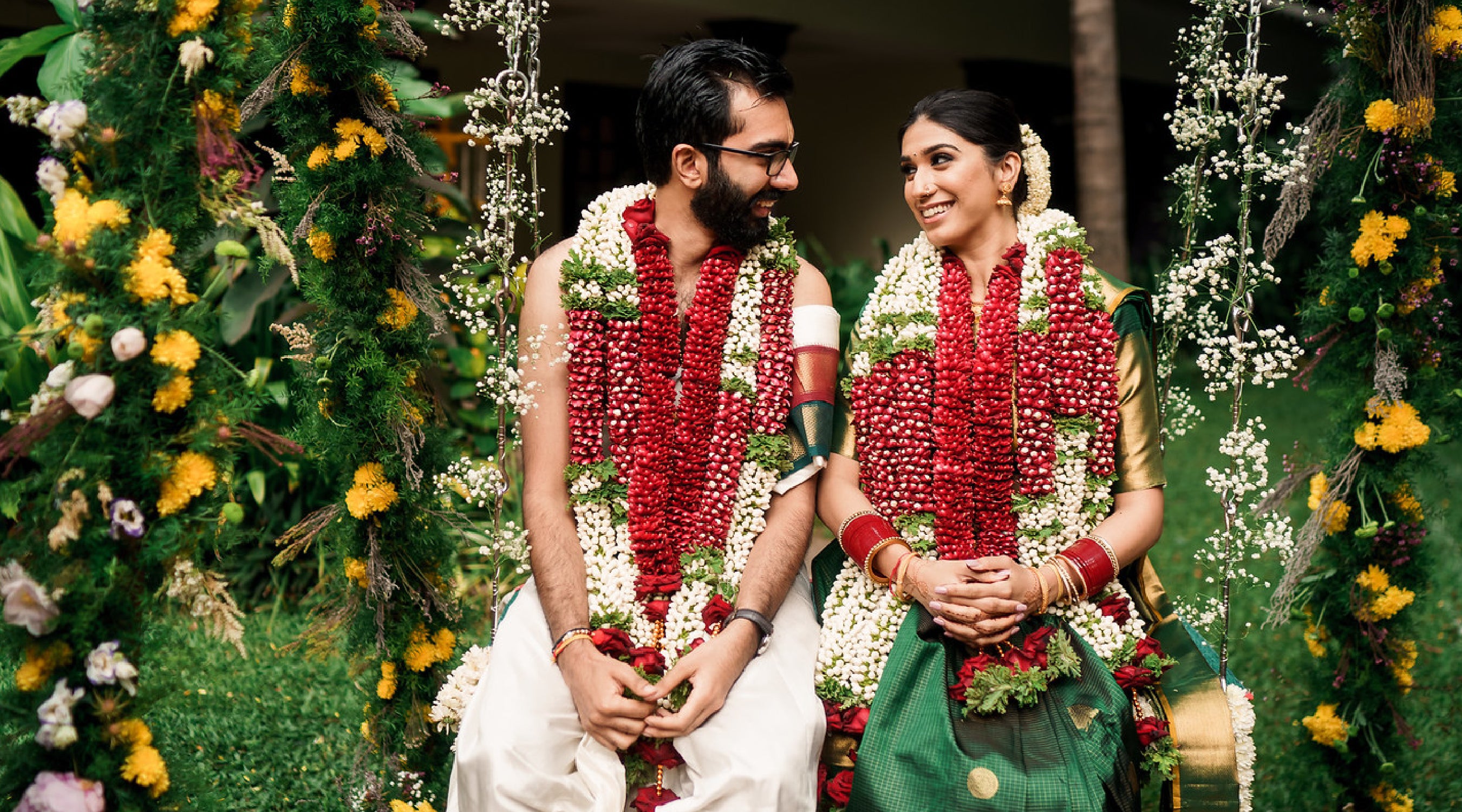 Gurleen weds Rudra Kanakavalli Bride Gurleen says it might be crazy, but she sometimes believes it was destiny that her husband, Rudra, walked in late to class during their 10th grade math tuition...
Read more