Kanakavalli Bride : Gurleen

Gurleen weds Rudra
Kanakavalli Bride Gurleen says it might be crazy, but she sometimes believes it was destiny that her husband, Rudra, walked in late to class during their 10th grade math tuition and caught her eye. The rest, as they say, is history.
Years later, Rudra proposed to Gurleen, but he took her along to buy the ring, so she says he lost some brownie points there!
Gurleen and Rudra had a beautiful outdoor Tamil-Brahmin wedding ceremony to represent his heritage, and a poolside Mehendi and Chooda ceremony that embraced her Punjabi roots. They topped it off with a big afterparty in the form of a cocktail reception. The aesthetic, she says, was subtle and understated, to reflect the kind of people they think they are.
The best part about wedding planning for Gurleen was how close she got to Rudra's family and how well he got to know hers. Their parents had known each other only for a few months before they got married, but the planning gave everyone an opportunity to chat and kickstart the relationship. She also loved brainstorming for a wedding hashtag, and they finally went with #RudyGotHisGurl!
Without a shadow of doubt, Gurleen says the most memorable moment from the wedding was when her husband gave her a chef's kiss the first time he saw her dressed as a bride in her Kanakavalli sari. The other precious memory is of her grandparents who seemed to forget their age as they danced their hearts out at the wedding.
The best marriage advice? Gurleen says Ruth Bader Ginsberg once wrote, "It helps to sometimes be a little deaf," and this is now her daily mantra.
According to Gurleen, Rudra is the better sous chef and she is the head chef. In a strange twist of events, though, Rudra makes a mean rajma, and her rasam and sambar taste almost legitimate. "The things we do for love," she says.
When they aren't cooking, the couple is watching their all-time favourite show The Office; the moment they finish Season 9, they find themselves right back at the Pilot all over again.
Gurleen came across Kanakavalli on a blog titled, 'Best Kanjivaram Saris in India', and from the moment she saw the website she knew she would get her bridal sari from Kanakavalli. After visiting Kingsley, there was no turning back.
Gurleen describes being welcomed to the colonial bungalow by the fragrance of jasmine flowers and smiling faces. The team, she says, took great effort to explain the intricacies of warp and weft of each sari. Even though she knew what shade her wedding sari would be, she was spoilt for choice with the myriad shades of green at the store. She finally picked a gorgeous kanjivaram in green shot with mulberry purple. Gurleen says she'll never forget one of the wedding guests asking her, "Did you just step out of a Ravi Varma painting?"
A big thank you to Gurleen for sharing the story of her wedding with us. We wish her and Rudra a lifetime of joy, laughter and togetherness.
Explore Kanakavalli's Valli Muhurtham range of bridal and trousseau kanjivarams in stores and online.
Wedding Credits -
Photographer - STORIES by Joseph Radhik (special thanks to Noel and Anupa)
Wedding Planners and Decor - The Mogra Collective (special thanks to Karuna and Malvika)
Hair and Makeup - GlossNGlass (special thanks to Dipanwita)


Find your own perfect match from our Valli Muhurtham bridal and trousseau collective 
online.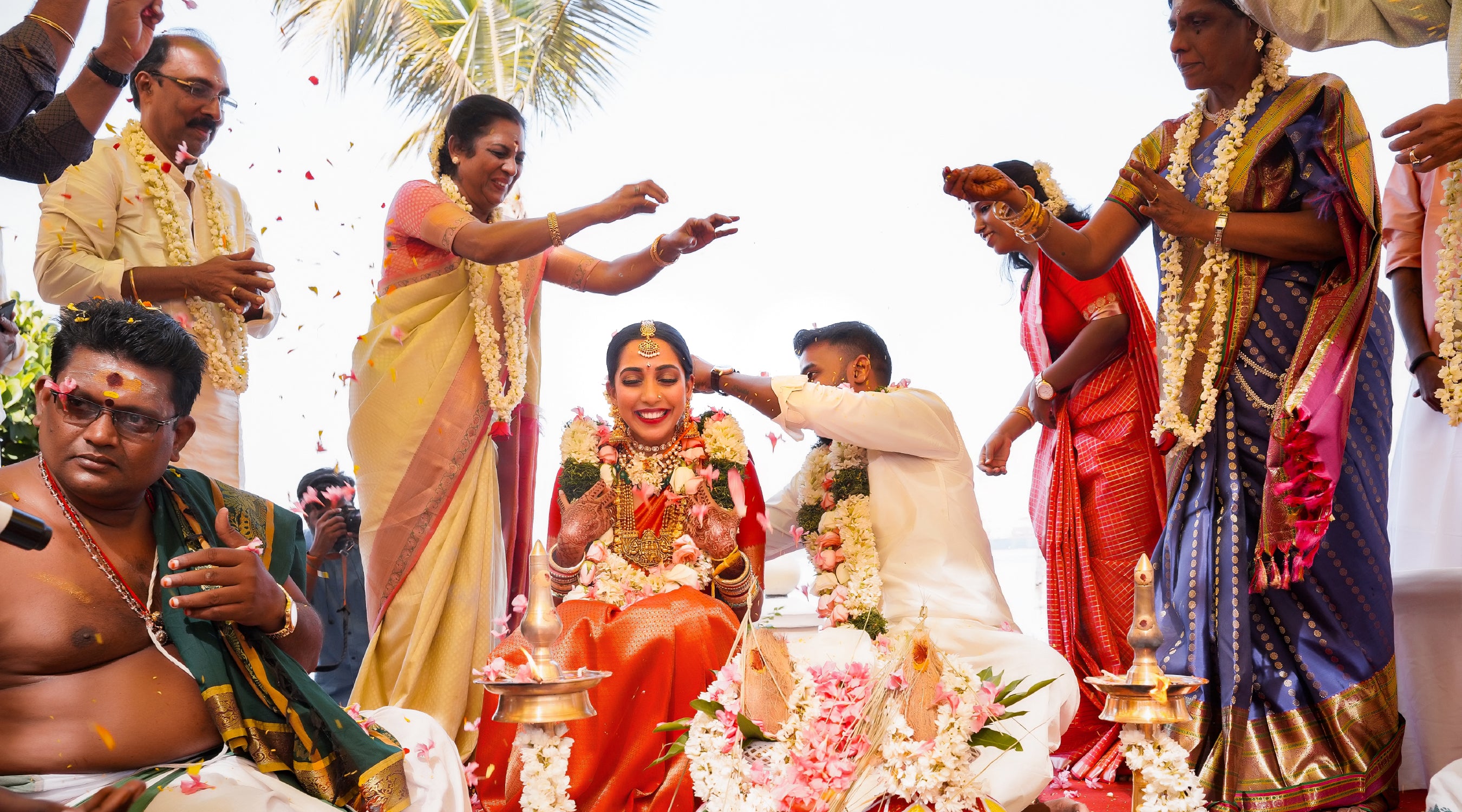 Nikhita weds Jaga Nikhita and Jaga worked for the same company, but he was at the Singapore office while she was in Chennai. They first met when Nikhita travelled to Singapore on work. She says th...
Read more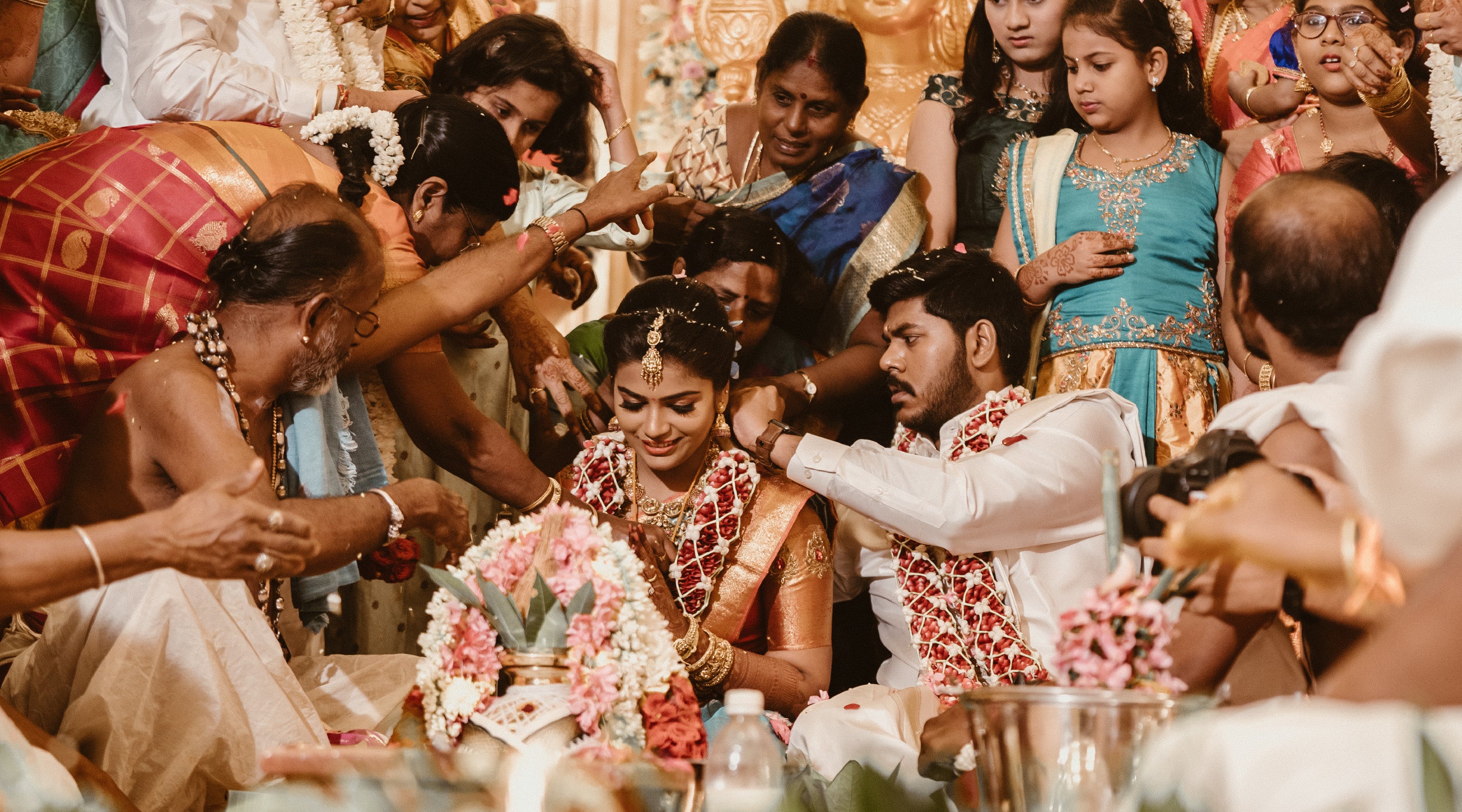 Vivitha weds Varshith Kanakavalli Bride Vivitha, who doesn't believe in love at first sight, met Varshith through a common friend. The two got along well and were soon close friends. Things betwee...
Read more