Kanakavalli Bride : Vivitha

Vivitha weds Varshith
Kanakavalli Bride Vivitha, who doesn't believe in love at first sight, met Varshith through a common friend. The two got along well and were soon close friends. Things between them began to change gradually though, and that's when they realised they were meant to be together. Vivitha says she feels incredibly blessed to have Varshith in her life.
There was no formal proposal, but one day Varshith told Vivitha she was the best thing that had ever happened to him. She couldn't fight her feelings anymore, and confessed that she loved him. After that, there was no looking back, and the couple had a gorgeous wedding in Mettupalayam.
At the time of planning the wedding, Varshith was working in Hong Kong, so Vivitha had to make all the decisions herself, something she thoroughly enjoyed. She loved every bit of her wedding, from the fun-filled Sangeet with a DJ and games, to the reception that was a delightful evening of music.
Their wedding day was an emotional one, says Vivitha, filled with a sense of the divine. Their decorators transformed the stage with lotuses and pastel floral arrangements, and Vivitha was a vision in her Kanakavalli sari.
The moment at which Varshith actually tied the knot is a moment Vivitha will never forget; one in which she truly believed in destiny. During the Vidai, when the bride's family bids her farewell, Vivitha was overcome with emotion, as her father burst into tears while hugging her.
Being in a long distance relationship for almost six years taught Vivitha and Varshith to be completely honest and open with each other. They learnt never to go to bed without resolving an argument, something that they still believe in.

Drawing inspiration from every elegant bride she came across, Vivitha says her wedding was a dream come true. 
Vivitha says when she started planning her wedding shopping, her first thought was of Kanakavalli. She loves how unique the brand is and knew she wanted to buy her wedding kanjivaram from our store. She took all of thirty minutes to choose her Muhurtham sari - because that's how much she says she trusts and believes in Kanakavalli!
Vivitha picked a deep sky blue kanjivaram shot with gold tissue with crimson borders and a crimson pallu also shot with gold tissue, and adorned with rich gold zari.
 A big thank you to Vivitha for sharing the story of her wedding with us. We wish her and Varshith a lifetime of togetherness and love.
Wedding Credits -
Photography - Weva Photography
Jewellery - Karpagam and Kirthilal
Decor - Subbu Decorators
Find your own perfect match from our Valli Muhurtham bridal and trousseau collective 
online.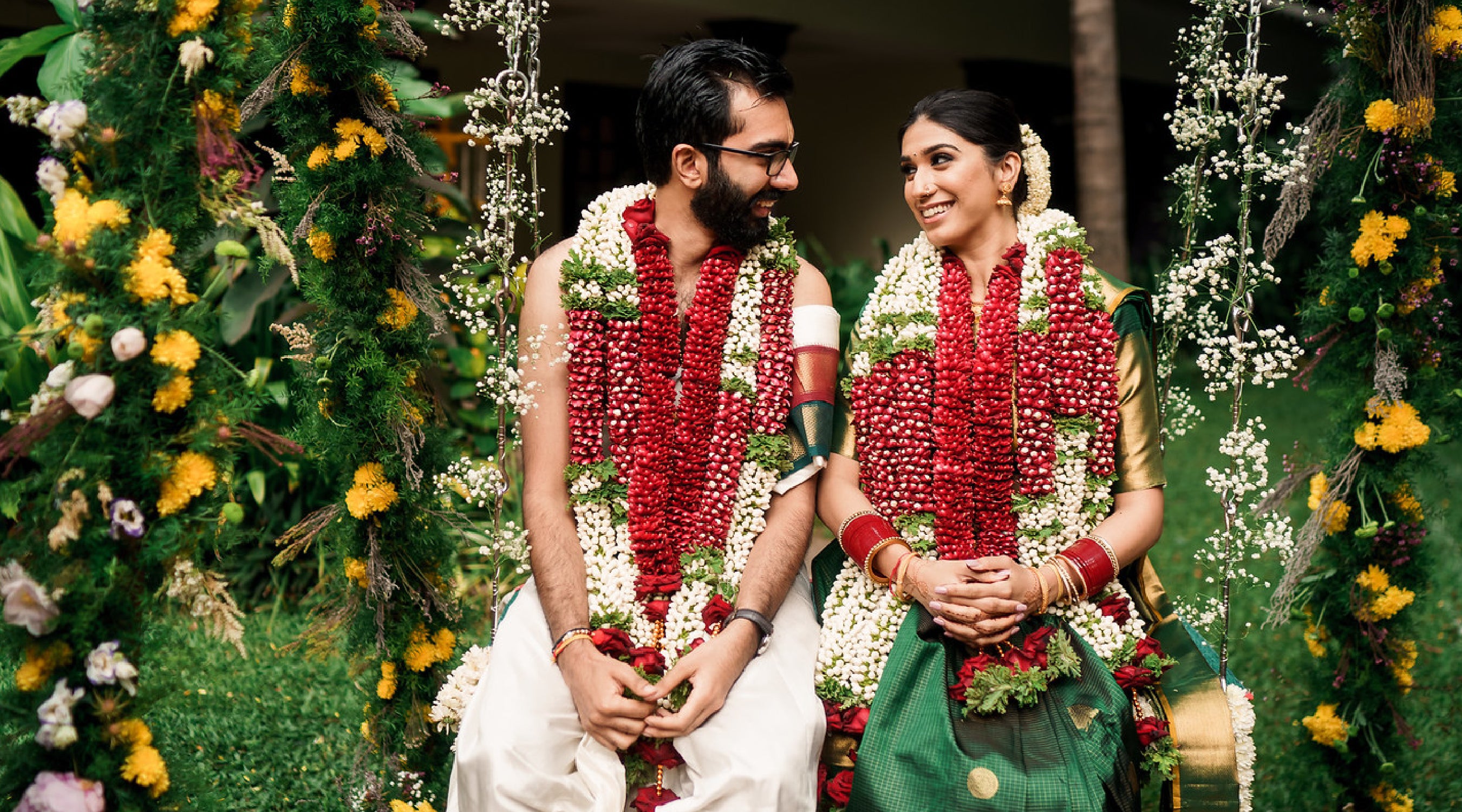 Gurleen weds Rudra Kanakavalli Bride Gurleen says it might be crazy, but she sometimes believes it was destiny that her husband, Rudra, walked in late to class during their 10th grade math tuition...
Read more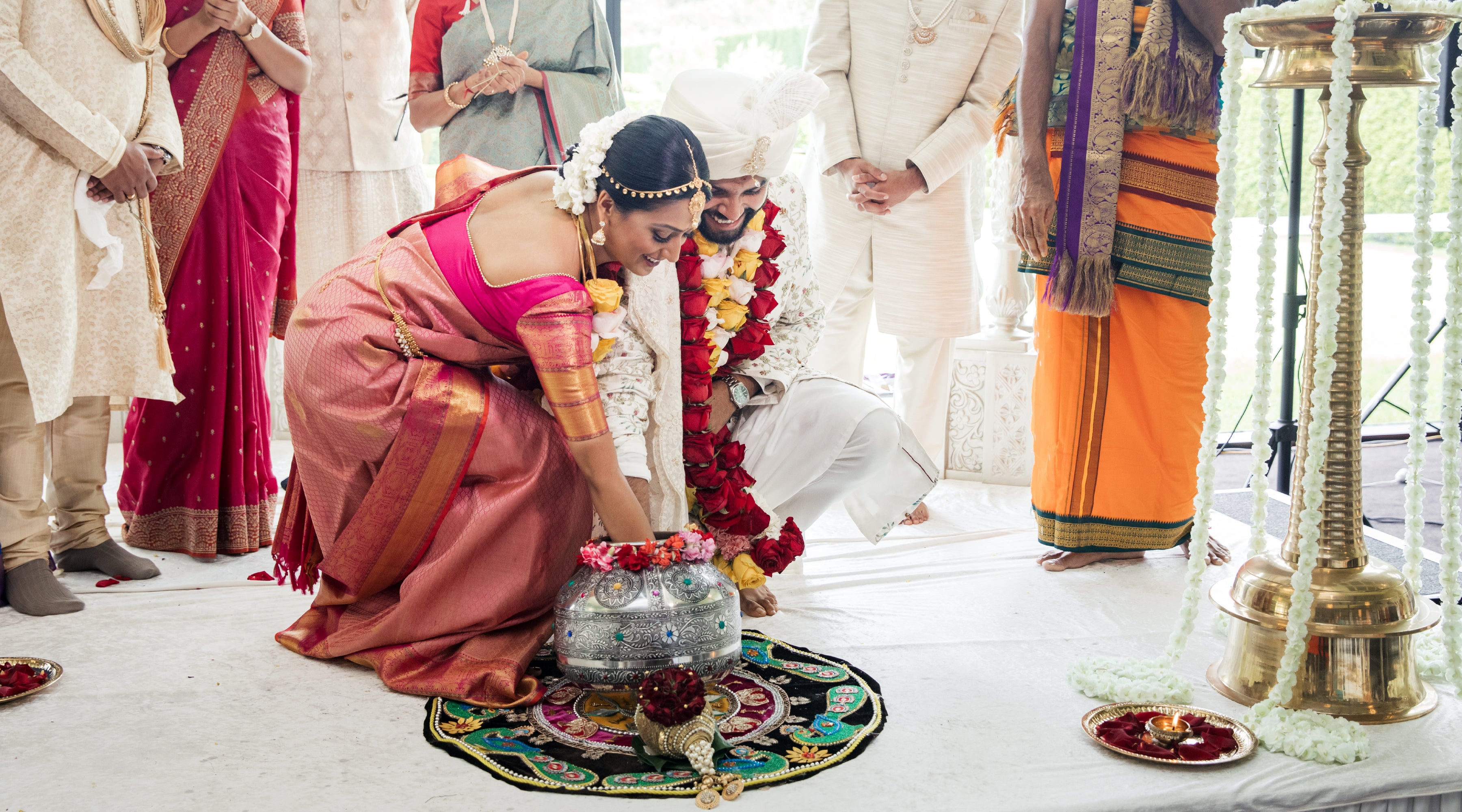 Mira weds Rahul Mira and Rahul were introduced by a mutual friend on the first day of university. They were friends first, and after a year of hanging out together in the same friends circles, the...
Read more