Kanakavalli Bride : Bharathy

Bharathy weds Shivam
Kanakavalli Bride Bharathy says she never believed in love at first sight until she saw Shivam, her future husband, for the first time at Mumbai Airport. They were both travelling to London for their Master's programmes, and it was then that Bharathy discovered, in her own words, that "there are no accidental meetings between two souls".
Shivam proposed to Bharathy when they were in London for their graduation. Knowing that this moment would be important to her, he went down on one knee at Embankment, overlooking the London Eye, and popped the question! He had planned a romantic speech, ending with, "I want to love the whole person, not the parts, and that's how I want to be loved in return. Knowing that, will you marry me?"
For Bharathy, the highlight of wedding planning was having her friends around constantly to make her feel special. They made sure that her wedding day was the happiest day of her life.
Bharathy and Shivam wanted to have elements of South Indian and Maharashtrian traditions for their big day. They chose rajnigandha flowers and roses for their decor, to go with their outfits and theme. They had a Mehendi, a Sangeet and a Haldi. This was followed by a traditional Maharashtrian wedding ceremony, with Bharathy dressed as a beautiful and classic South Indian bride.
As Bharathy entered the wedding hall, she saw Shivam smiling at her. When they looked at each other she was overwhelmed with emotion, knowing that after facing many ups and downs together, they were finally getting married.
The best marriage advice Bharathy ever heard was from her mother. She told her: "When you fight with your husband, you must remember the reason you decided to spend the rest of your life with him. Always hold on to the roots, water them, cherish them, and that will make your relationship stronger."
Bharathy got most of her wedding and bridal inspiration from Pinterest. She mixed and matched elements that she found online to create a wedding that reflected her and Shivam's personalities, and their relationship. Bharathy's advice for brides planning their wedding is to enjoy and savour every moment of the once-in-a-lifetime experience, from the fights and all the running around, to the chaos and joy.
Before she began her bridal shopping, Bharathy stumbled upon Kanakavalli online. She loved the saris but wanted to see them in person. She travelled from Mumbai to Coimbatore and at the store there, she found her wedding saris almost instantly. Bharathy loves Kanakavalli's designs, and says that the team at the store was very welcoming and warm, helping her find the perfect wedding kanjivarams.
A big thank you to Bharathy for being a gorgeous Kanakavalli Bride and for sharing the story of her wedding with us. We wish her and Shivam a lifetime of togetherness and joy.
Wedding Credits -
Photographer – P16 Studios
Find your own perfect match from our Valli Muhurtham bridal and trousseau collective 
online.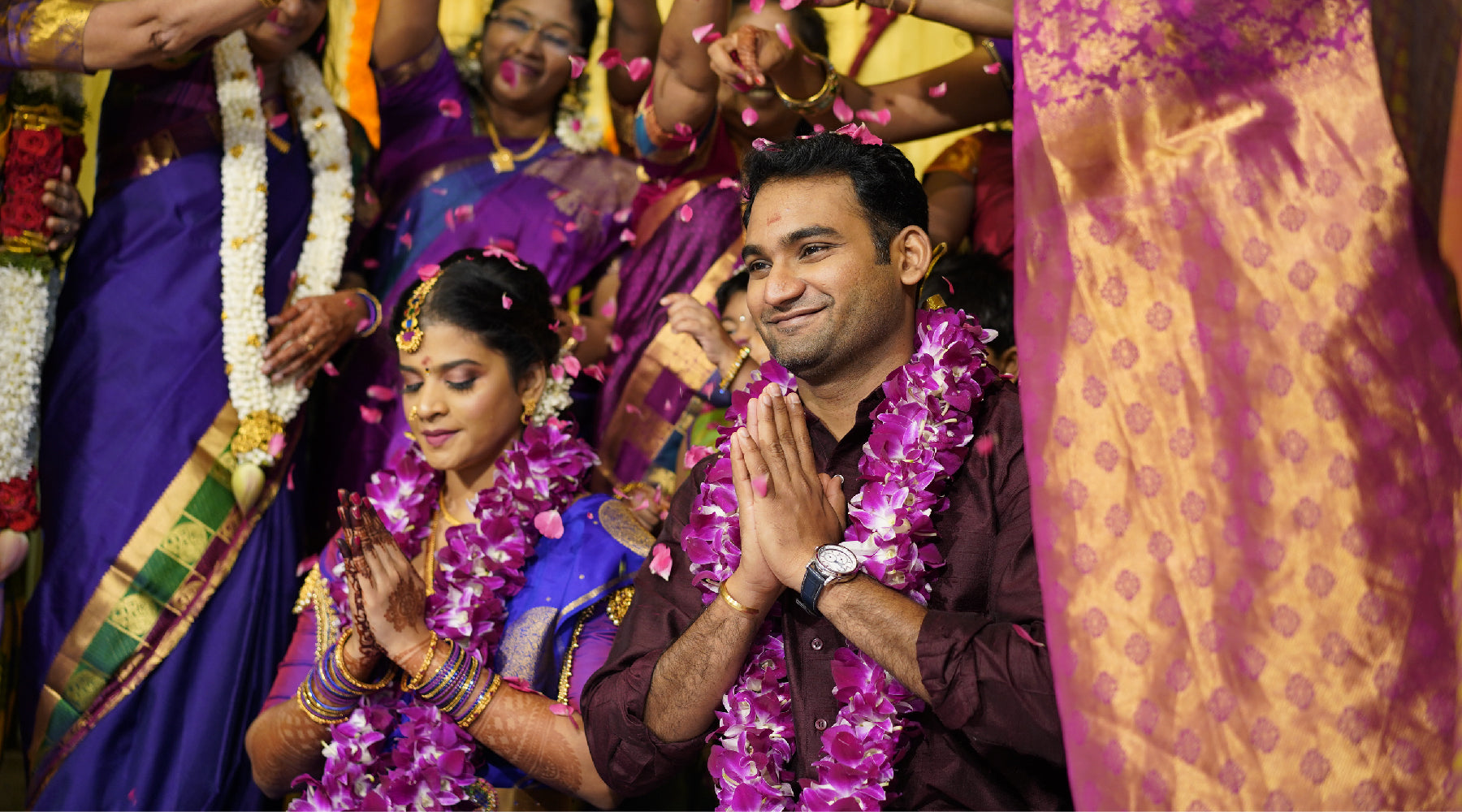 Sunaina weds Sridhar Kanakavalli Bride Sunaina doesn't believe in love at first sight, but she does believe in destiny. Her mother had put her in touch with Sridhar, and she decided to meet him fo...
Read more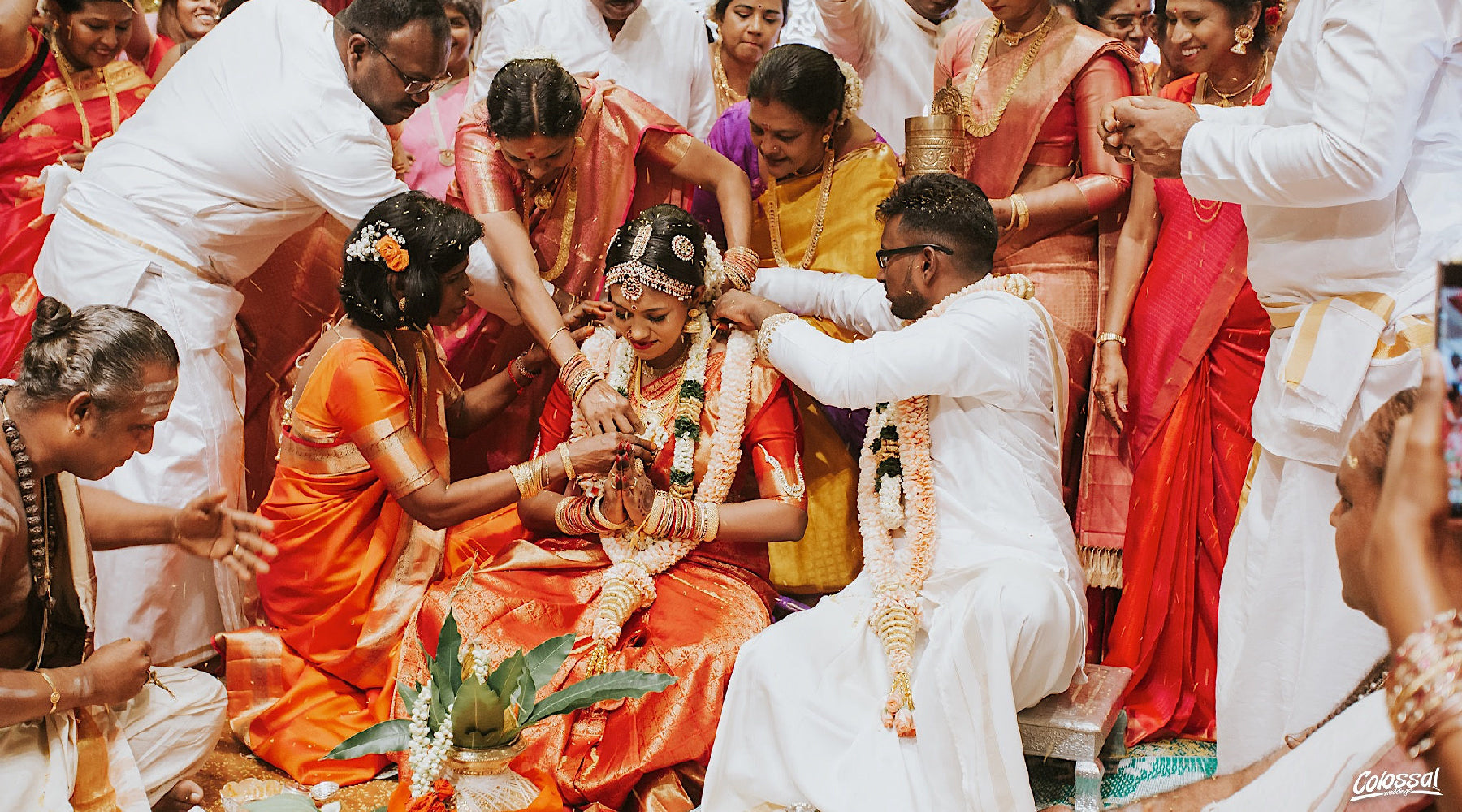 Durga weds Sadhish Durga always believed that her parents, who want the best for her, would find her the perfect partner. After they introduced her to Sadhish, she began texting him, and then met ...
Read more