Kanakavalli Bride : Durga

Durga weds Sadhish
Durga always believed that her parents, who want the best for her, would find her the perfect partner. After they introduced her to Sadhish, she began texting him, and then met him a few times. Durga says she gradually fell in love with Sadhish's sense of humour and his genuine nature. Within three months of meeting, they realised they were meant to be together. Durga says there was no need for a proposal. Once they realised they were soulmates, there was just an unspoken decision that they would spend the rest of their lives together.
The couple picked a royal theme for the wedding, with Ganesha motifs, and beautiful pastel garlands that perfectly complemented their outfits. They had a traditional Tamil ceremony, with the rituals and customs of their culture.
Both Durga and Sadhish were excited to plan their entries into the wedding hall, choosing the songs they would walk into. While this has become a trend for brides and grooms in Singapore, Durga kept it traditional, entering the venue as Seetha Kalyanam played in the background, with her 24 bridesmaids all dressed in identical saris. A devotional song played as Sadhish and Durga's parents walked in. Durga says it all turned out beautifully, just as she had imagined.
The moment at which Sadhish tied the thali is a moment that Durga will never forget. She was overwhelmed with emotion, and felt incredibly touched that over a thousand guests had gathered together to bless the couple for their journey ahead.
Durga is a teacher, and her mentor at work once told her that if she ever has an argument with her husband, she should ask herself if it would matter thirty years later; and if not, then the argument wasn't worth it.
Durga says she is definitely the better cook, and she jokes that Sadhish is still working on learning how to boil water! But she was very touched when he once made ready-to-eat vegetable dumplings for her for dinner after work.
For her Manavarai, Durga was very sure she wanted a traditional red sari to suit the auspicious occasion. She chose a very traditional look with gold ornaments. But for her engagement, Durga wanted a very different sari, and chose a colour she loved. She fell in love at first sight with the pastel kanjivaram at Kanakavalli, and convinced everyone that she would not find another sari as lovely. Durga made a stunning bride in both her Kanakavalli kanjivarams.
Durga's cousin introduced her to Kanakavalli, and she made a trip to India to do her wedding shopping. She loved the customer service, the store, and the beautiful way in which the sari was finally handed over to her - she says that everything was perfect.
A big thank you to Durga for being a beautiful Kanakavalli Bride and for sharing the story of her wedding with us. We wish her and Sadhish a lifetime of togetherness, love and laughter.
Wedding Credits -
Photography - Colossalweddings
Makeup: Makeupbyshirinrei
Henna: Misbahsmile
Find your own perfect match from our Valli Muhurtham bridal and trousseau collective online.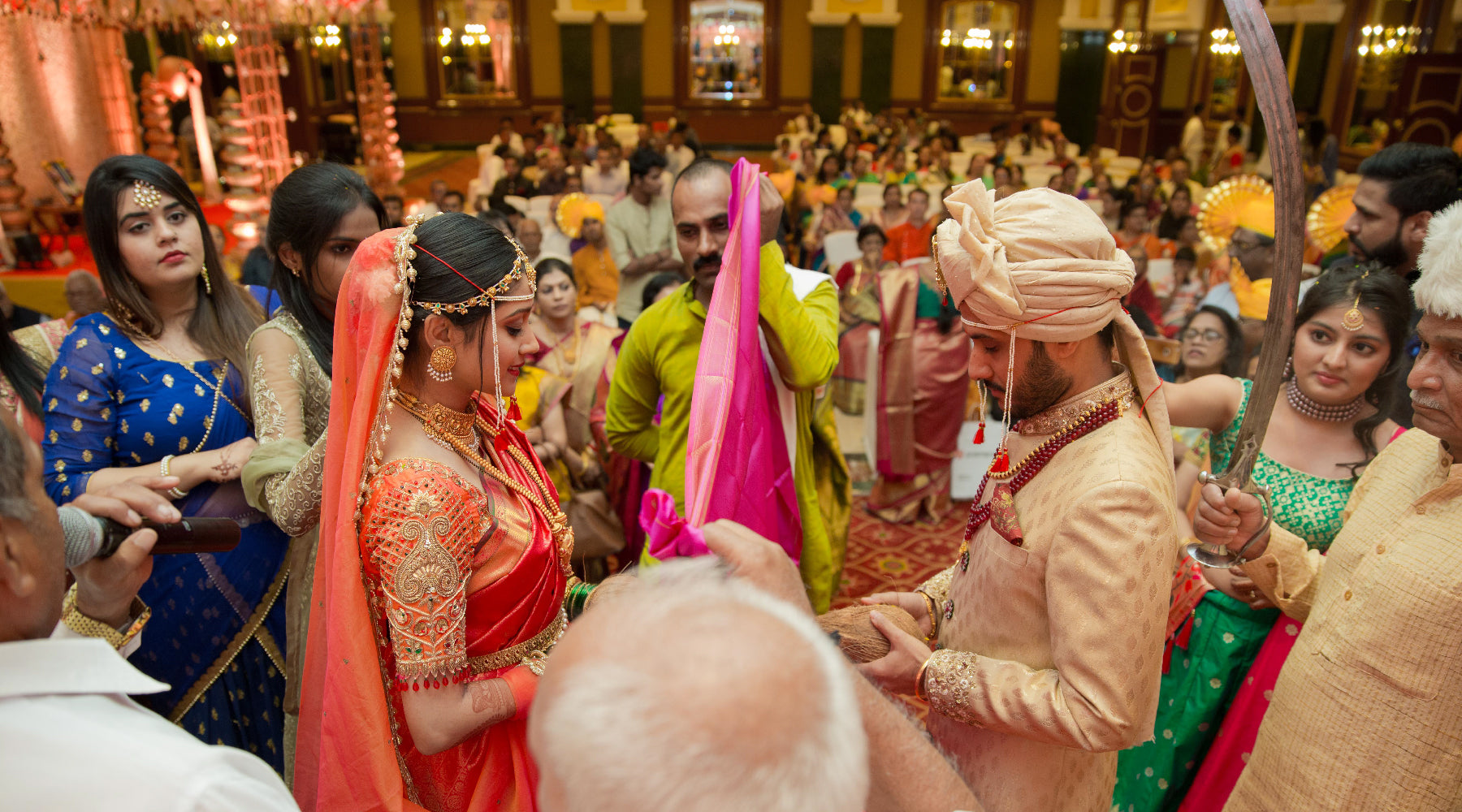 Bharathy weds Shivam Kanakavalli Bride Bharathy says she never believed in love at first sight until she saw Shivam, her future husband, for the first time at Mumbai Airport. They were both travel...
Read more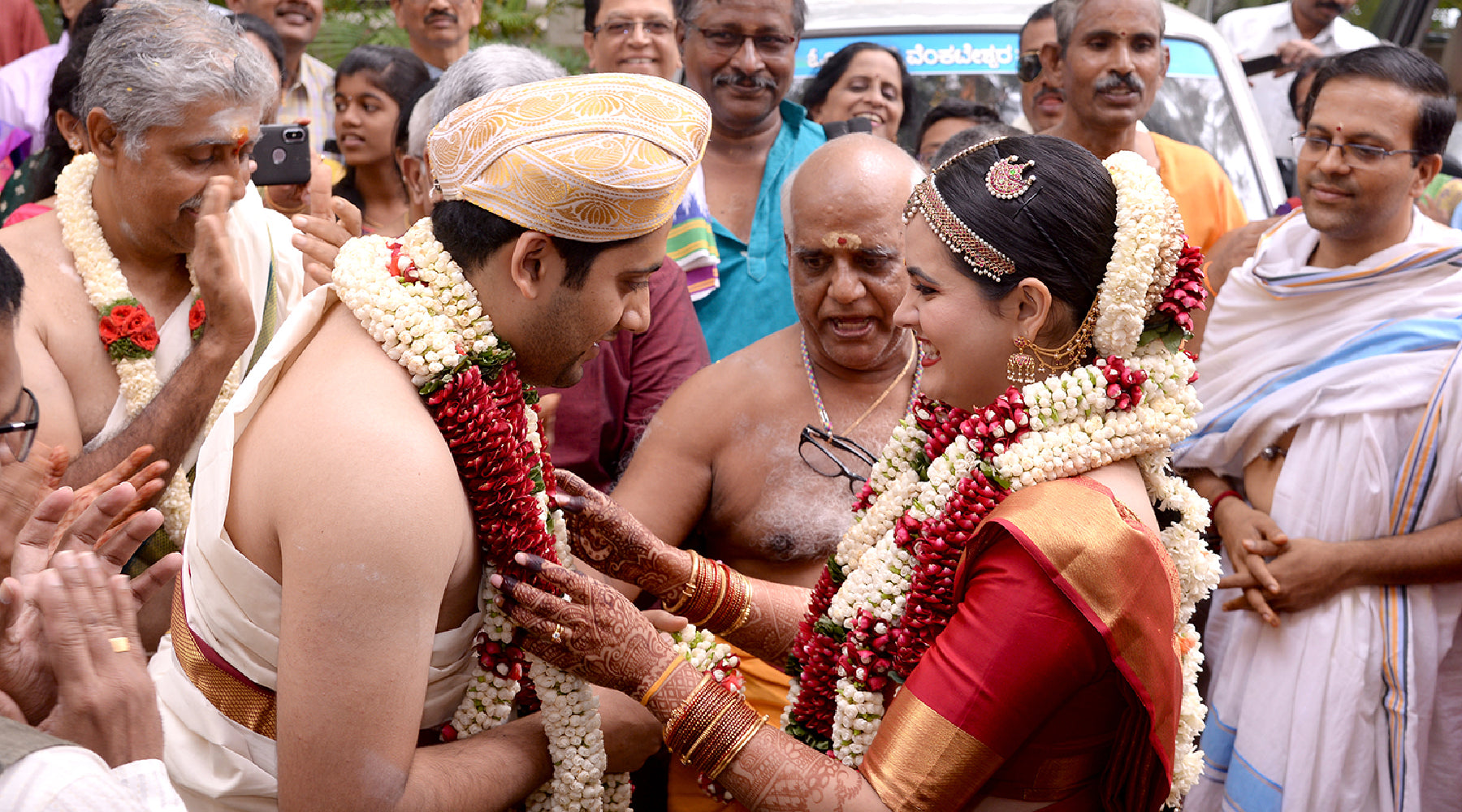 Sharadha weds Anirudh Sharadha and Anirudh first saw each other at a Diwali party at University, where he was her senior. The following year they met again at the same party, had their first prope...
Read more