Kanakavalli Bride : Sharadha

Sharadha weds Anirudh
Sharadha and Anirudh first saw each other at a Diwali party at University, where he was her senior. The following year they met again at the same party, had their first proper conversation, and there's been no looking back since! Sharadha believes it's possible to be magically drawn to someone at first sight, but thinks it takes a lot more getting to know them before you can actually fall in love.
Anirudh proposed to Sharadha along the river in Chicago on a chilly November night. And of course, she said yes.
Sharadha had always dreamt of a fairytale wedding and she loved watching her dream come true. She and her mother designed the decor, arranged every little detail, and, most importantly, thoroughly enjoyed the multiple food tastings before the wedding!
Theirs was a traditional Tamil Iyer wedding with a few Saraswat traditions woven in. Sharadha has always loved the traditional yellow and orange marigold flower decorations, and these were the colours they chose for the big day. They also added a few hints of pink and some lovely fairy lights for a truly gorgeous wedding.
For Sharadha, the most beautiful moment of the wedding was the muhurtham–as her father put her hands into Anirudh's, she looked up to meet his warm and reassuring gaze, and saw a glimmer of excitement. She says that she will never forget that expression on his face. Being surrounded by their loved ones and showered in flower petals was a surreal experience for her.
Having been a Bharatanatyam dancer for many years, Sharadha always dreamt of getting married in traditional temple jewellery to go with a classic red and gold sari. It took her months to find the perfect jewellery, combining some Mangalorean pieces with a few ornaments from a store in Bangalore, to perfectly match her grandmother's wedding belt that she wore.
Sharadha loves saris and stumbled upon Kanakavalli while looking for sari stores in Chennai. Since then, she has spent hours admiring the saris on our Instagram account, and knew that she wanted to have at least one for her wedding.
The best part of Sharadha's Kanakavalli shopping experience, she says, was the incredible patience of the team at the store, who were kind and polite, opening every single sari and draping several before she found the perfect one!
A big thank you to Sharadha for being a gorgeous Kanakavalli bride and for sharing the story of her wedding with us. We wish her and Anirudh a lifetime of togetherness, laughter and love.
Wedding Credits -
Photography - Nivedita Ghosh Photography
& Chaddha and Co. , Bangalore


Find your own perfect match from our Valli Muhurtham bridal and trousseau collective 
online.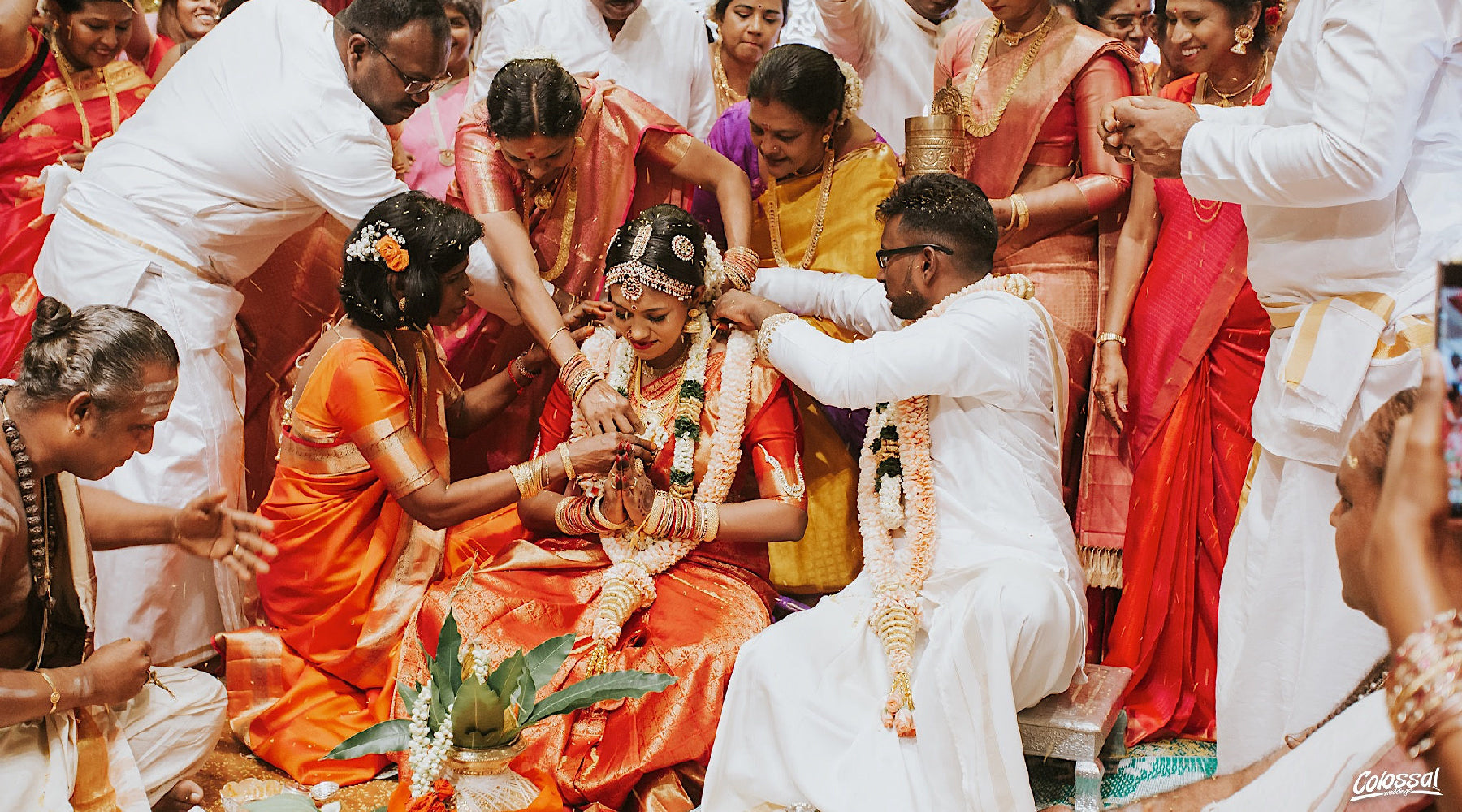 Durga weds Sadhish Durga always believed that her parents, who want the best for her, would find her the perfect partner. After they introduced her to Sadhish, she began texting him, and then met ...
Read more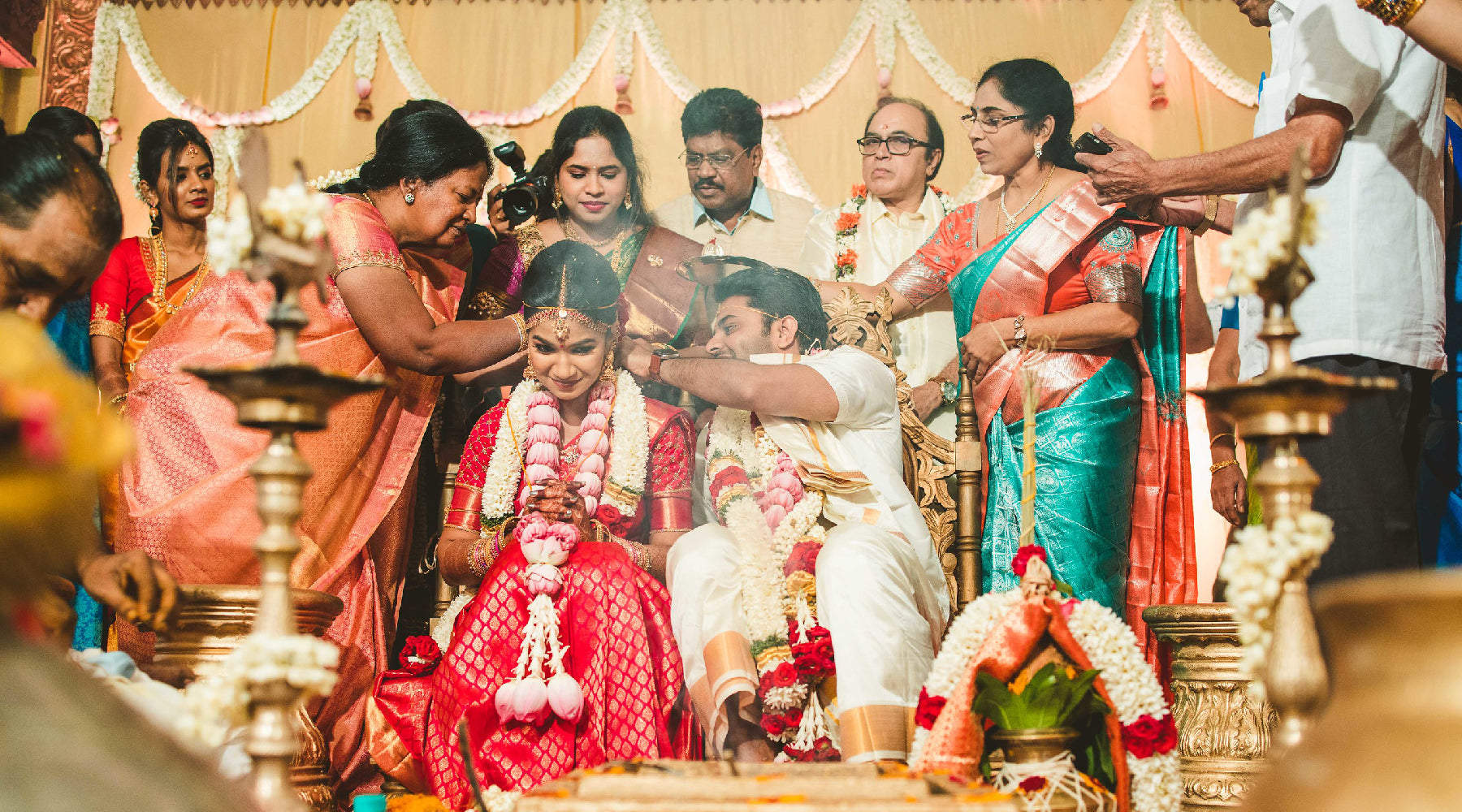 Swathi weds Preetham When Kanakavalli Bride Swathi moved to America eight years ago, Preetham was the first person she met. Nobody seeing them at the time would have imagined they'd even be friend...
Read more