Kanakavalli Bride : Swathi

Swathi weds Preetham
When Kanakavalli Bride Swathi moved to America eight years ago, Preetham was the first person she met. Nobody seeing them at the time would have imagined they'd even be friends, and yet two months after their first meeting they went on their first date. And eight years later they sent out their wedding save the dates!
Swathi believes that love doesn't happen in an instant; it is a metamorphosis that takes time, she says. But still, when she first borrowed a phone from Preetham, a stranger then, to make a call eight years ago, she had a fleeting moment of happiness.
Swathi remembers a moment, a few years after they started dating, when Preetham was watching TV as she worked on a painting in the same room. She says everything felt just right--being in a room with this person without uttering a single word, and yet feeling connected and complete. Just being around him felt like being home. That was the first time they talked about marriage, a decision they both made together.
Spread over five days and two cities, Swathi and Preetham's wedding was carefully thought out, with unique themes for each event, inspired by something personal. Swathi loves pastels and baking, so her Mehendi was a high tea with pastel decor! Their actual wedding was a traditional Tamil ceremony with elements of Telugu traditions. They picked jasmines and lotuses with hints of gold for their decor, and their menu was curated to have one favourite South Indian dish of the bride, the groom and their families.
Swathi loves stationery and designed all the wedding invites from scratch, hand addressing every single one of them. She loved planning everything with her mother, who taught her how to use Pinterest while Swathi herself used an old-school paper planner!
The moment Swathi entered the wedding hall and saw Preetham in his pattu veshti sattai was a surreal one for her. They'd been together eight years and planned the wedding for an entire year, but at that moment, she was struck by the fact that they'd reached this point.
Swathi says that the best relationships are those in which two individuals grow together, balancing each other's personalities and inspiring each other to be the best versions of themselves. "Preetham is the calm to my storm," she says, adding that his practicality evens out her drama queen. In fact, she might be the better cook, but Preetham always cleans up the mess she makes in the kitchen!
Swathi went with her gut feelings as she designed her wedding events. She wanted unique colours and combinations that aren't common for brides. Her attention to detail and the care with which she planned everything are reflected in every gorgeous element of their wedding, from outfits and decor, to invitations and food.
Her advice for brides-to-be? Listen to yourself, because the perfect wedding sari is the one you're most comfortable wearing. And as long as you know exactly what you want, wedding shopping doesn't have to be stressful!
Having picked her engagement sari at Kanakavalli, Swathi knew she wanted to get her wedding sari from us. She says the Kanakavalli aesthetic reflects her personality--elegant and subtle. While Swathi picked both her wedding kanjivarams from Kanakavalli, all her mother's five outfits for the wedding were from the store!
Swathi says the best part of her Kanakavalli shopping experience was that the team at the store was as invested in making sure she made the right decision as she and her family were. They were patient as Swathi looked at the saris in different lights and at different times of the day, and were genuinely happy when she picked the one.
A big thank you to Swathi for being a gorgeous Kanakavalli Bride and for sharing the story of her wedding with us. We wish her and Preetham a lifetime of love, laughter and togetherness. Explore Kanakavalli's Valli Muhurtham range of bridal and trousseau kanjivarams in stores and online.
Wedding Credits -
Photography: The Wedding Toast @theweddingtoast.in, @anushreegavas.weddings
Videography: Magic Motion Media @magicmotionmedia
Make up: Chiselle make-up and hair (Nowshiba Shajahan) @chisellemakeupandhair
Hair: Ila Ramachandran @tangled_by_ila
Blouse: Janani Senthil @label_ja
Mehendi: Mehendhi Aura @mehendhiaura
Decor: Nachiappan
Venue: The Leela Palace @theleelapalacechennai


Find your own perfect match from our Valli Muhurtham bridal and trousseau collective 
online.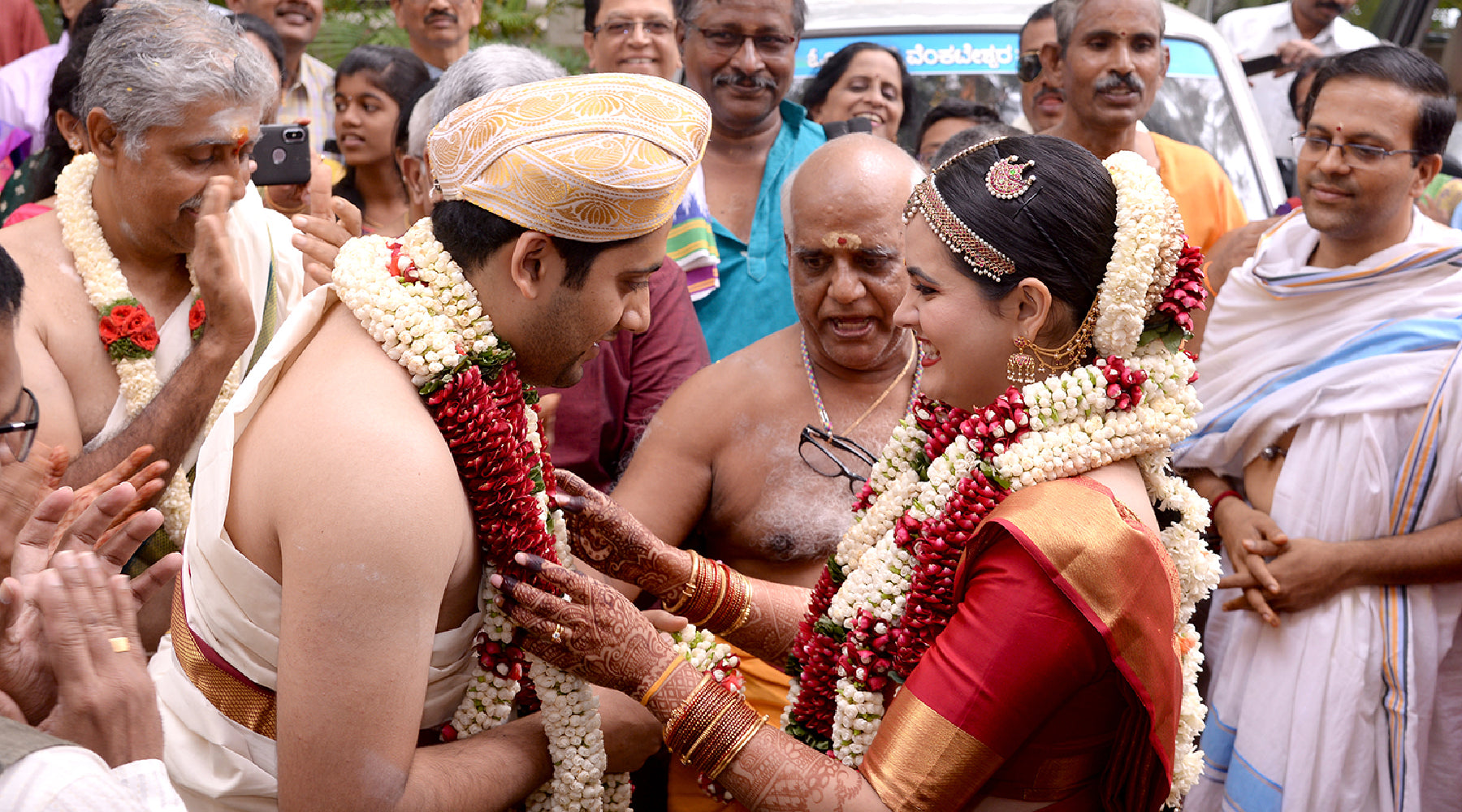 Sharadha weds Anirudh Sharadha and Anirudh first saw each other at a Diwali party at University, where he was her senior. The following year they met again at the same party, had their first prope...
Read more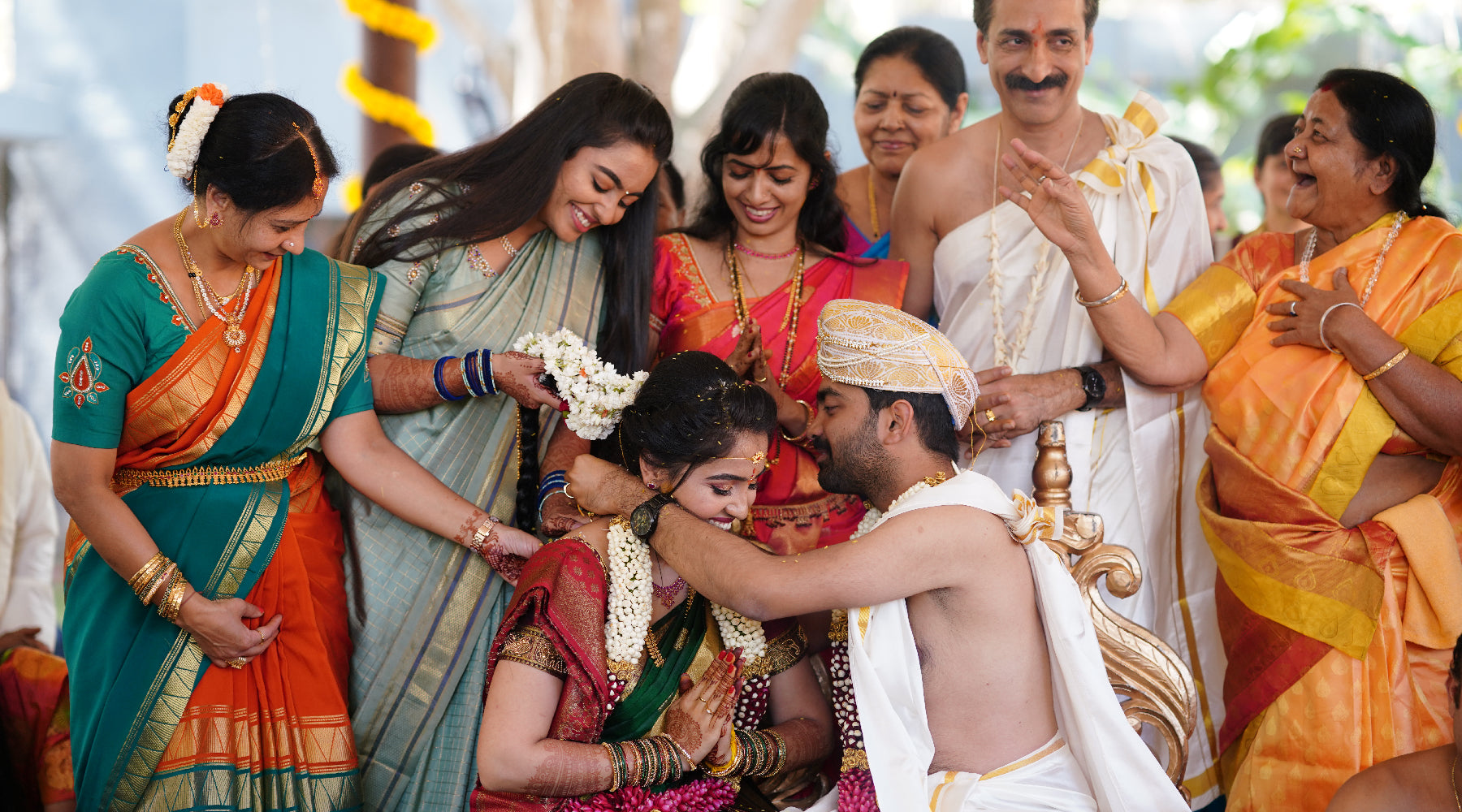 Varsha weds Nikhil Varsha met Nikhil at her yoga class - he was her teacher's son. Being shy and conservative by nature, she would never have spoken to him first, but one day she needed the wifi p...
Read more