Kanakavalli Bride : Anjanah

Anjanah weds Aditya
Kanakavalli Bride Anjanah was a fan of Aditya's music for years before she was introduced to him by a common friend. She lived in New York and he in Los Angeles, and they spoke a few times before he flew to New York on a work trip. They went out to dinner and then to a ping pong lounge, where they ended up spending five hours, playing, talking, laughing. She says it felt like they'd known each other for years. They just connected. Anjanah might not believe in love at first sight, but she says that they each had a feeling deep down that they belonged together.
After multiple LA-NYC-LA trips, Aditya finally proposed to Anjanah by singing a song that he had written for her. Anjanah says that, funnily enough, she had been to one of Aditya's concerts six years before meeting him, never ever imagining that they would end up married. "Call it fate, or magic, or karma. If we didn't meet this way, we would have met some other way," says Anjanah. Now, she says, their families are the best of friends, and their love keeps growing each day.
The best part of wedding planning for Anjanah was realising how similar her and Aditya's tastes were as they worked closely with their parents at every step of the way. Theirs was an extra big, extra fat South Indian wedding, according to Anjanah, with six events over three days. They didn't compromise on any of the South Indian ceremonies, but also had a Mehendi, a Baraat and an elegant Sangeet. And the elaborate wedding was everything they'd imagined, managing to be intimate even with a thousand people in attendance. Despite rain on the first evening, they danced, laughed and soaked in the joy of every moment, says Anjanah.
The Oonjal and Muhurtham were organised on a gorgeous rustic mandap on the beach, with strings of marigolds and waterfalls of flowers. Anjanah and Aditya say their decorator knew exactly what they wanted and far exceeded their expectations. Music was also a big part of their wedding, with Aditya singing as he and Anjanah walked to their reception.
Anjanah's mother had heard of Kanakavalli, and they visited the Kingsley store when she was in India. She loved almost everything she saw, and though she'd set out to buy three saris for three ceremonies, ended up going home with six!
She wore three classic kanjivarams for three of her South Indian ceremonies, and looked absolutely beautiful in each one.
Anjanah says the experience of shopping at Kingsley was unforgettable. "Learning more about where the saris were made and what the history of Kanakavalli was, resonated with me on a very personal level. No other brand spoke to me the way Kanakavalli did," she adds.
A big thank you to Anjanah for being such a gorgeous Kanakavalli bride, and for sharing the story of her wedding with us! We wish her and Aditya a lifetime of music, love and laughter.
Wedding Credits -
Photography: Varun Suresh, Sindhuja Balamurugan, Rahul Sadagopan
Videography: Vivek Krishnan
Decor: Nachiappan
Find your own perfect match from our Valli Muhurtham bridal and trousseau collective online.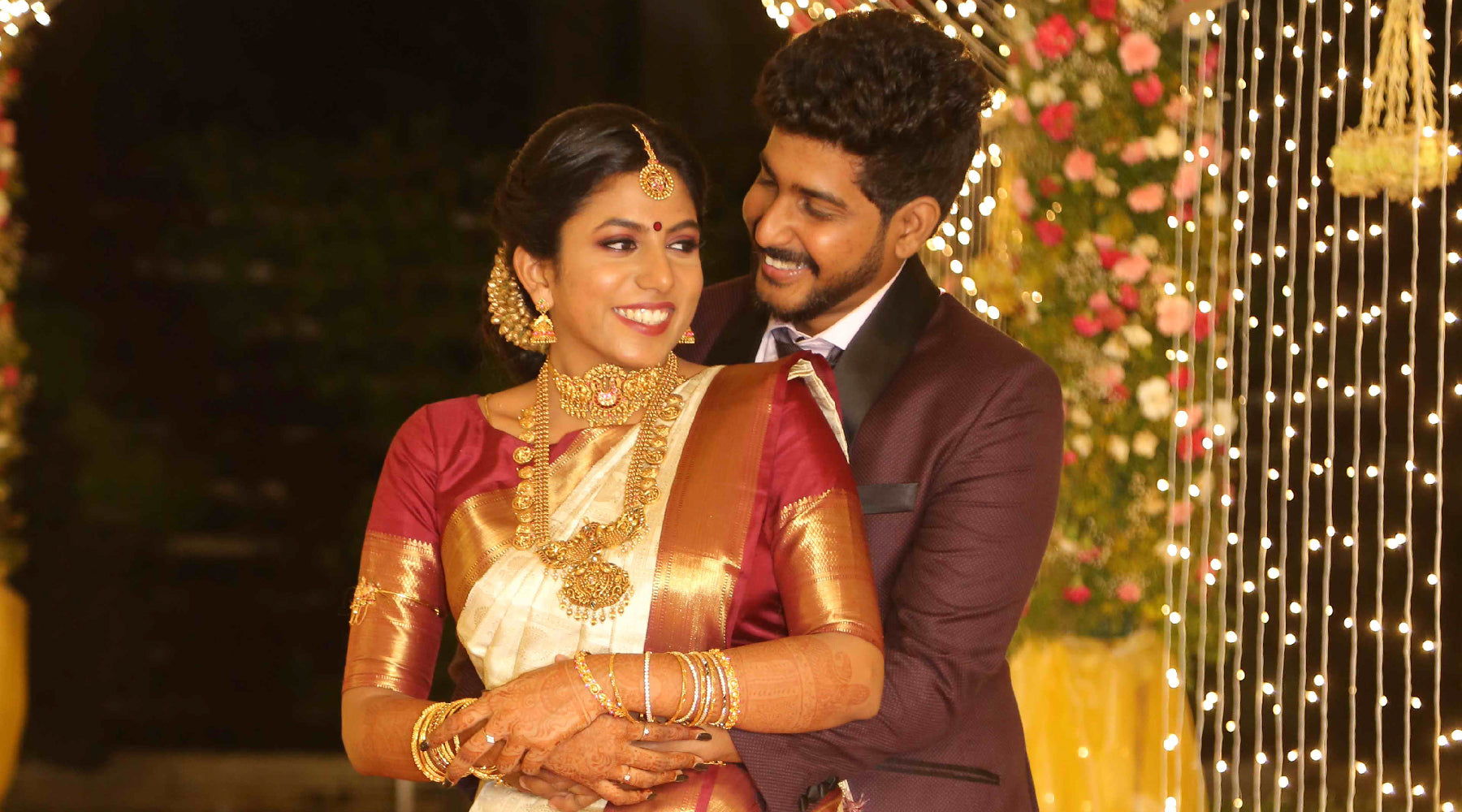 Abinaya weds Ragavendran In the Kanakavalli Brides series, we feature beautiful brides who chose Kanakavalli for their special days, sharing the stories of their weddings with you. As a dental stu...
Read more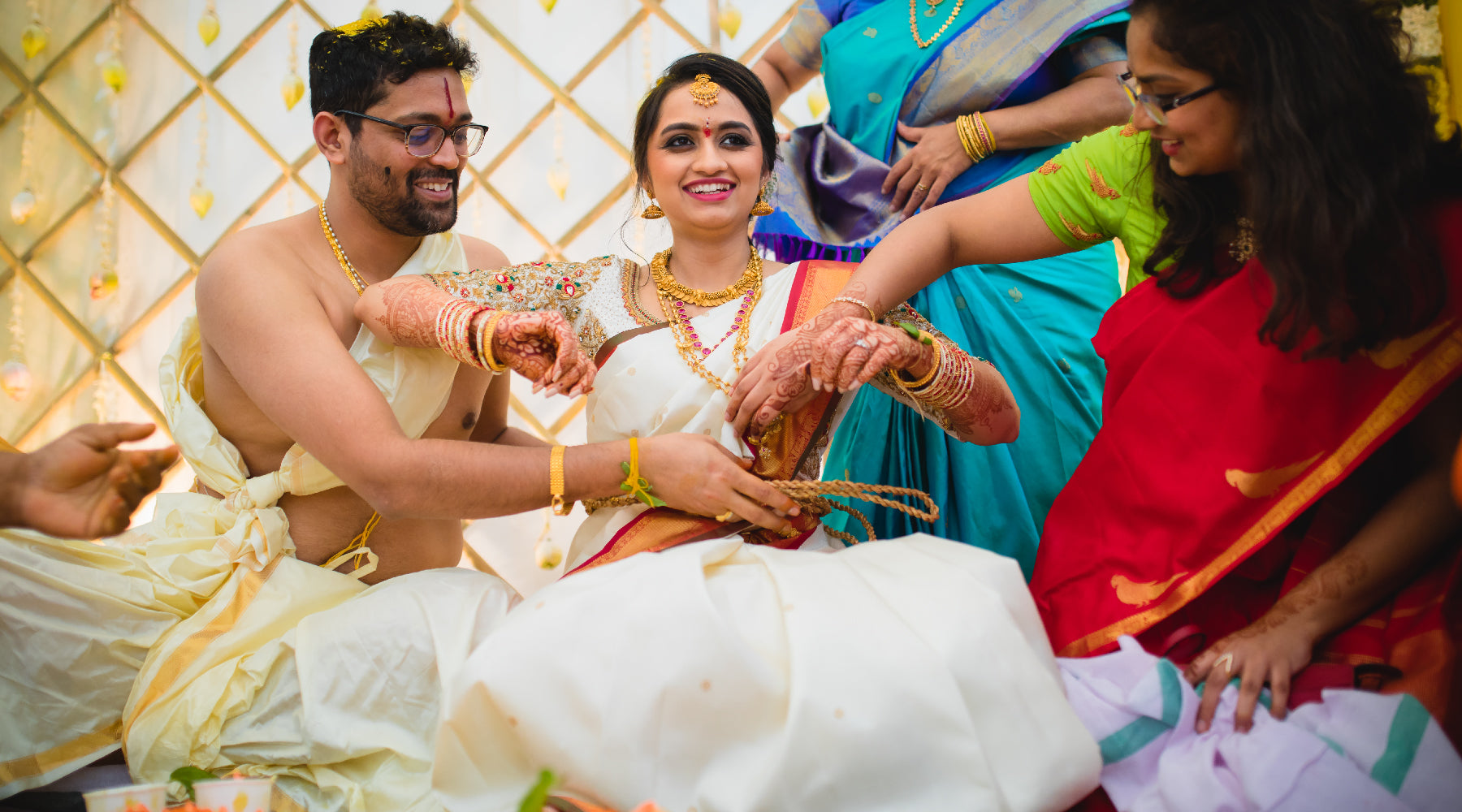 Archana weds Teja Kanakavalli Bride Archana met her future husband Teja a year ago in Boston. He claims that the moment he saw her, he knew she would be his wife. Archana believes that when you me...
Read more