Kanakavalli Bride : Suman

Suman weds Kushal
As you continue to stay home and stay safe, we hope to brighten your lockdown Sunday with our beautiful bride for April.
Kanakavalli Bride Suman's first date with Kushal was on the 1st of April, but they didn't realise until much later than they'd met on April Fool's Day! At the time, Suman was applying to universities abroad, and a few months later she moved to Paris. Thus began their long-distance relationship. Suman says Kushal was very supportive, and always just a call away whenever she needed him.

Around the time of her birthday, Suman made a trip to India for her best friend's wedding. She noticed that Kushal was acting a bit suspicious, and she thought he was planning a birthday surprise for her. He took her over to his place, which was decorated with candles and flowers. It was beautiful, and Suman remembers being so happy in that moment. They sat down to dinner and, as they talked about how they were meant to be together, Kushal took out a ring and popped the question. Of course she said yes! Going back to Paris just after getting engaged was hard, though, and she wept like a little girl at the airport.
Suman and Kushal both knew they wanted a small wedding, and they loved the idea of getting married by the beach instead of in a traditional wedding hall. They chose a venue in Mahabalipuram, and Suman did most of the planning for their simple wedding from Paris. They had a beautiful yellow mandap right on the sand, and they couldn't have asked for a more perfect spot to get married.
With about a hundred guests, Suman and Kushal's wedding felt intimate and special. They had a sangeet, followed by the muhurtham on the beach the next morning. For Suman, the most memorable part of the wedding was having the love and support of all her family and friends on her big day. She and Kushal felt overwhelmed with gratitude, having their loved ones by their sides.
Suman always knew she wanted to wear a simple and traditional red kanjivaram sari for her wedding. She had been 'stalking' the Kanakavalli website everyday from Paris, she says, looking for the perfect bridal sari. She was in touch over the phone with the Kanakavalli team, who would send her photographs of kanjivarams that they thought she would like. 
It was her mother who picked Suman's wedding sari. Suman remembers excusing herself from a class to answer a video call from her mother. As soon as she saw the gorgeous red kanjivaram, she knew she was going to love it. It was exactly what she wanted, with a small border and delicate motifs on the body. Suman waited eight months to see the sari in person, and she says it looked even better when she finally did!
A big thank you to Suman for sharing the story of her beautiful wedding with us. We wish her and Kushal a lifetime of togetherness and love.
Wedding Credits -
Hair and Make up - @karishmahairandmakeup
Photography - @myriad_hues
Blouse - @saldanha_label
Find your own perfect match from our Valli Muhurtham bridal and trousseau collective online.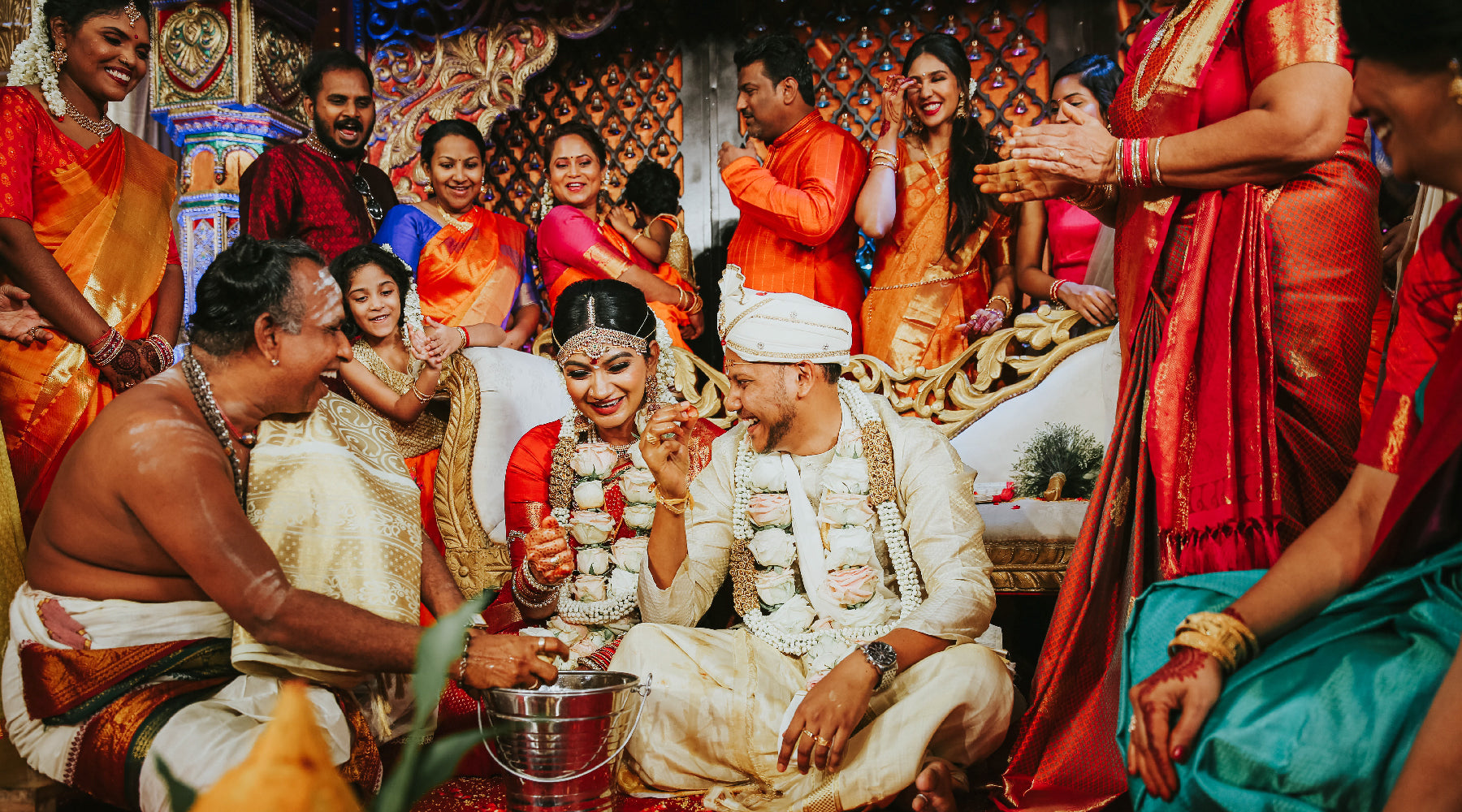 Divya weds Arvinraj Divya and Arvinraj were introduced by mutual friends, but on their first date she told him she wasn't interested in a relationship. However, she must have known it was somethin...
Read more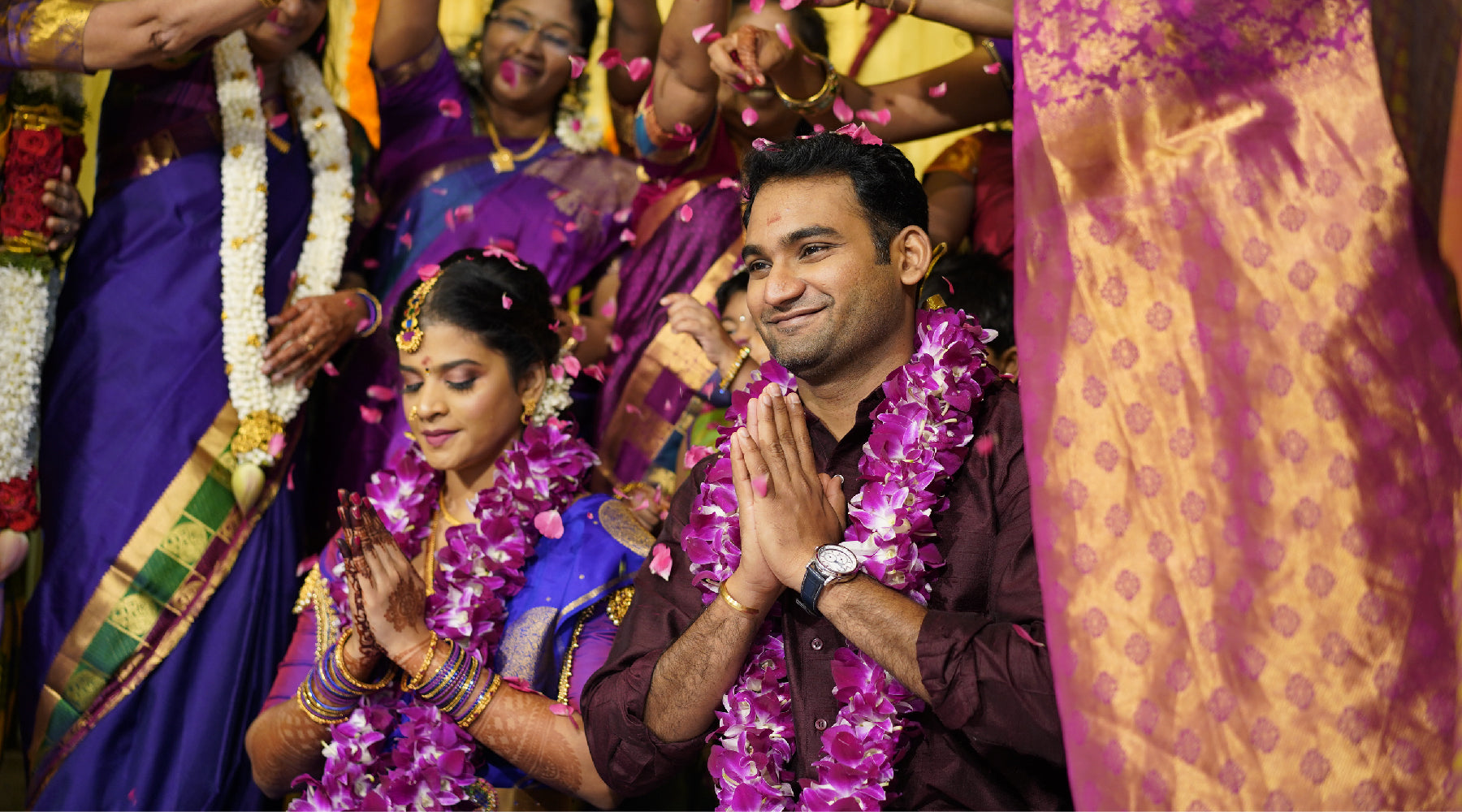 Sunaina weds Sridhar Kanakavalli Bride Sunaina doesn't believe in love at first sight, but she does believe in destiny. Her mother had put her in touch with Sridhar, and she decided to meet him fo...
Read more