Kanakavalli Bride: Divya

Divya weds Arvinraj
Divya and Arvinraj were introduced by mutual friends, but on their first date she told him she wasn't interested in a relationship. However, she must have known it was something special, because she saved the ice cream spoon from that first meeting! According to Divya, "We did not just 'fall in love'. We walked into it with our eyes wide open." Having experienced life's ups and downs together, and realising they still wanted to be with each other through it all, they decided to get married.
Divya spent months visualising her bridal look and wedding, and putting it all together - from her outfits and jewellery, to the flowers and decor. She is Tamilian and her husband is Telugu, and they had a traditional Telugu-style wedding, incorporating elements of both cultures.
Divya loved how traditional the wedding was, and says the experience taught her why Indian weddings are so elaborate and so special. The beginning of two lives coming together deserves all the richness of culture and tradition, she says.
Just before the tying of the thaali, a white cloth was held up between the bride and groom. "Are you ready?" Arvinraj asked. Divya smiled to herself and thought that she couldn't bear to wait any longer to be married to the love of her life!
Divya is a trained Bharatanatyam dancer, and ever since she was a child she has been very aware of her culture. She always wanted a traditional bridal look, slightly old-fashioned and always beautiful. She chose a classic red kanjivaram, and paired it with her dance jewels, and a traditional round red pottu. She wore only jasmine flowers, and kept her make-up simple and elegant.
 Divya has always loved wearing kanjivarams. She knew that she wanted a wedding sari that she could treasure for the rest of her life, and that's exactly what she found at Kanakavalli. Divya says she found the perfect kanjivaram within 10 minutes of entering the Kanakavalli store. When the staff draped it on her, she remembers having goosebumps. Her husband noticed this, and agreed that it was 'the one'. Divya loved how the sari was given to her, with kumkum, flowers and prasad, like a blessing. She says she was so elated that she spent the rest of the evening in her hotel room admiring her Kanakavalli kanjivaram!
A big thank you to Divya for being a gorgeous Kanakavalli Bride and sharing the story of her wedding with us. We wish her and Arvinraj a lifetime of love and laughter. Shop Kanakavalli's Valli Muhurtham range of exquisite bridal and trousseau kanjivarams in stores, at our travelling exhibits and online.
Wedding Credits-
Photographer : Shan from SayCheeseMy
HMUA : Vithya Hair and Makeup
Garland : Veens Flowers
Find your own perfect match from our Valli Muhurtham bridal and trousseau collective online.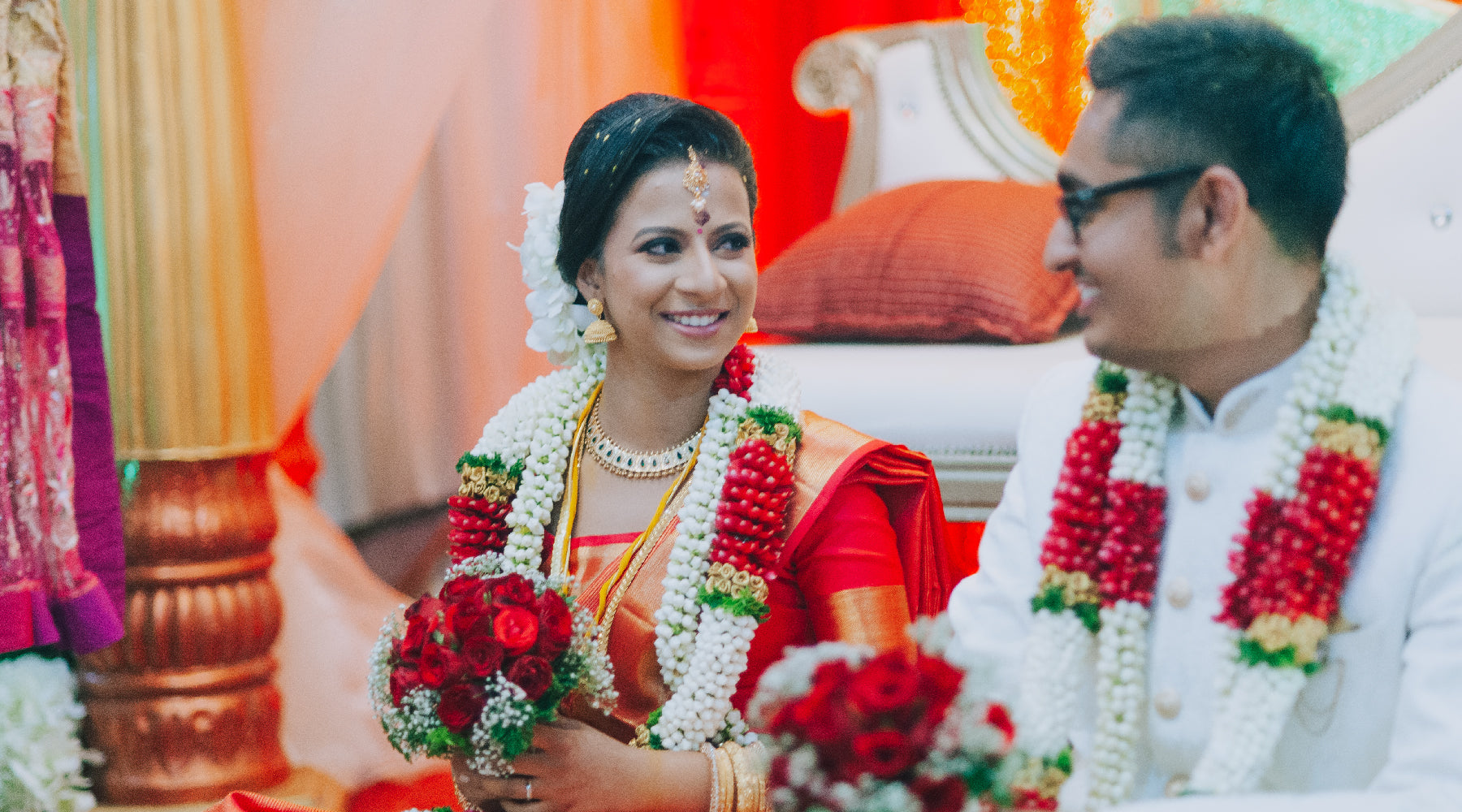 Kathleen weds Sashdev Kathleen and Sashdev met while they were both at university. They found that they had a lot in common, including a shared love for Game of Thrones, and the very first time th...
Read more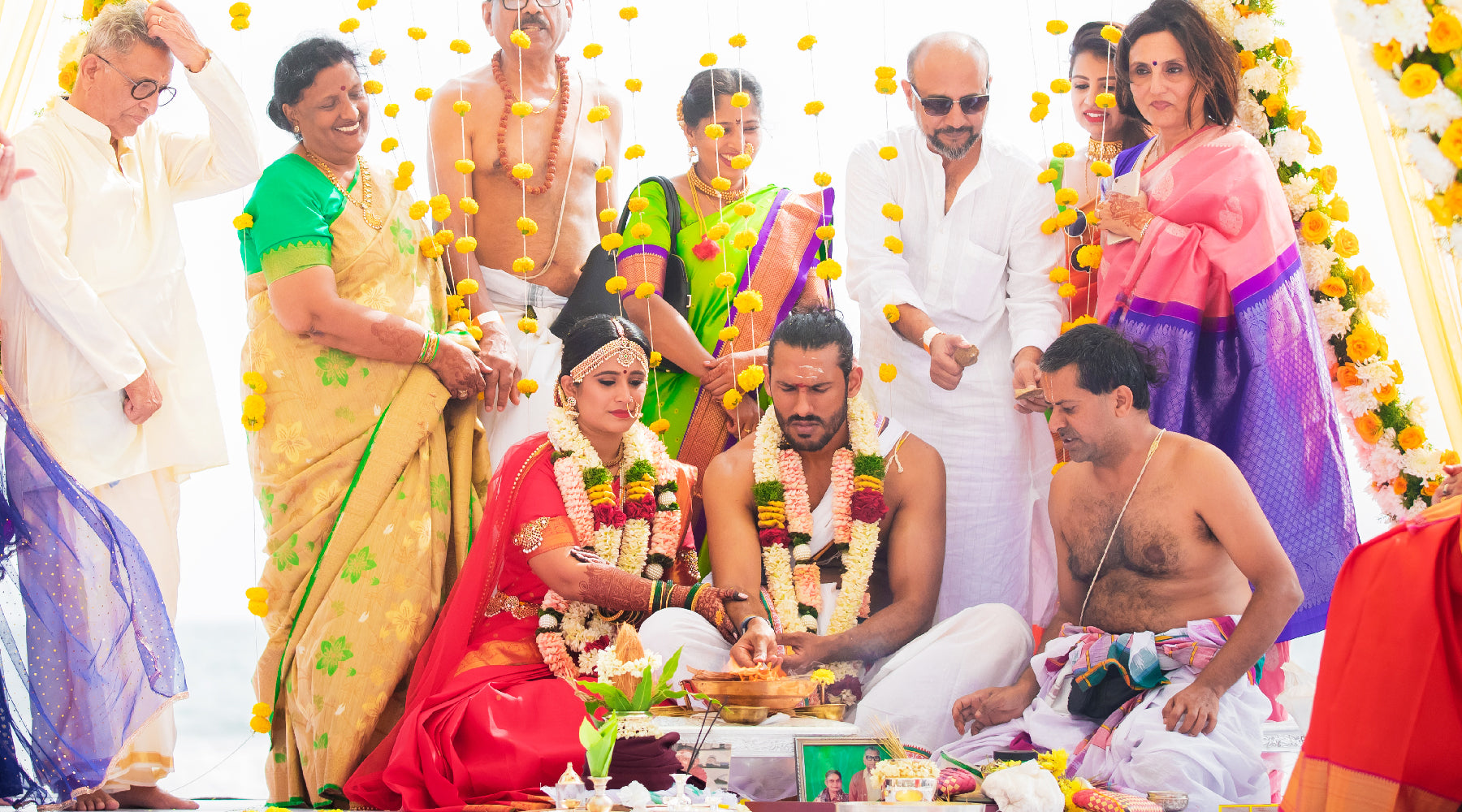 Suman weds Kushal As you continue to stay home and stay safe, we hope to brighten your lockdown Sunday with our beautiful bride for April. Kanakavalli Bride Suman's first date with Kushal was on t...
Read more