Kanakavalli Bride : Kathleen

Kathleen weds Sashdev
Kathleen and Sashdev met while they were both at university. They found that they had a lot in common, including a shared love for Game of Thrones, and the very first time they met, they talked non-stop for four hours! Kathleen says her husband always claims that he fell in love with her at first sight. But for Kathleen, it was a gradual process. She quotes the writer John Green to describe this feeling: "I fell in love the way you fall asleep; slowly, and then all at once."
The couple had been together for two-and-a-half years, when Sashdev popped the question. Kathleen had always dreamed of a very private proposal - just the two of them, no photographers, no crowds cheering. One night, soon after she had returned to Malaysia from a holiday, Sashdev took her to a rooftop bar for dinner. After dinner, he suggested a walk outside, where he went down on one knee and asked her to make him the happiest man on earth. Kathleen hadn't been suspecting a thing, but said yes immediately. She says the entire proposal felt surreal.
Kathleen's entire family came together from various parts of the world to make her big day truly unforgettable. From coordinating her Nallangu and Sangeet, to decorating her home and playing important roles in the church ceremony, this joint effort with her nearest and dearest filled Kathleen with joy.
Kathleen wanted minimalistic decor for the wedding, with nothing too over the top. She chose white with hints of pastel pink. She wanted everything to reflect her personality, including the saris she wore for the temple ceremony.
Being an interfaith couple (Roman Catholic and Hindu), Kathleen and Sashdev felt incredibly blessed and grateful for the chance to experience both their family's cultures and traditions at their wedding. They had a church ceremony in the morning and a temple ceremony in the evening. It was a whirlwind of a day, Kathleen says, and she savoured every minute of it!
Kathleen and her family went to Kanakavalli's flagship store at Kingsley four times, and each time, she says, the staff was ever so patient and willing to help. She always thought that choosing the perfect wedding sari would be the most difficult thing, but somehow it was the first sari she set her eyes upon that she ended up choosing.
Finding inspiration in the style of South Indian Canadian brides, Kathleen wanted her look to be simple, elegant, and classy. She found the perfect make-up artist in Malaysia who gave her a flawless base and makeup that lasted through all the hugs and kisses of the day!
Kathleen's first sari was a beautiful pastel pink kanjivaram, that she paired with simple jewellery and earth-toned eyes, so nothing would take away from its exquisite beauty. The red kanjivaram was a lucky find, she says, as the staff at Kingsley was displaying new arrivals while Kathleen was at the store. It immediately caught her eye - the vivid chilli red hue and the incandescent zari.
Kathleen's mother, grandmothers and aunts all wore Kanakavalli to the church ceremony, and they all loved their saris.
A big thank you to Kathleen for being such a gorgeous Kanakavalli Bride and for sharing the story of her wedding with us. We wish her and Sashdev a lifetime of love, laughter and togetherness.
Wedding Credits - 
Photographer: Two of Us Signature Studio @twoofussignaturestudio
Make up artist: Blush Beauty and Beyond @blushbeautybeyond
Jewellery: Bride's own
Hip chain: Erista Jewel Box @erista_jewel_box
Hair florals: Aps Wedding Garlands @apsweddinggarlands
Find your own perfect match from our Valli Muhurtham bridal and trousseau collective 
online.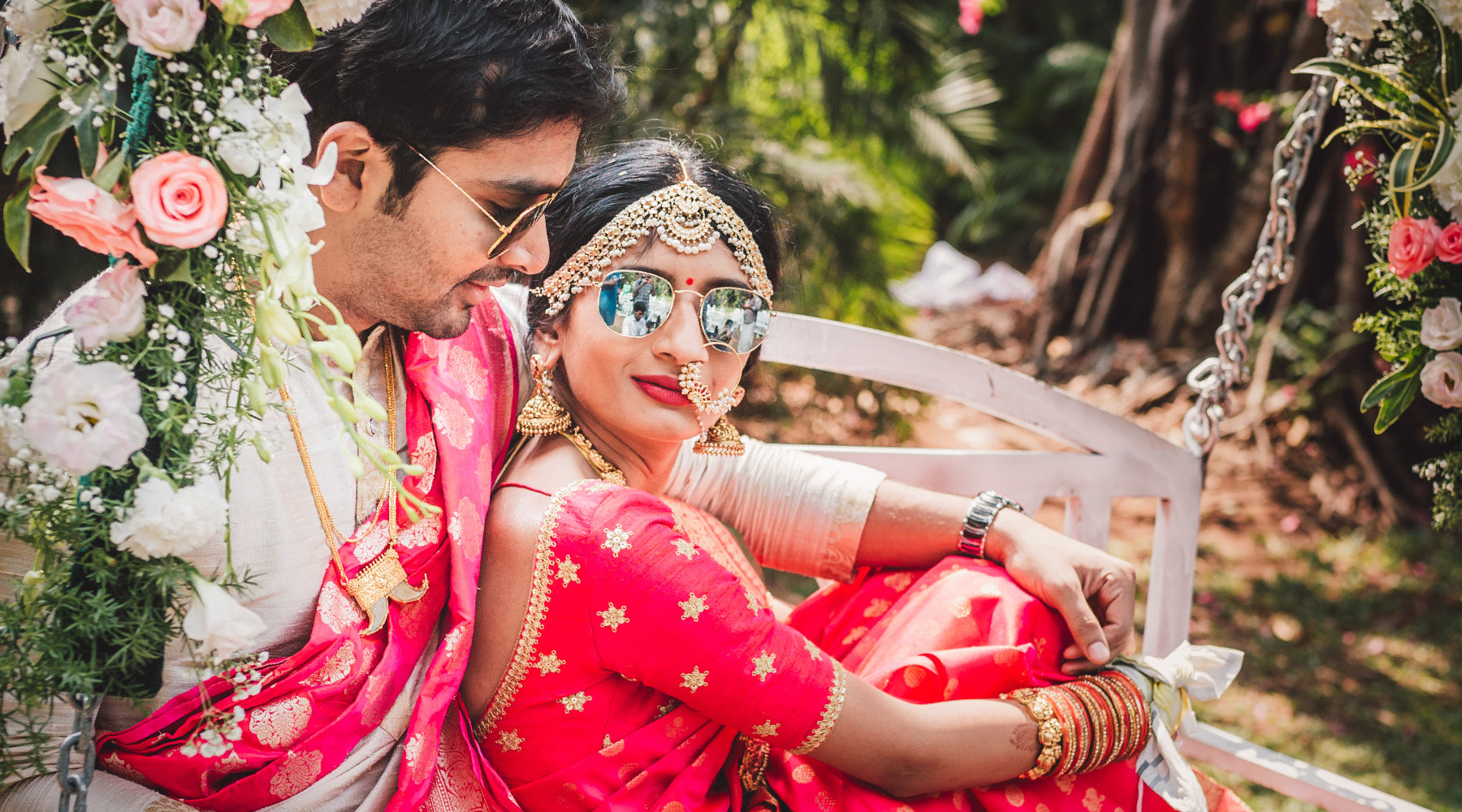 Roma weds Akarsh Kanakavalli's December Bride Roma doesn't believe in love at first sight. She says it should be called attraction at first sight, because your first impression of someone can neve...
Read more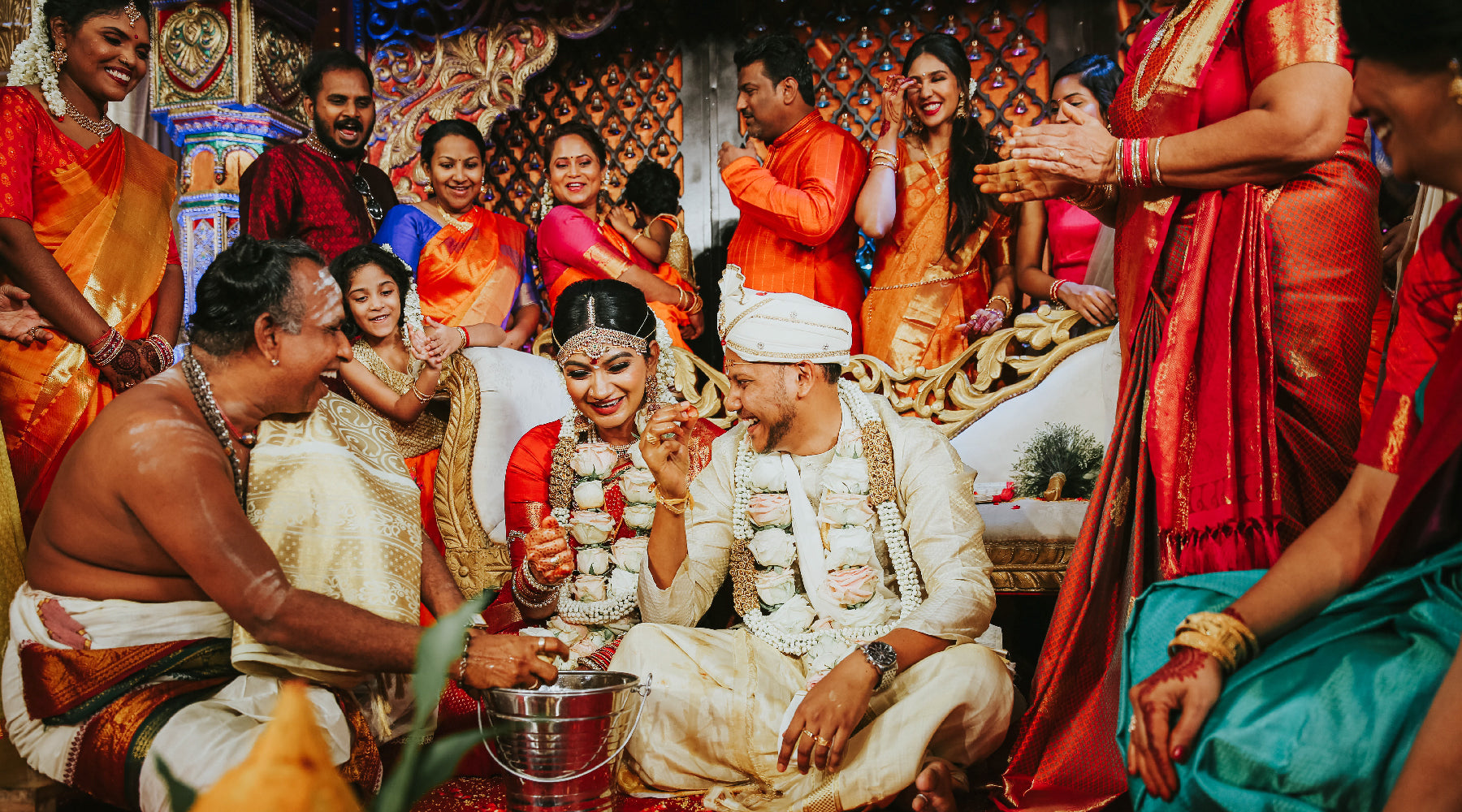 Divya weds Arvinraj Divya and Arvinraj were introduced by mutual friends, but on their first date she told him she wasn't interested in a relationship. However, she must have known it was somethin...
Read more