Kanakavalli Bride : Sahridaya

Sahridaya weds Charunethran
Kanakavalli Bride Sahridaya's best friend introduced her to Charunethran in the most awkward way possible - by creating a Whatsapp group titled 'Awkward'! Sahridaya soon exited the group because she thought it was all a joke, but Charu texted her privately a few days later to wish her for her birthday.
That was the beginning of a long distance relationship that lasted for one and a half years before the couple actually met in person. Their first meeting confirmed what they had both felt from the start - that they wanted to spend their lives together. Sahridaya says that Charu is the most caring and affectionate person she's ever met.
Having discovered similar interests, from music and food to their outlooks on life, Sahridaya and Charu also found themselves at a point in their lives where they knew exactly what they wanted from a relationship.
There was no grand proposal - it was more of a smile and a nod to let each other know they were interested. Sahridaya says she calls Charu her serendipity, because he came into her life at a time when she wasn't looking for anything, and she is forever grateful for that.
The couple had a simple Indian Tamil Brahmin wedding in Chennai consisting of an engagement and a wedding ceremony, with an intimate Mehendi function at home. Sahridaya wanted the wedding decor to be as colourful as possible. Temple bells, lotuses, parrots, marigolds and lots of fresh flowers were elements that appeared across their events. She says that seeing how beautifully their wedding came together, despite delays due to Covid-19, was like seeing a vision board coming to life.
Sahridaya says that after months of uncertainty due to the pandemic, the most relaxed she felt was on the day of her wedding, and that was the best part of the entire journey. She and her bridesmaids had admired our kanjivarams for years, and Sahridaya was sure she wanted a Kanakavalli piece as part of her trousseau. Being selected for the Vithya X Kanakavalli bridal make-up masterclass with Vithya Visvendran, and then winning a gift voucher, gave Sahridaya just another reason to choose Kanakavalli.
"Everything was perfect and very thoughtfully put together, keeping in mind the classic Indian bride," says Sahridaya of the Vithya X Kanakavalli masterclass. She says Vithya shared amazing tips that helped her plan her own looks, and that the goodie bags were filled with lovely bridal beauty products. Following Vithya's advice, Sahridaya was able to choose her own makeup artist, decide on her overall aesthetic, and pick accessories, flowers and jewellery that would complete her bridal look.
Sahridaya was very sure she wanted a vaira oosi kanjivaram for her main event. After bookmarking a few saris on the Kanakavalli website, she went into the store about two months before her wedding. She says that the Kanakavalli team was as eager as her own family when they realised she had come to find her bridal sari. They showed her the best of the collection, and she found exactly what she was looking for - a bride's dream indeed.
A big thank you to Sahridaya for being a beautiful Kanakavalli Bride and sharing the story of her wedding with us. We wish her and Charu a lifetime of friendship and laughter.
Wedding Credits -
Photo & Video - SIMPLE PICTURES
Bridal Makeup & Hair - JANANI RANGADHURAI
Stage & Decor - SHRIBHA WEDDINGS
Jewellery & Accessories - SWARNA PRABHU JEWELLERY
Blouse - TEMPLE DESIGNERS
Find your own perfect match from our Valli Muhurtham bridal and trousseau collective online.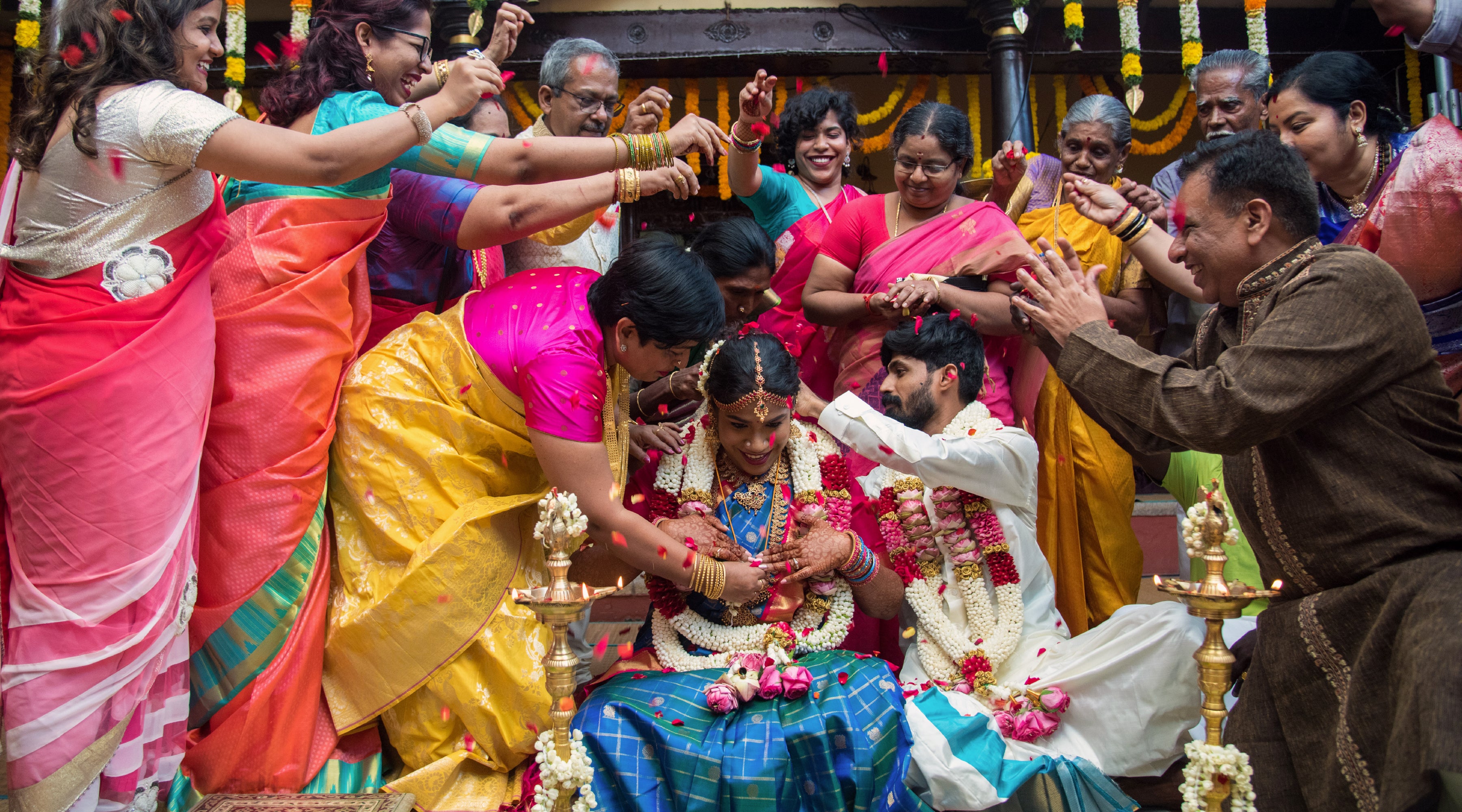 Reema weds Arivarasu Kanakavalli Bride Reema says that she felt a spark when she met Arivarasu for the first time. They met on the set of a film where they were both working as technicians, and sh...
Read more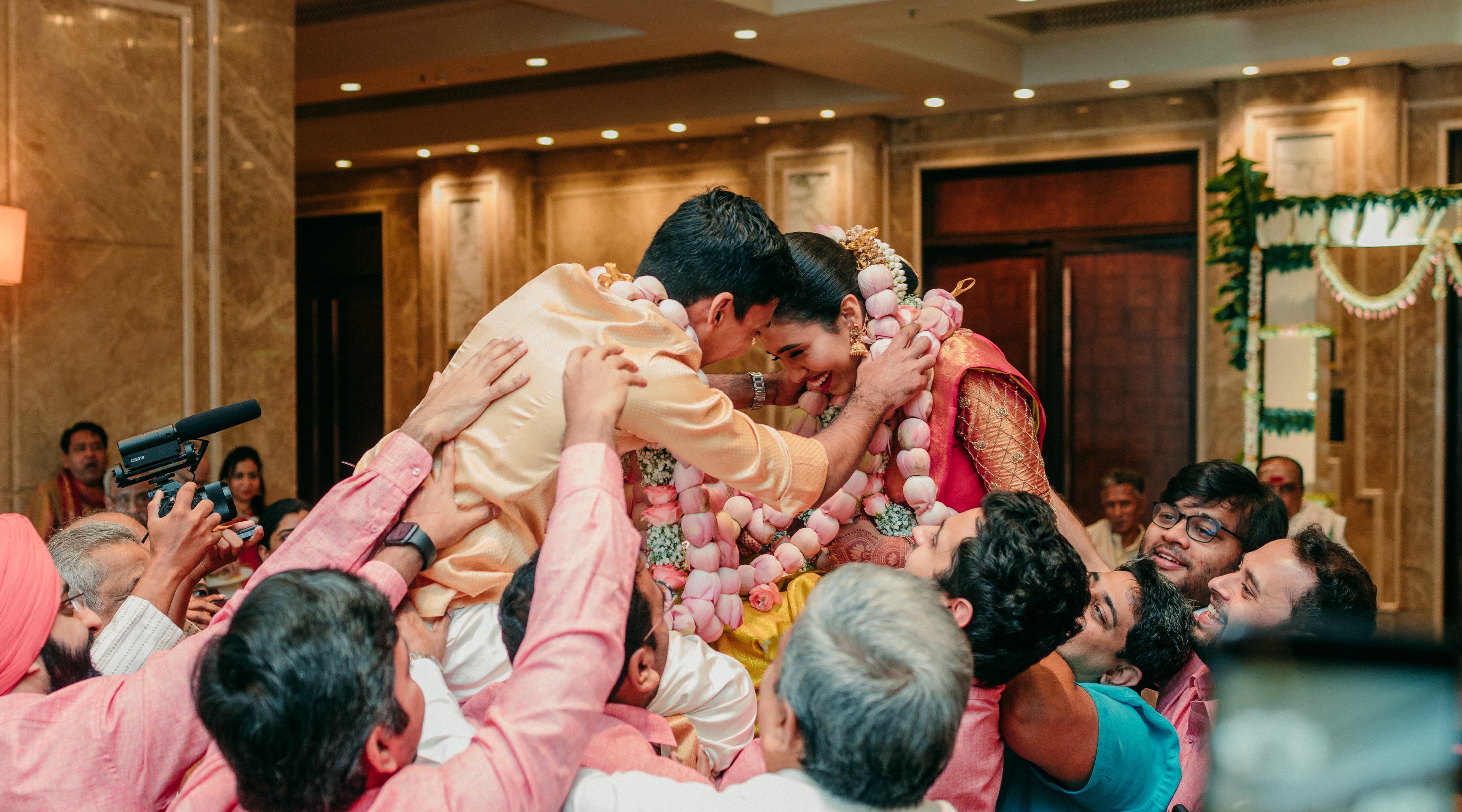 Sujani weds Vineeth Sujani first met Vineeth when she was a kindergartener, since they both studied in the same school. Her first proper memory of him, though, was when they met at a mutual friend...
Read more