Kanakavalli Bride : Reema

Reema weds Arivarasu
Kanakavalli Bride Reema says that she felt a spark when she met Arivarasu for the first time. They met on the set of a film where they were both working as technicians, and she immediately knew that this meeting had the potential to become something very special.
Reema says she knew Arivu wanted to marry her, but that he was too shy to actually ask. So she was the one to pop the question! Arivu kept dropping hints about marriage when they were texting one evening. Tired of waiting, Reema finally asked him if he would marry her. He said yes, of course, and the rest is history.
Since Reema and Arivu come from different religious backgrounds, they decided to have a simple and neutral ceremony, with a Mehendi, a Muhurtham and a reception. For the Muhurtham, they chose decor in pink featuring lotuses. The two things that Reema said she was very sure about even before they started planning the wedding were the venue and a Kanakavalli kanjivaram.
The tying of the thaali was a moment Reema had played out in her mind a hundred times, but the actual event took all of 20 seconds! She says time slowed down and she could only hear her heartbeat.
She was overwhelmed with joy and relief that their three and a half years of commitment, one year of convincing their families, one year of planning, two hours of getting ready, and a few minutes of complete chaos finally led them to this unforgettable moment.
Reema's parents gave her the most meaningful advice on marriage - to take it one day at a time, and to never end the day with an argument or a heavy heart.
Her advice for brides-to-be is to dream big, but to stick to the budget. If you want a specific thing that is more expensive, find ways to save on something else, she says. According to Reema, this is the best way to find peace during wedding planning.
"I decided to be a Kanakavalli Bride even before I met Arivu!" says Reema, who discovered Kanakavalli a few years ago. When she visited the store for her wedding shopping, she loved the collection of kanjivarams, the hospitality at the store, and the patience of the team. Reema, her mother, sister, aunt and Arivu all loved every sari they picked, making it difficult to choose. Reema finally set her heart on a kanjivaram in a shade of blue-green, and knew she had found 'the one'.
A big thank you to Reema for being a beautiful Kanakavalli Bride and sharing the story of her wedding with us. We wish her and Arivarasu a lifetime of love and togetherness.
Wedding Credits -
Photography - Sneha Sivakumar
Mua - The Bridesbar by Anusha Swamy
Venue - Rina's Venue
Find your own perfect match from our Valli Muhurtham bridal and trousseau collective online.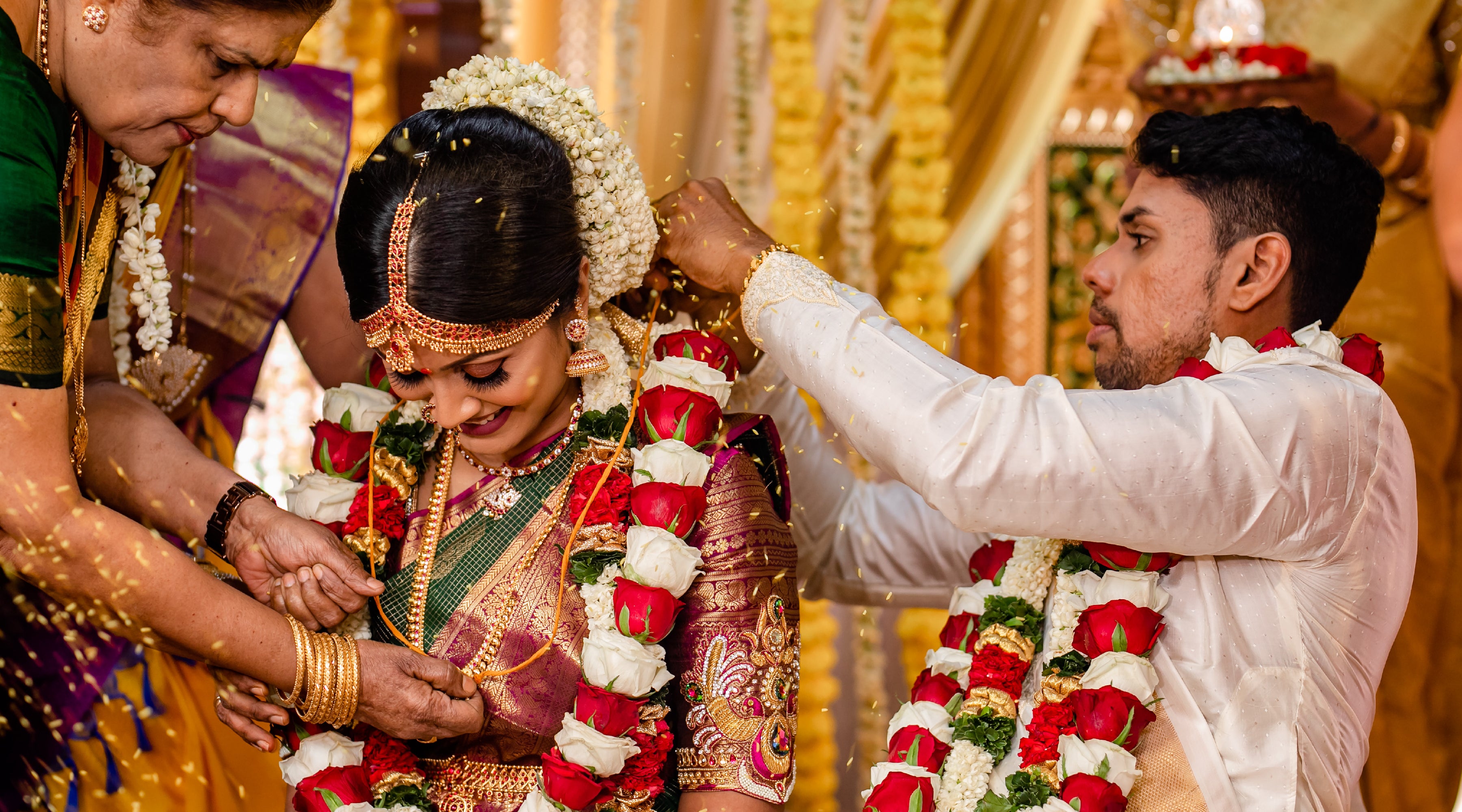 Theeba weds Sam Kanakavalli Bride Theeba says it was love at first sight when she met Sam. Something just clicked at their first meeting, and they discovered that they were on the same wavelength....
Read more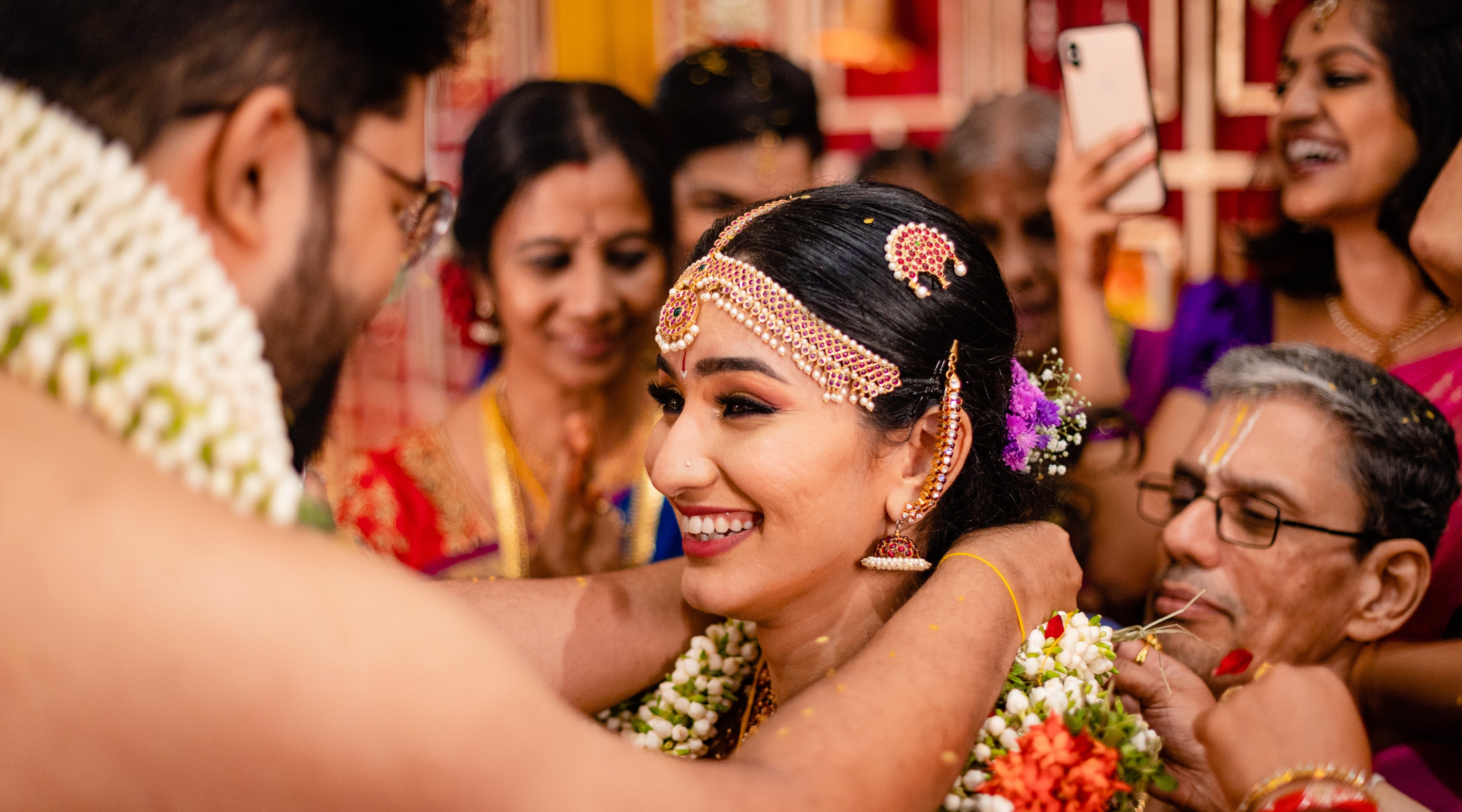 Sahridaya weds Charunethran Kanakavalli Bride Sahridaya's best friend introduced her to Charunethran in the most awkward way possible - by creating a Whatsapp group titled 'Awkward'! Sahridaya soo...
Read more