Kanakavalli Bride : Theeba

Theeba weds Sam
Kanakavalli Bride Theeba says it was love at first sight when she met Sam. Something just clicked at their first meeting, and they discovered that they were on the same wavelength.
Sam popped the question on a special date to Sentosa Island. Theeba says she suspected that he was going to propose, but it was an unforgettable moment just the same. They got married within a year, and the rest, as they say, is history.
Theeba and Sam had a registration of marriage, a traditional ceremony as well as a reception all at the Thendayuthapani Temple in Singapore - three events in one go! Neither is a fan of too many ceremonies, and they didn't want to tire themselves out. Theeba says with the support of their family and friends, planning the wedding was a breeze and everything turned out exactly as they'd imagined.
Theeba will never forget the moment she walked into the temple with her friends and family, and saw her husband eagerly waiting for his bride. The tying of the thali, which seals the deal, and the solemnisation, were both filled with sweet and funny moments, surrounded by their loved ones.
The most unique thing about their wedding, says Theeba, is that they brought chefs from India to cook some of the most mouth watering delicacies. Sam is the owner of a catering restaurant and organised fifteen delicious dishes for the wedding meal, beautifully presented and thoroughly enjoyed by the guests.
Theeba is a Bharatanatyam dancer and loves traditional temple jewellery. This inspired her bridal look, and she wore temple jewels, adding a touch of vintage style to her wedding. Her advice to brides-to-be is to stay calm and composed through everything, and to get enough rest before the wedding. She also suggests asking a photographer to capture those special candid moments.
Theeba discovered Kanakavalli through Instagram and a friend who did her wedding shopping in India. When Theeba visited Kingsley for the first time, she took just five minutes to choose her wedding sari. She knew she wanted something in dark green with burgundy borders and chakaram motifs. She says she found exactly what she was looking for at Kanakavalli.
A big thank you to Theeba for being a beautiful Kanakavalli Bride and sharing the story of her wedding with us. We wish her and Sam a lifetime of love and laughter.
Wedding Credits -
Jewellery: Wee Lee goldsmith
Make up: lookstudio
Hairstyling: lookstudio
Flowers: jothi puspa flower shop
Deco: siva ganesh wedding deco
Videographer: Paperfilm
Photography: Paperfilm
Food catering: Ambur Briyani catering (18th cuff road)
Find your own perfect match from our Valli Muhurtham bridal and trousseau collective online.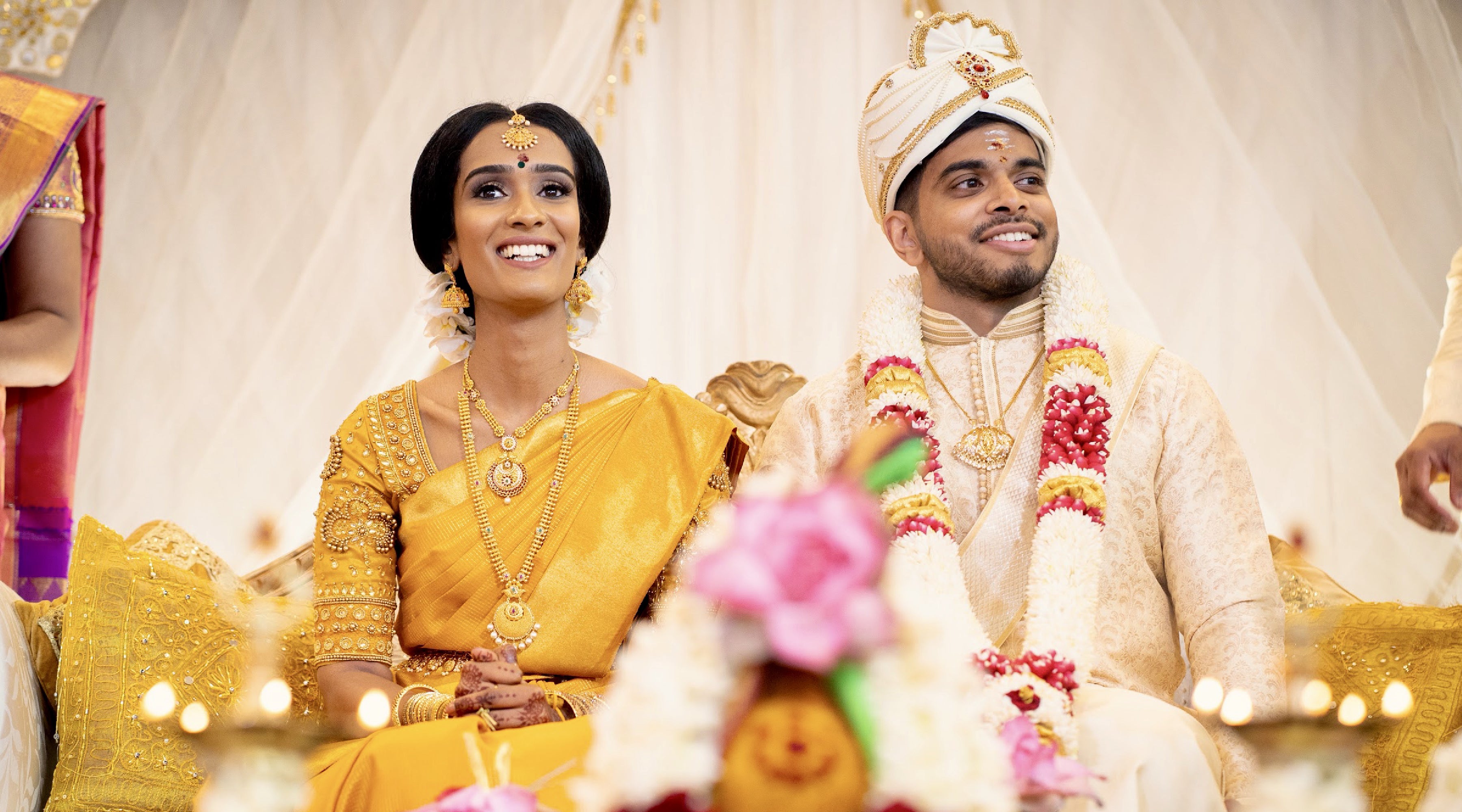 Dhaarica weds Thajeevan Dhaarica and Thajeevan first met when they were very young and went to the same violin lessons. They didn't talk much back then, but met by chance many years later and star...
Read more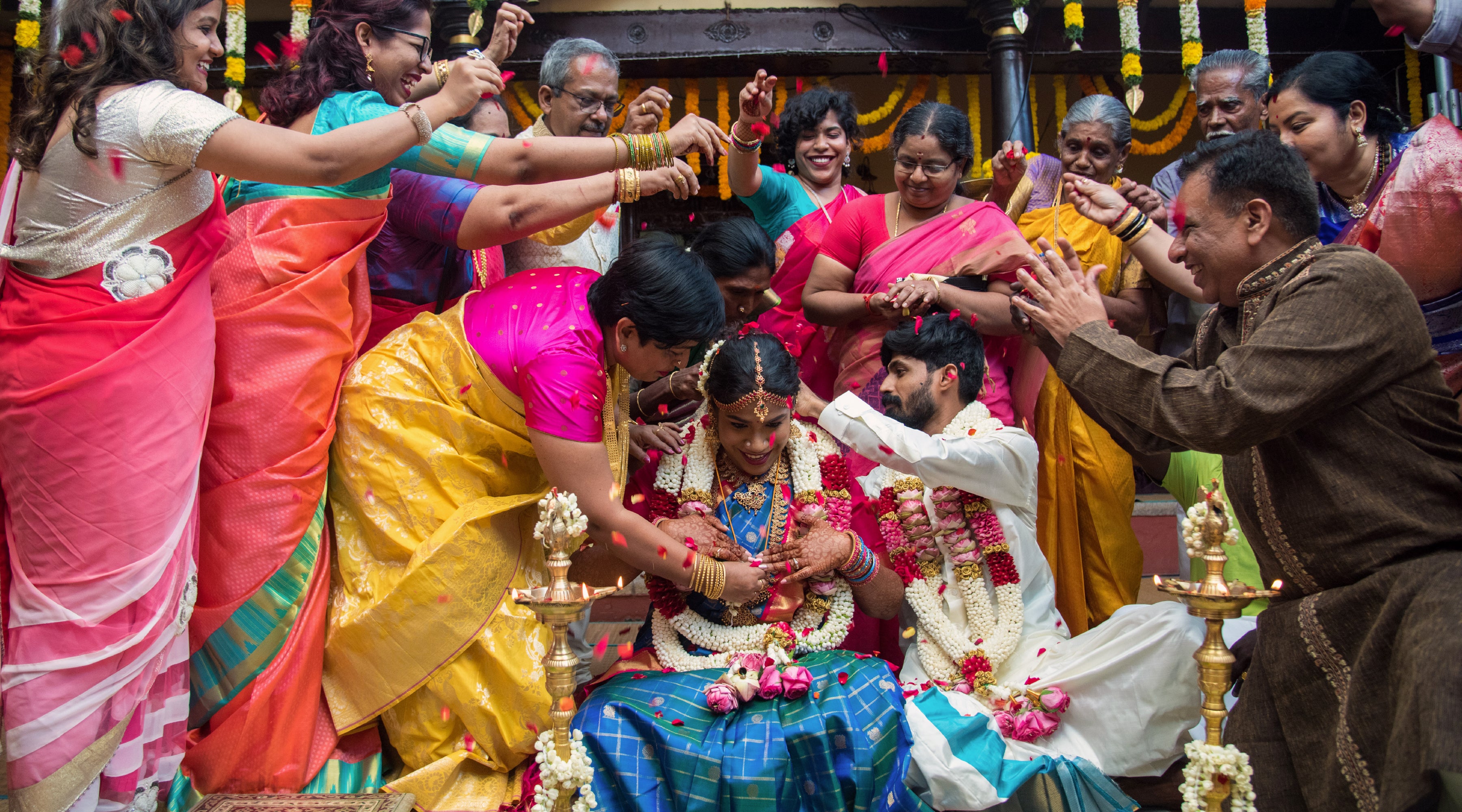 Reema weds Arivarasu Kanakavalli Bride Reema says that she felt a spark when she met Arivarasu for the first time. They met on the set of a film where they were both working as technicians, and sh...
Read more