Kanakavalli Bride : Priya

Priya weds Harsha
Priya and Harsha were just teenagers when they first met and fell in love at flight school in Canada 10 years ago. Priya believes that love takes a while to grow and needs to withstand the test of time. She says that not a day goes by when she isn't grateful to have met and married such a wonderful man.
Harsha planned the sweetest and loveliest surprise proposal at a villa in Goa overlooking the ocean and decorated with airplanes - since both of them are pilots. He went down on one knee to pop the question and when Priya said yes, their friends and family burst out of their hiding places inside to celebrate with the happy couple and a bottle of champagne!
Priya says one of her favourite memories of planning the wedding is the day they picked their wedding venue, a beautiful lawn at Taj West End in Bangalore. It was surrounded by trees and water bodies, a magical slice of paradise in the heart of the bustling city. She says it was love at first sight.
Another favourite moment, of course, was the day she had her first spoonful of dessert after six months of no sugar!
Someone told Priya and Harsha that if they picked a weekday to get married on, they would be able to cut down on wedding costs since fewer people would show up! They both laughed at this little bit of advice, and then decided to get married on a Sunday.
Priya was a little nervous on the morning of the wedding, not about who she was marrying but about the wedding itself - how the day would go after all the months of planning. As she walked to the mandap and saw Harsha smiling at her, though, she knew that no matter what happened, at the end of the day she would be married to the love of her life!
Priya and Harsha's families flew to Chennai to find the bride the perfect wedding sari. On their very first visit to Kanakavalli, a beautiful pink kanjivaram caught Priya's eye. And she knew at that moment that she couldn't get married in any other sari! "When you know, you know," Priya says.
Both Priya and Harsha love aesthetics and design and knew exactly what they wanted their wedding to look like from the start. And their wedding was beautiful - from the couple's outfits, to the decor, flowers and the incredible attention to every little detail.
Priya wore an exquisite pink kanjivaram shot with gold tissue and embellished with fine zari, from our Valli Muhurtham range of bridal and trousseau saris. She says that she has never had a shopping experience like the one she had at Kanakavalli. "From the aesthetics of the store itself, to the wonderful smiling staff, everything was so easy and so beautiful. The collection is remarkable and the kanjivarams are beyond gorgeous," she adds.
A big thank you to Priya for sharing the story of her wedding with us. We wish her and Harsha a lifetime of togetherness and joy.
Wedding Credits -
Photography: Rahul De Cunha (@rahuldecunhapictures)
Hair and Makeup : Anu Raaja (@makeuphair_anuraaja)
Find your own perfect match from our Valli Muhurtham bridal and trousseau collective online.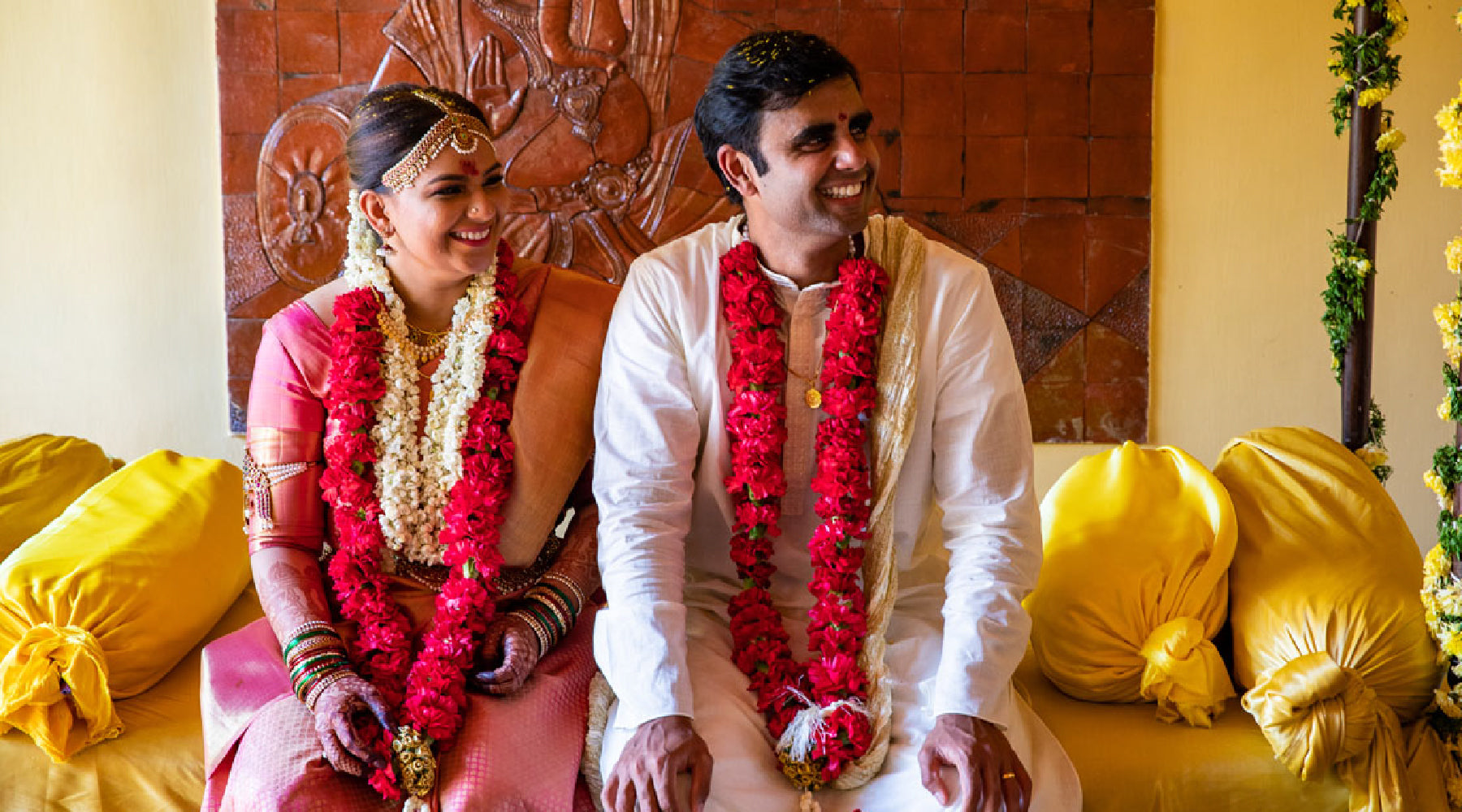 Divya weds Sushanth Kanakavalli's August Bride, Divya, met Sushanth while at the Teach for India training in Pune in 2014. Divya says she remembers sitting in on a lecture with 60 or 70 people, ...
Read more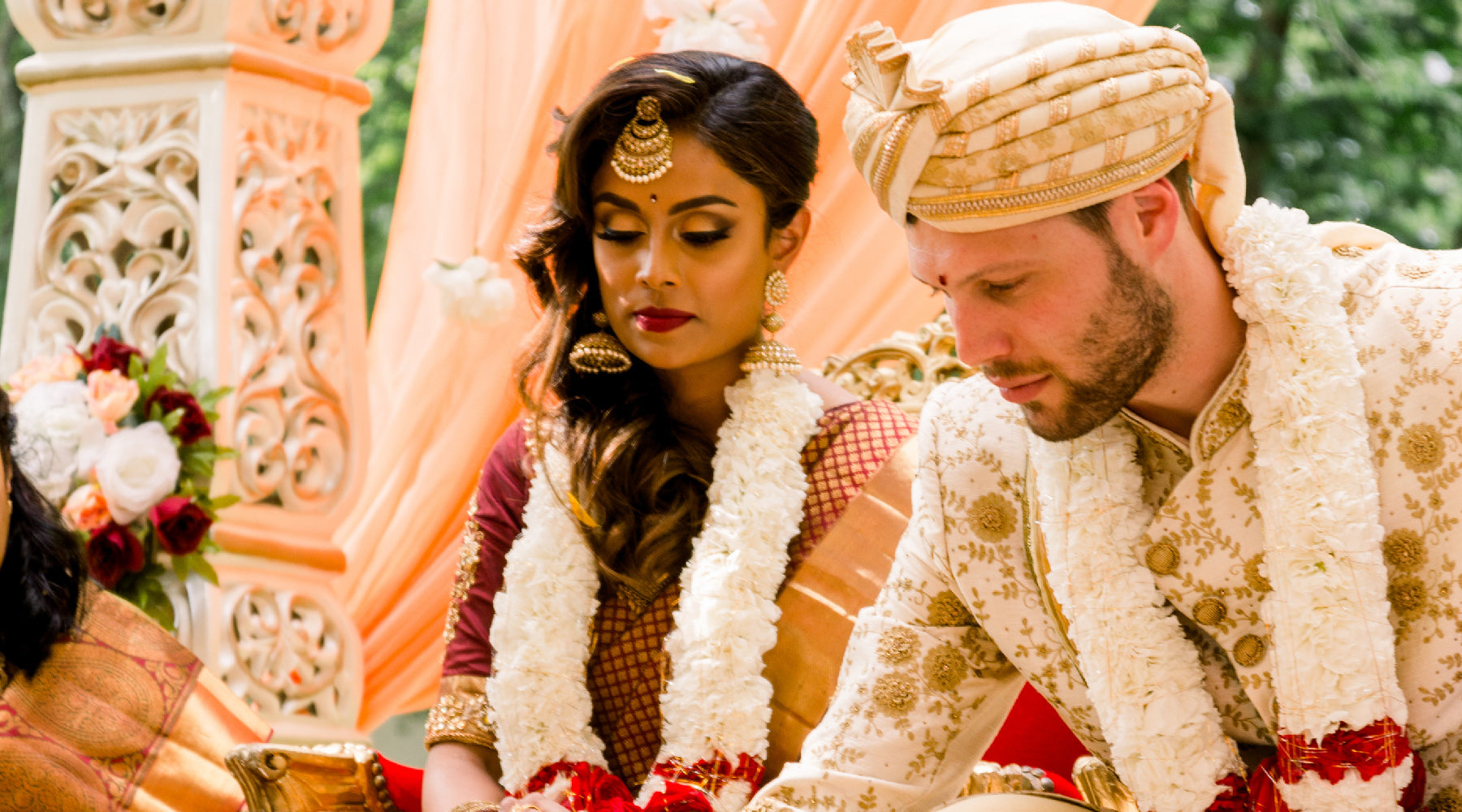 Anu weds David "Love is not a fleeting feeling," says Anu Udayakumar, Kanakavalli's October Bride, who married her high school sweetheart David Zavelsky in Richmond, Virginia, in May this year. In...
Read more