Kanakavalli Bride : Divya


Divya weds Sushanth
Kanakavalli's August Bride, Divya, met Sushanth while at the Teach for India training in Pune in 2014. Divya says she remembers sitting in on a lecture with 60 or 70 people, doodling in her notebook, when she heard Sushanth ask a question. She recognised his voice immediately, and when she felt all warm and fuzzy she said to herself, "Divya, you are in trouble." Before long, the two were a couple. Sushanth says he always knew that they were in it for the long run. Divya, who is a romantic at heart, was miffed that there was no grand proposal, but she also knew they would end up together and wouldn't want it any other way.
Divya and Sushanth wanted their wedding to be traditional and close to nature, with a personal touch. Their wedding venue in Chennai was exactly what they wanted. They had four events - a mehendi, a cocktail party, a wedding and an after party. The mehendi and wedding were very traditional, filled with yellow and orange marigolds, brass decor items and a ellai sapadu or banana leaf meal. For the parties, they had fairy lights everywhere, and lots of music and dancing. It was a beautiful wedding, and lots of fun by the sound of it.

Growing up, Divya moved around a lot, and one of her wishes had always been to bring together all her friends in one place at the same time. For their wedding, she says, the universe did one better and brought both her and Sushanth's friends together! "I'll be forever grateful that I got to spend my big day with some of the loveliest humans on this planet!" she adds.
As for the most meaningful piece of advice about marriage? Divya's father told her, "Divya, remember one thing, always: Sushanth doesn't only belong to you. He may be your husband, but he is someone's son, someone's brother and someone's friend. Both of you will be happy if you give him his space to be everything he has to be and everything he wants to be". This is something that Divya will always remember.
And her advice for brides-to-be is to start planning and shopping early on to reduce last minute stress, to be themselves no matter what, to have realistic expectations about things sometimes not going to plan, and to smile and be happy through the whole journey.
Divya wanted a traditional yet contemporary wedding and bridal look. She knew she wanted to wear a kanjivaram sari but didn't want the traditional colours; she wanted temple jewellery but not the most traditional pieces. She took inspiration from Pinterest, family and friends, and the personal style she has developed over the years to put together a gorgeous bridal look that was the perfect balance of classic and contemporary.
Her search for the perfect bridal kanjivaram ended at Kanakavalli's Kingsley store. Divya says the best part about shopping with us was the quiet, calm ambience, and the helpful staff who showed her the saris. "Not only are the designs unique and beautiful, but the silk is soft and drapes so well!" she says. She chose a stunning kanjivaram in pink shot with beige and embellished with rich zari.
A big thank you to Divya for being a gorgeous Kanakavalli Bride and for sharing the story of her wedding with us. We wish her and Sushanth a lifetime of togetherness.
Wedding Credits -
Photography : Shikha Balakrishnan
Hair & Make-up : Sona
Find your own perfect match from our Valli Muhurtham bridal and trousseau collective 
online.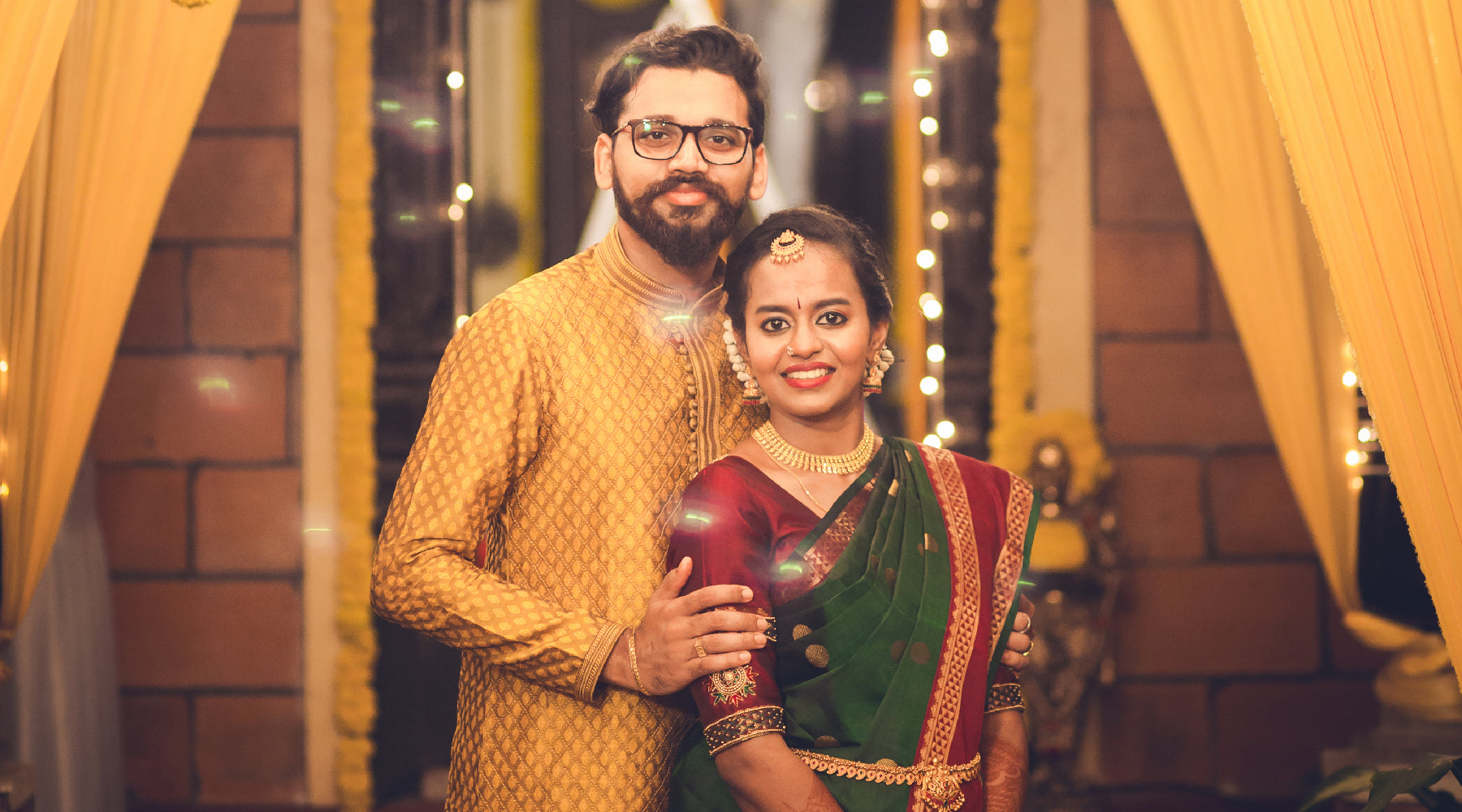 Janani weds Yugesh Kanakavalli Bride Janani says that she has always been a bit skeptical of the idea of 'love at first sight', but her husband Yugesh is a hopeless romantic. He swears to this day...
Read more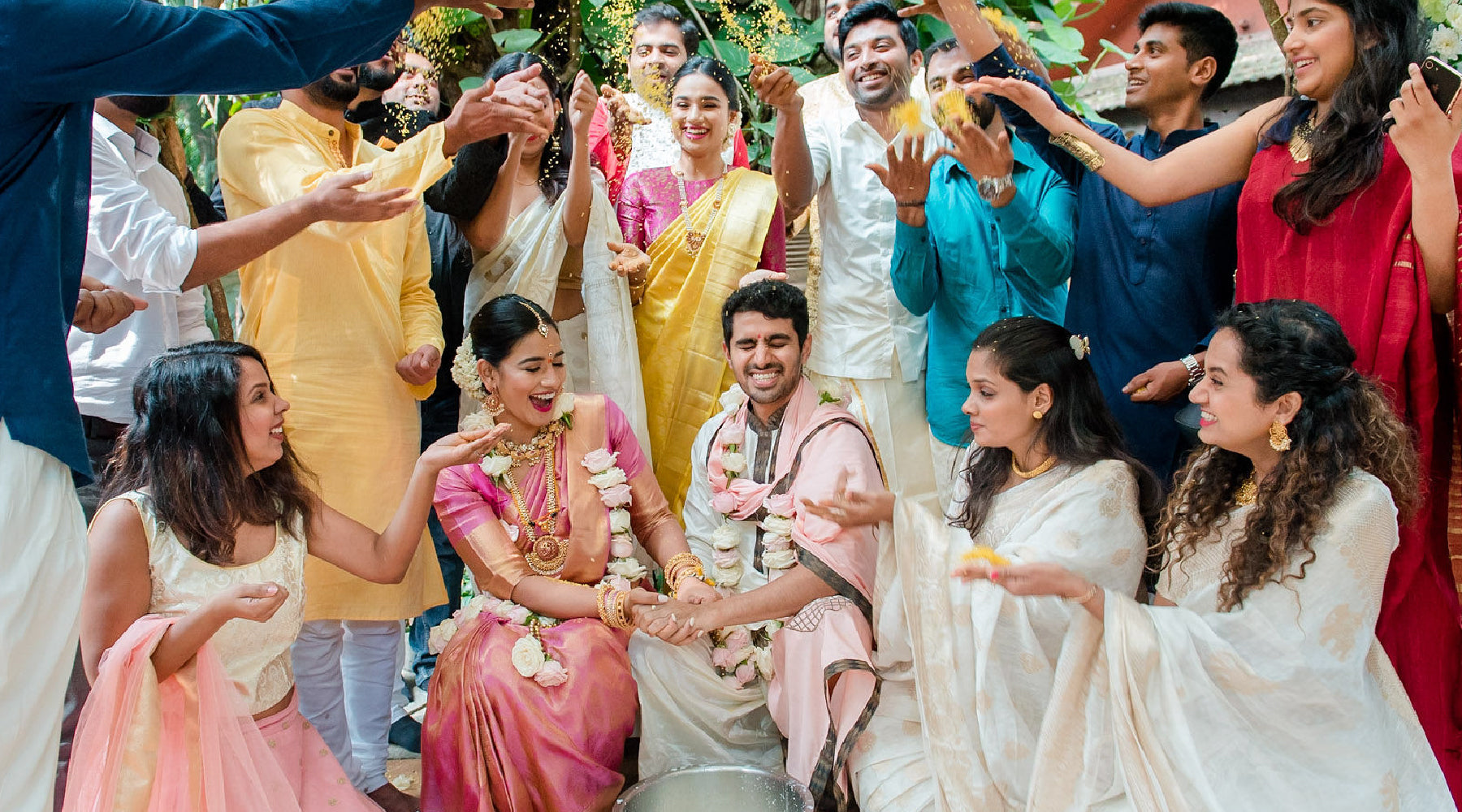 Priya weds Harsha Priya and Harsha were just teenagers when they first met and fell in love at flight school in Canada 10 years ago. Priya believes that love takes a while to grow and needs to wit...
Read more