Kanakavalli Bride : Anu

Anu weds David
"Love is not a fleeting feeling," says Anu Udayakumar, Kanakavalli's October Bride, who married her high school sweetheart David Zavelsky in Richmond, Virginia, in May this year. Instead, Anu firmly believes that love is about caring for someone so deeply that you become a better version of yourself in the process. The two met at a friend's party in high school - they connected instantly and spent the evening people-watching, sharing jokes and laughing.
David proposed to Anu on a bridge at one of their favourite parks on the river, in their hometown of Richmond. This was followed by a surprise dinner to celebrate with both their families.
Planning the wedding of their dreams brought Anu and David's families even closer together. Anu loved watching how two entirely different cultures and religions came together in such a harmonious and beautiful way. Apart from monthly meetings with the families in the year leading up to the wedding, Anu also enjoyed handpicking each vendor and stylist for her big day.
Anu is of the Hindu faith, and David is of Russian and Jewish parentage, so they chose to have two beautiful ceremonies, complete with a costume change! Both cultures were at once unfamiliar to several of their guests, and deeply familiar to others, which made for a very exciting and unique experience.
Anu and David had friends and relatives from the US, India, Russia, Israel, Germany, England and South Africa come down for their wedding. And for the couple, being surrounded by all their favourite people on their special day was the most memorable part.
The theme of their gorgeous garden wedding was 'Organic Luxe' - elegant and understated, with luxurious details. The couple kept the colour scheme and decor cohesive for both weddings, with neutral colours - blush, ivory and taupe - that were subtle but tied everything together perfectly.
Anu's cousin introduced her to Kanakavalli, and she says she's been in love ever since! Anu loves attention to detail, luxury, presentation and tastefully curated pieces - all of which she found at Kanakavalli. She travelled to Chennai with her parents and cousin, and their first stop was Kingsley. She fell in love with her wedding sari there, but being an over-planner, told herself she had to look at other stores. Soon after leaving Kanakavalli, though, she knew she had to go back for the sari she couldn't stop thinking about!
From the peaceful space to the welcoming staff, from the presentation to the privacy, Anu says Kanakavalli was everything she had dreamed a bridal shopping experience would be.
Anu found inspiration on Instagram, and in her parents' wedding album. Poring over their wedding photographs, Anu knew she wanted to wear red, just like her mother did, a colour that's classic, elegant, timeless and luxurious. She chose a gorgeous Kanakavalli bridal kanjivaram in red shot with dark mulberry purple.
A big thank you to Anu for being a lovely Kanakavalli Bride, and sharing the story of her beautiful wedding with us. We wish her and David a lifetime of togetherness, love and laughter.
Wedding Credits -
Photography: Nicole Colwell Photography (@nicolecolwellphotography)
Find your own perfect match from our Valli Muhurtham bridal and trousseau collective 
online.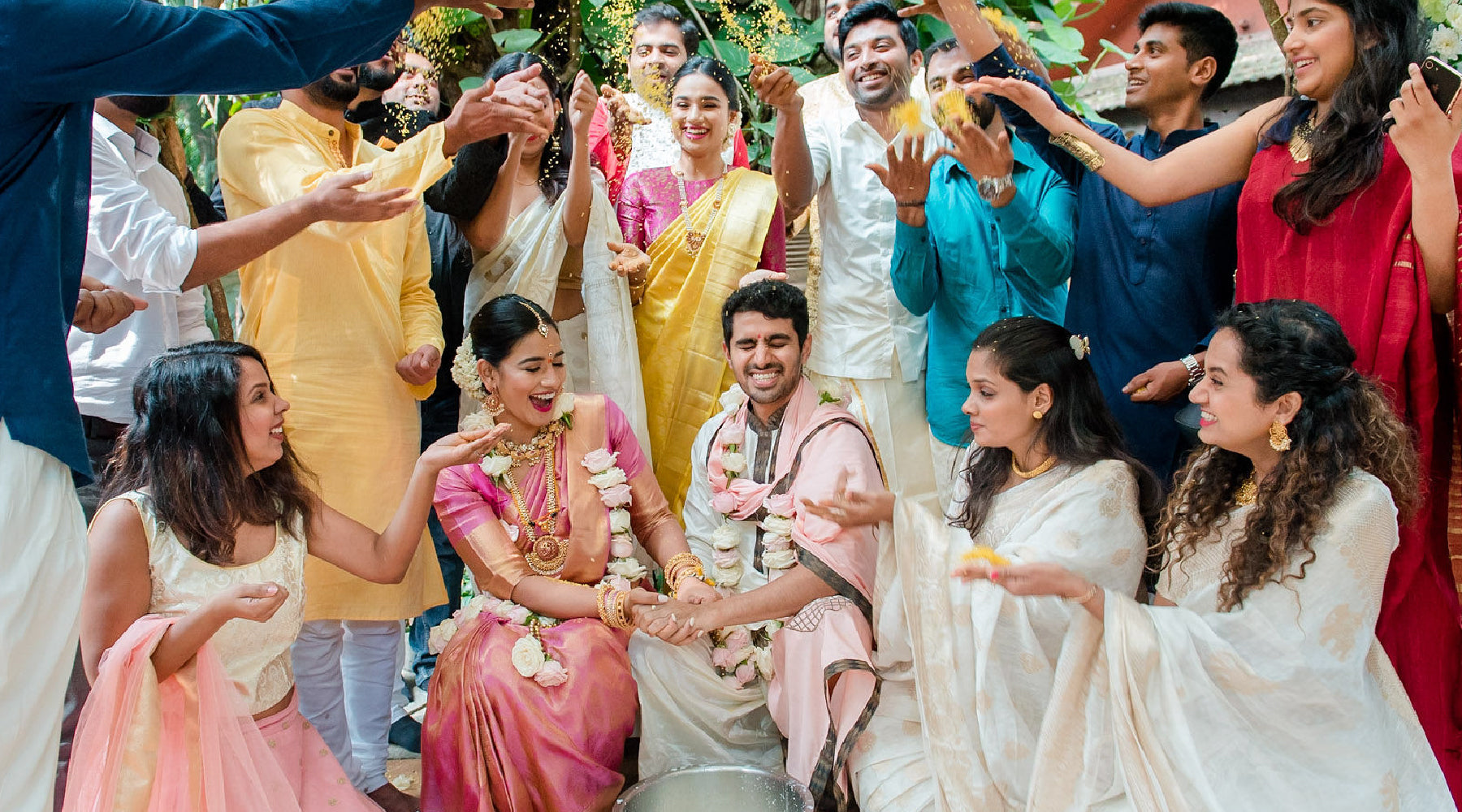 Priya weds Harsha Priya and Harsha were just teenagers when they first met and fell in love at flight school in Canada 10 years ago. Priya believes that love takes a while to grow and needs to wit...
Read more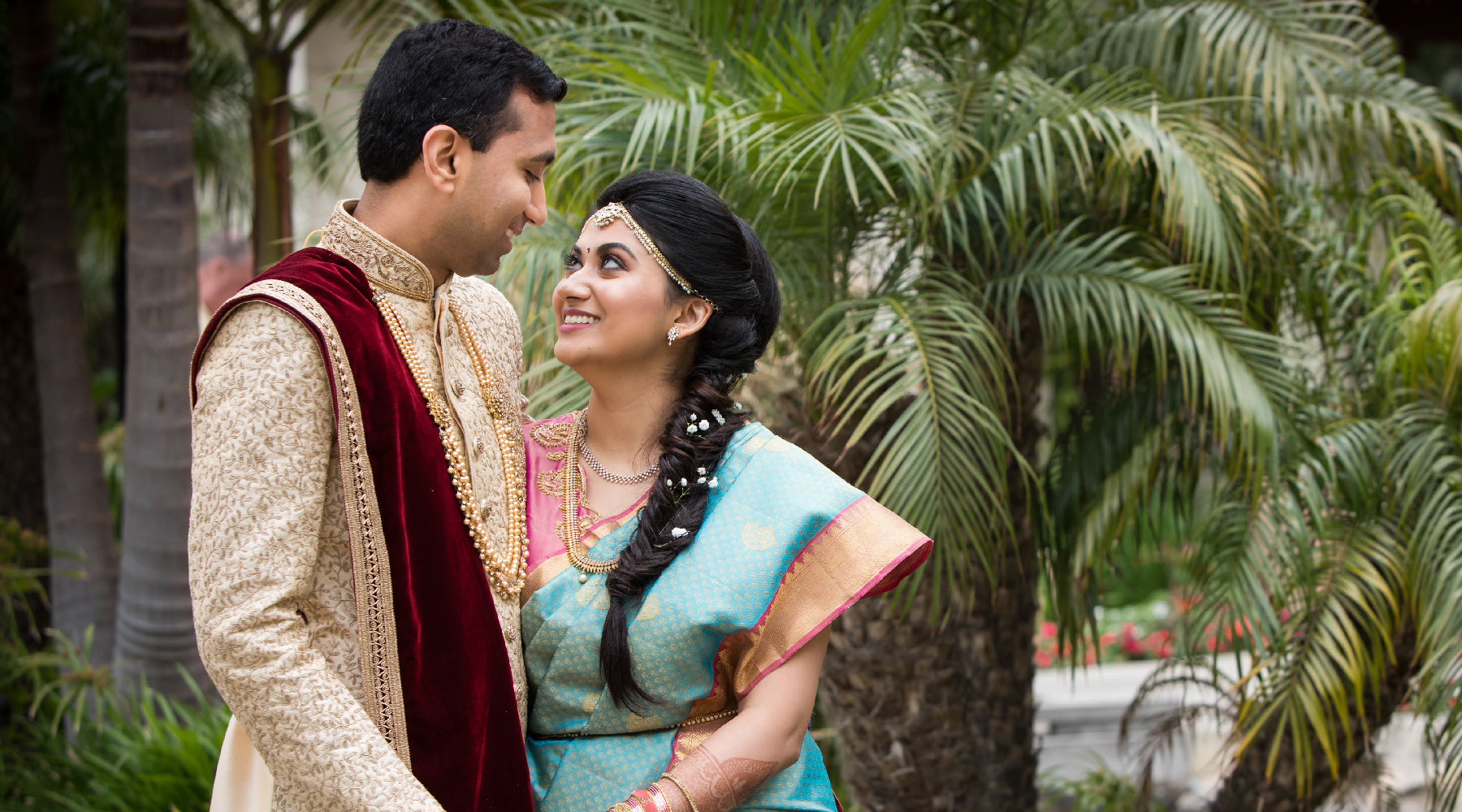 Pritha weds Pavan Kanakavalli Bride Pritha first met Pavan when the two of them were training at the same hospital. They became close friends during the two weeks they worked together, and bonded...
Read more