Varna Sutra: Shyama, Svetha - Ebony & Ivory
The history of the colours of the kanjivaram sari is carved out of a lifelong fascination with South India's traditions and social norms. Ritual, spiritual and cultural customs offer guidelines specifying colours to be worn for various significant events and to mark different stages of life. Shades of black and white, in particular, are symbolic of this.
Traditionally, a completely black sari is chosen for the valai kappu or seemantham ceremony that marks a woman's first pregnancy. She is presented with a new masikkai black sari and glass bangles. Masikkai is a medicine in the Siddha tradition, also referred to as bluejack and used as urai marundu (a medicine) for new born babies. 
Black is the colour used to ward off the 'evil eye' and new born babies are often seen with a black spot drawn on their cheeks, known as drishti pottu. Babies are also made to wear black bangles, again an ornament to protect the child from drishti or the evil eye. And that's the exact reason why a mother-to-be is also given a pure black sari to wear on this occasion.
Weavers of the kanjivaram use black yarn more often in the weft of a sari, infusing the warp colour with a darker hue. Black saris are a rare sight at traditional weddings and on auspicious occasions; more popular are shades that are darker but not quite black, like naval pazham (the deep purple jamun fruit), v. paaku (the dark brown of betel nuts) and navy blue. Even today, black saris are largely made only for specific occasions and on order.
The Mahabharatha refers to two people as Krishna, meaning 'the dark complexioned one' – the first being Draupadi, and the other Lord Krishna himself, whose dark complexion on a full moon night is the subject of poetry. Krishna is also referred to as Ghanshyam, drawn from Shyama, the colour of dark storm clouds. While talking about the colour black, one cannot but recall Bharathiar's verses in his beautiful poem describing Krishna as "Kakkai sirganile nandalala, nindan kariya niram thondrudayee nandalala". This translated to, "In the feathers of the crow I see your dark hue, Nandalala. Listen to this evergeen song here.
In contrast, white or Sveta is considered the purest of the pure, touched by the divine, and is traditionally the colour worn by Christian brides. The pristine cream and gold bordered kasavu and mundu were also the favourites of Travancore royalty. The kanjivaram wedding sari in lustrous shades of white with golden zari takes on various hues - of pearls, butter creams and ivory – making it truly stunning. The Chitra Sutra describes the different shades of white used in paintings as – Rukma (gold-like white), Danta Gauri ( ivory white), Sphuta Candana Gauri (white like the split sandal), and Sharadha-Ghana (white like the autumn clouds).
The goddess Saraswati is often depicted as a beautiful deity dressed in pure white, seated on a white lotus which symbolizes light, knowledge and truth. Her iconography is typically white in theme – from her dress, to flowers, to the swan – the colour symbolizing satwa guna or purity, and her dhyana mantra describes her as:
"Yakundendu Thushara Hara Davalam, Ya shubra vastravrutham,
Ya veena vara danda manditha kara, Ya shwetha padmasana,
Ya brahmachyutha Sankara prbhruthibhi Daivai sada poojitha,
Saa maam pathu saraswathi bhagawathi Nissesha jadyabah"
This translates to:
"My salutations to Goddess Saraswathi,
Who is white like a jasmine flower,
Who shines like the full moon,
Who carries a veena in her hand,
Who is seated on the throne of a white lotus,
Who is worshipped by the holy trinity,
With a prayer to drive away all my slothfulness."
Even today, traditional wedding attire for men in South India is a ven pattu veshti or a white silk dhoti. Kanchipuram and Salem specialise in the pure silk mayil kann (peacock's eye) veshti, with the traditional Ganga Jamuna border in green and maroon. The yardage for the dhoti is still referred to and measured by weavers as 4 muzham or 8 muzham. The pancha kacchams (the more elaborate style of tying the veshti worn by bride grooms, with sections of the fabric tied through the legs) along with the angavasthram (the fabric worn over the shoulder during ceremonies) are referred to as onbadhu anju (9x5) or pathu aaru (10 x 6), a localised reference to the yardage.
Combinations of black and white on saris in the form of checks or stripes highlighted with contrast borders are also popular and striking in visual effect. The classic pairing of black and white is especially notable in yesteryear Tamil cinema in which these saris stood out even in black and white visuals! There is an interesting bit of trivia about how craftsmen used to name designs and colour. E.B Havell was a British art historian and the author of numerous books on Indian art, who also served at the Madras school of Art for a decade from 1884. In his monograph, he describes the alternate black and white woven colours on a sari as "High Court Papli" checks since they resembled the striking floor tiles of the Madras High Court. From ancient Rome, through to Versailles and more recently Hollywood, the checkerboard design of floor tiling is everywhere, and closer to home, most famously in Karaikudi. No wonder it finds a place on saris as well!
Join us as we delve into the many facets of our Shyama Svetha collective in the Varna Sutra series - 
Karuppu (black) - Black is always in style in the West, and this trend has caught on with kanjivaram saris as well. In the traditional kanjivaram palette, karuppu or black takes on various shades categorised from masikkai black to kanmai (kohl). Kanmai refers to the black material used to line the eyes, to make them stronger and more beautiful, and even today this is an ayurvedic medicine, which can be made at home. In fact, some weavers apply mai or kohl to the corners of a new sari before handing it over to their clients. Related to the deity Mahalakshmi, this material is considered auspicious and sacred.
Eiyam (tin) - Even the colours of the vessels used to prepare and serve food in South Indian kitchens find a way into the kanjivaram drape. A shot of light grey and dark grey, eiyam refers to the metal coating of tin vessels, once seen in every household. Rasam, which is unique to South Indian cuisine, acquires a distinct smell and flavour when prepared in an eiya sombu.
Cement Grey - The 'English colours' of the kanjivaram were introduced more recently, and 'cement grey' is perhaps a sign of the influence of the first cement factory in India being established in Madras in 1904. This cool and smoky shade of grey stands out beautifully on saris with contrast borders.
Yanai (elephant grey) - The Varadaraja Perumal temple at Kanchipuram is referred to as hastigiri (elephant hill) in Vaishnavite literature and in the eleventh century inscriptions. A great peculiarity about this temple is that the main shrine of Varadaraja is not on the ground level, but on an elevated platform representing a hillock. The sthala purana (legend which describes the temple's history) states that it was the abode of the divine elephant Gajendra, whom the Lord saved from the clutches of a crocodile. Elephant motifs have always been a part of temples, their architectures and vahanas, or processional vehicles of the deities. No wonder the colour of this majestic and gentle creature was an inspiration to weavers of kanjivaram saris.
Muthu (pearl white) - The lustrous white silk drawing inspiration from the colour of muthu or pearls. Pearl and chank fishing in South India, especially in Tuticorin, dates back thousands of years and contributed to a thriving economy in the region. The most classic combination on the sari is a pearl white body with an arakku border.
Vennai (butter) - The golden white of butter which is used to make home-made ghee, and applied on idols of Lord Hanuman as appeasement in vennai kaapu, finds its way into the lexicon.
Sambal (ash grey) - Sambal in Tamil refers to the sacred ash or thiru neeru which Lord Shiva dons on his body. The colour tone of sambal is halfway between white and black.
Kumaran (off- white) - The spectrum of whites include cream, ivory  and vanilla. This colour is also referred to as kumaran by the dyers.
Black and white represent a psychological force in the world of colour and design. Despite the kanjivaram being closely associated with more vibrant and deep jewel tones, these two hues still hold a firm place in the cultural and social symbolism of the textile heritage. As the kanjivaram is contemporised and reimagined for a modern landscape, black, white, and all the shades in between, are being interpreted beautifully in silk within the dramatic geometry of the drape.
- Sreemathy Mohan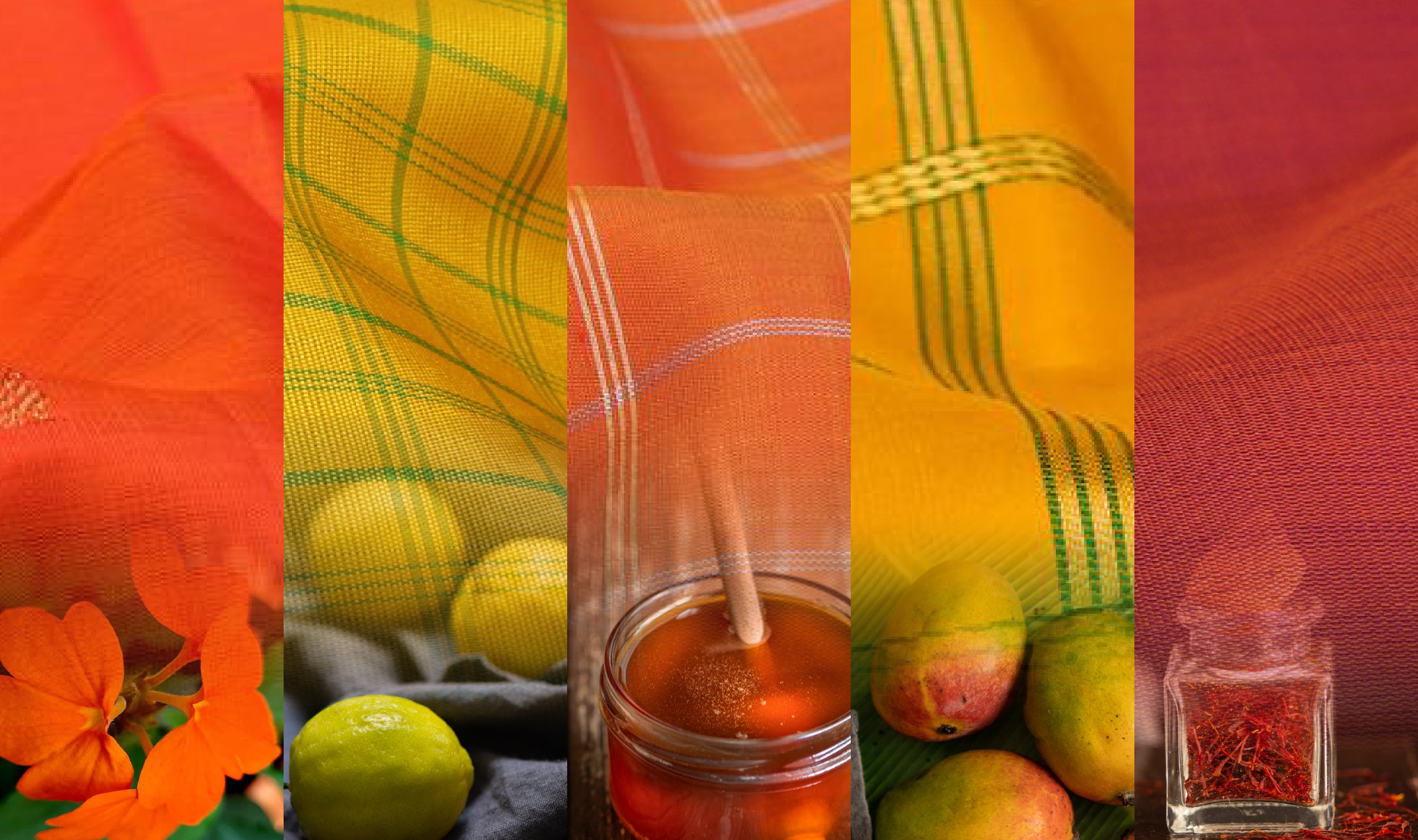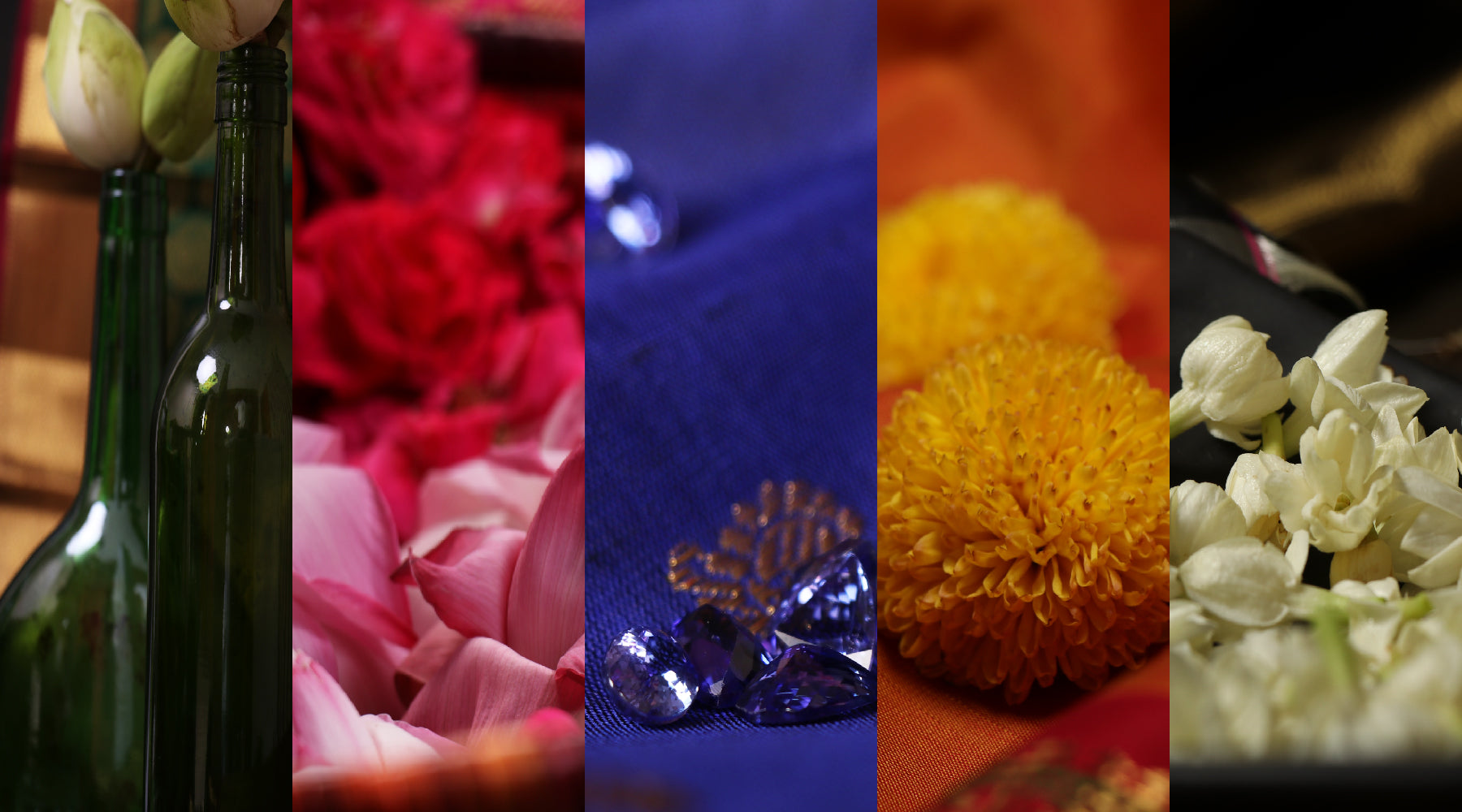 Varna Sutra Redux : Of Colour And Light
Over the past few months, in Kanakavalli's Varna Sutra, Sreemathy Mohan has traveled a landscape of colour in the kanjivaram, tracing inspiration and custom, colour and context that are imbued in ...
Read more