Kanakavalli Bride : Sharanya

Sharanya weds Vaaghisen
Sharanya met Vaaghisen in high school. Looking back, she thinks she felt some sort of connection with him, as they started to talk more and get to know each other. She vividly remembers the day she confessed that she liked him, after which there was no looking back.
They have been together for almost 12 years, having survived five years of long distance. Sharanya says they have grown up together, sometimes driving each other insane, but they have also learned everything about life together.
While there was no proposal, both Sharanya and Vaaghisen knew what was coming their way. They were excited at the prospect of having to put up with each other for the rest of their lives! Sharanya says that Vaaghisen has always been someone she looked forward to, every single day, even when they were separated by thousands of miles. She feels so lucky that she got to marry her best friend, and can't wait to see what the future has in store for them.
After almost two years of living with the pandemic, Sharanya says that it felt wonderful to gather with their loved ones to celebrate their wedding. They had an intimate and traditional Telugu wedding on a quiet Monday morning, at a temple in their hometown.
The ceremony was traditional, in keeping with the authenticity and richness of South Indian culture, with a simple mandap decorated in lush green and gold. Sharanya and Vaaghisen were surrounded by close family and friends, and every element of the wedding felt very special to them.
Sharanya was raised single-handedly by her mother, and as a child she had to watch her mum being excluded from many rituals and ceremonies. They decided to break this stereotype at the wedding, when Sharanya's mother gave her daughter away in the Kanyadaan ceremony. This is a moment that Sharanya says she will never forget - a way to celebrate her mother's genuine heart.
Having spent five years in India as a student, Sharanya has been deeply inspired by the motifs, fabrics and colours of the country, and her fashion sense was influenced by her time here. She discovered Kanakavalli while living in India, and was hoping to fly to Chennai and shop for her trousseau at Kingsley. Unfortunately, due to the pandemic, she couldn't travel, but she managed to pick all her wedding saris virtually.
Sharanya says she was very impressed with Kanakavalli's customer service, adding that the team was patient, kind and thoughtful. A deep purple kanjivaram with gold checks took her breath away when she first saw it on the website, and she knew that it would be her first wedding sari. For the muhurtham, she wanted something in white with red borders and hints of green, and she found exactly what she was looking for with the help of our team. Sharanya bought saris for her family from Kanakavalli, while Vaaghisen picked his outfits from Kanakavalli's Anga Vastra collective of wedding wear for men. The first time she actually felt like a bride, says Sharanya, was when she first held the Kanakavalli box in her hands!
A big thank you to Sharanya for sharing the story of her wedding with us. We wish her and Vaaghisen a lifetime of love and laughter.
Wedding Credits -
Photography: Jasmine.A
Makeup & Hair : Vithya Hair & Makeup
Pre Wedding Photography : SaycheeseMy
Find your own perfect match from our Valli Muhurtham bridal and trousseau collective online.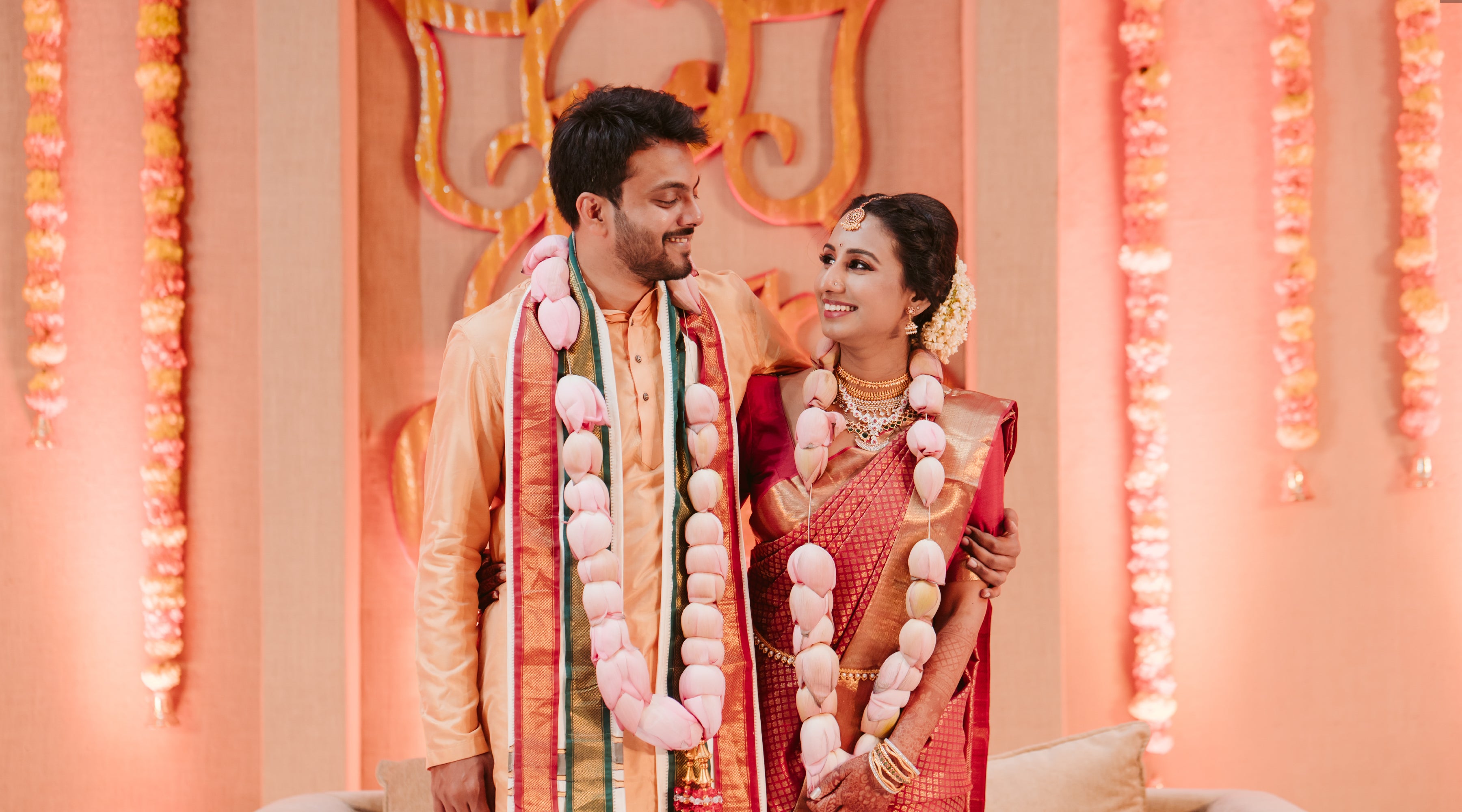 Devika weds Pritvish Kanakavalli's January Bride, Devika, first met her husband Pritvish when the two were law students at the same college. For her, it was important to get to know someone comple...
Read more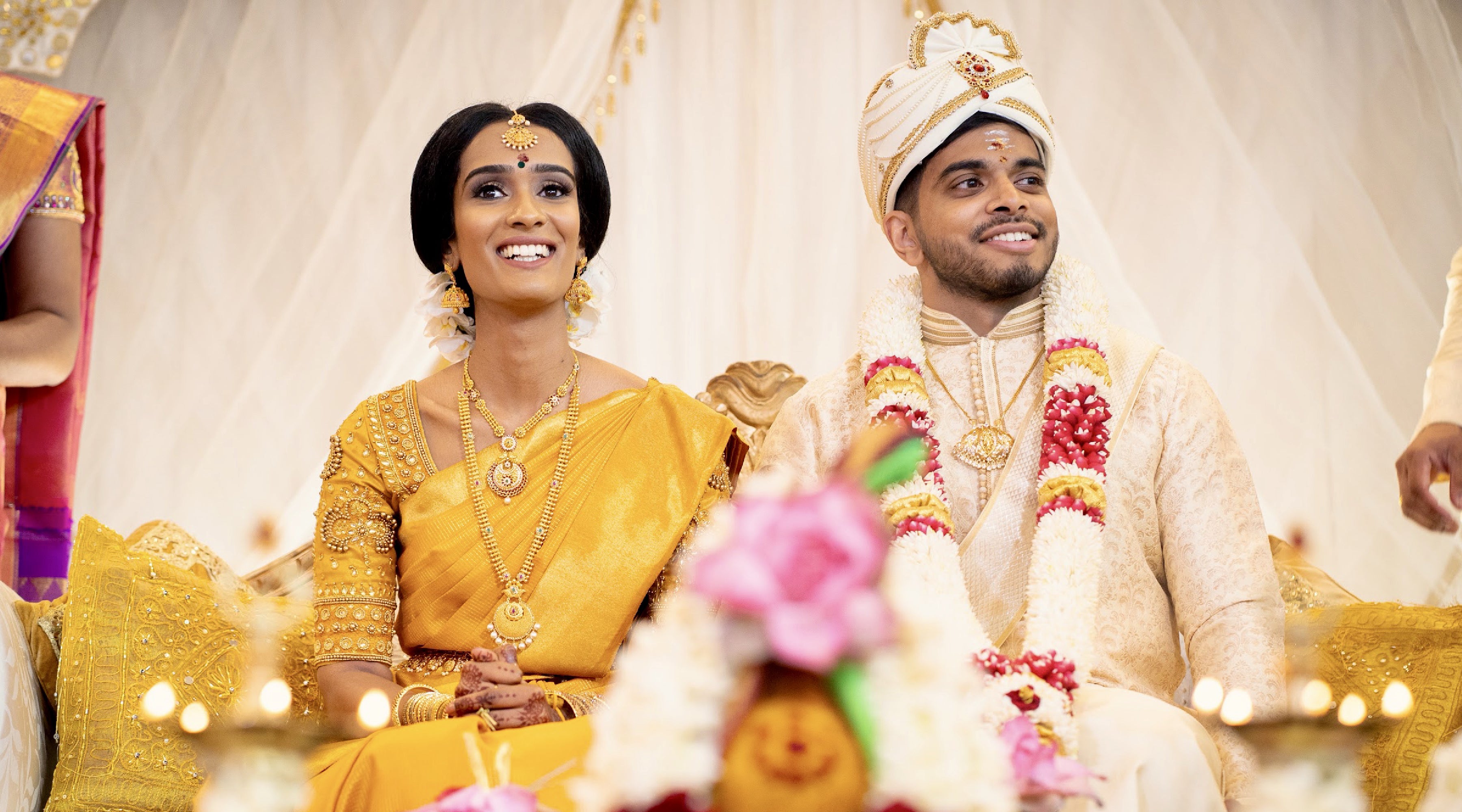 Dhaarica weds Thajeevan Dhaarica and Thajeevan first met when they were very young and went to the same violin lessons. They didn't talk much back then, but met by chance many years later and star...
Read more