Kanakavalli Bride : Gaayathri

Gaayathri weds Ravi Teja
Kanakavalli bride Gaayathri, who doesn't believe in love at first sight, got to know Ravi Teja gradually, over two and a half years. From barely being able to tolerate one another to falling for each other, their journey was truly a rollercoaster ride.
Gaayathri believes that destiny brought them together, despite all their differences. Teja wanted to settle down and get married, while Gaayathri was against the idea of marriage. In the end, love and faith won and the two had a gorgeous wedding celebration.
From the moment their wedding date was confirmed, Gaayathri knew exactly what she wanted for her big day, from the invites to the decor.
She and Teja decided to plan a wedding that was as eco-friendly as possible, since the perfect big fat Indian wedding often affects the environment in many ways. While planning, they made an effort to pick vendors who would help turn their dream into reality.
Both Gaayathri and Teja, as well as their families, chose to incorporate all the customs and rituals of a traditional Telugu wedding. Over two days of festivities with their loved ones, they paid extra attention to the ceremonies, without compromising on fun.
They wanted all their guests who witnessed their celebration of love, to make special memories of their own.
The couple was excited to coordinate their outfits for all their wedding events. Gaayathri did almost all her wedding shopping at Kanakavalli and was done quickly, before Teja had even begun. The groom, therefore, had a hard time finding clothes to match his bride, but we think they did a wonderful job!
Gaayathri has always known what she wants, and Kanakavalli made her wedding shopping very easy, she says. She found the sari of her dreams at our store - a traditional red bridal kanjivaram.
A big fan of classic colour combinations and patterns, Gaayathri has always loved Kanakavalli's collections, and she and her mum bought all their saris for the wedding from us.
Someone once told Gaayathri that the way to a man's heart is through his stomach... and over the course of the lockdowns she has realised how true this is! "Love, laughter, and happily ever after," is how Gaayathri would describe her wedding.
A big thank you to Gaayathri for being a beautiful Kanakavalli bride and sharing the story of her wedding with us. We wish her and Ravi Teja a lifetime of love and laughter.
Wedding Credits -
Photography: @studioa_weddings
Make up: @diptimehramakeup
Find your own perfect match from our Valli Muhurtham bridal and trousseau collective 
online.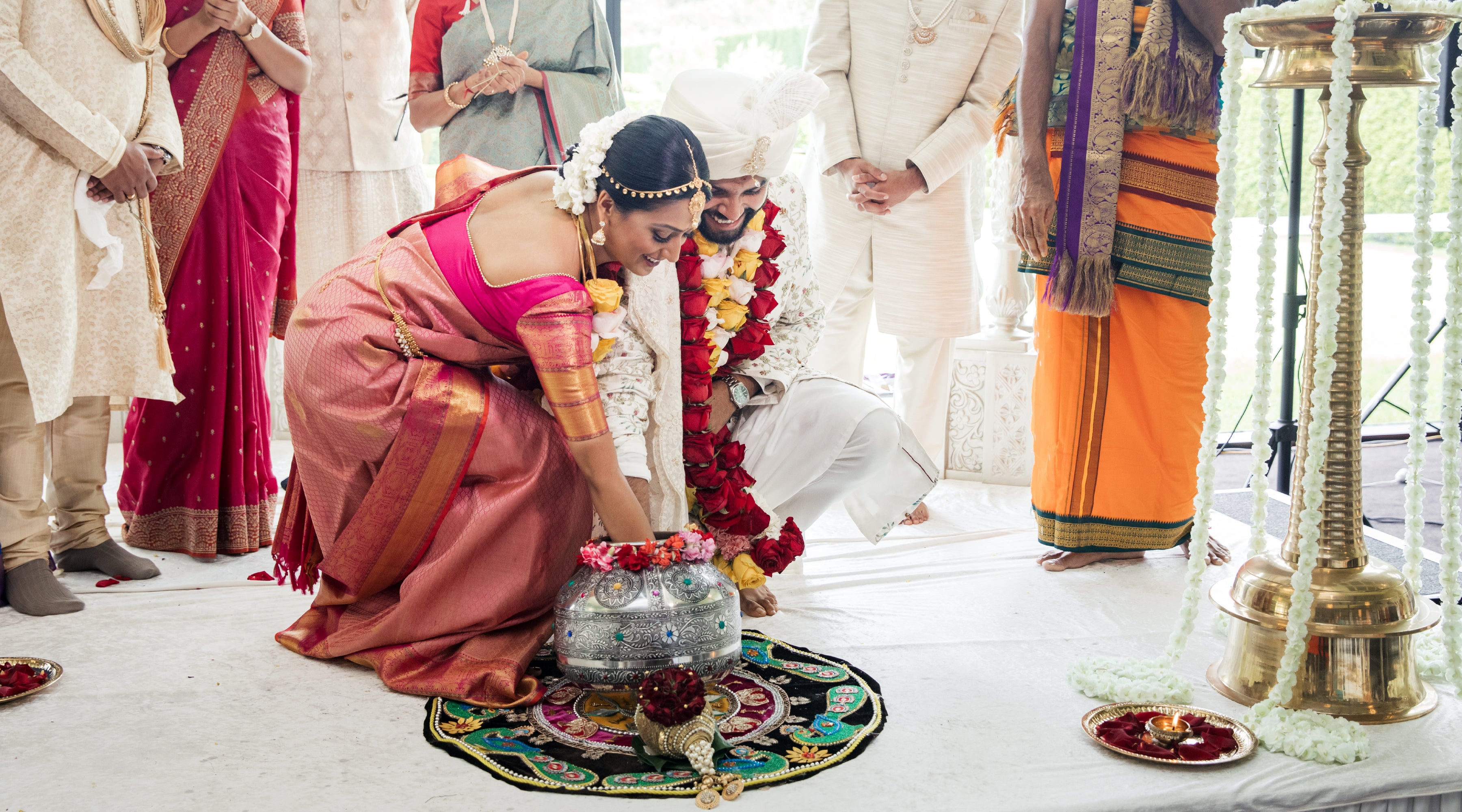 Mira weds Rahul Mira and Rahul were introduced by a mutual friend on the first day of university. They were friends first, and after a year of hanging out together in the same friends circles, the...
Read more
Prethee weds Ram Prethee has always been a very pragmatic and introverted person, so it came as a surprise to her when she first spoke to Ram and felt as though she'd known him for years! Prethee ...
Read more